Robocop is one of those cult classic iconic movies. He is on par with the Terminator and Judge Dredd. All three have significance in the 80s and a major impact on science fiction films. Hiya Toys bring us back to 1990 with our RoboCop 2 RoboCop figure. He does come with two accessories one being a hand with the data probe in the other is famous Beretta. This figure will also be highly articulated in shows the unique paint job from RoboCop 2. We don't see a lot of RoboCop collectibles out there lately so RoboCop fans can finally rejoice with a new figure. I hope we can start seeing ore RoboCop figures come from Hiya Toys. Even though the newest RoboCop film wasn't that great, the look was still pretty badass. I would love to see Hiya Toys, make him into a 1/18th scale of him, this figure would be perfect for any movie buff that loves this style or fans of RoboCop. 
The RoboCop 2 RoboCop 1/18 scale PX Previews exclusive figure is priced at $19.99. He is scheduled for release August 2020, the best bet to lock this figure down would be our local comic shop. However, pre-orders for this figure are live and available here.
RoboCop 2 RoboCop 1:18 Scale PX Previews Exclusive Figure from Hiya Toys
Product Description
Hiya Toys presents this 1/18 scale action figure of Robocop, from the 1990 sequel Robocop 2. Featuring a unique paint job that mimics the look of his armor in the film, hand with data probe, and his Beretta! Fans can recreate their favorite scenes from Robocop 2 with this film accurate figure!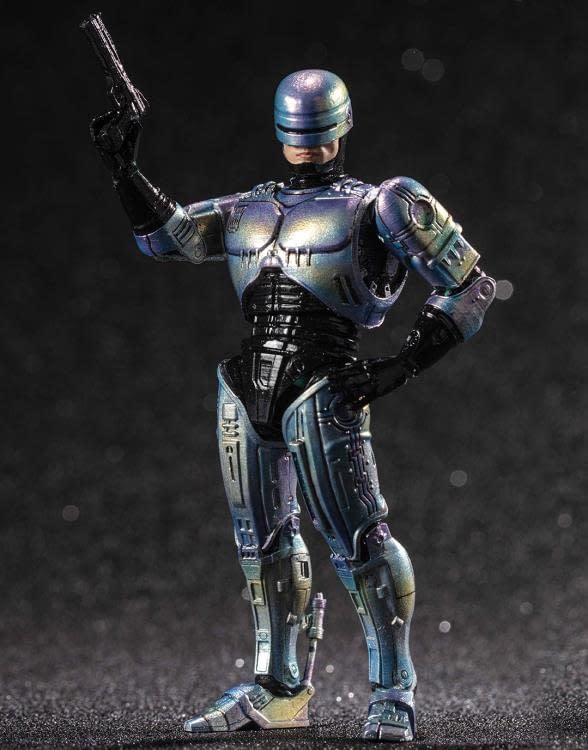 Product Features
1/18 Scale Size
Made of plastic
PX Previews exclusive
Modeled From RoboCop 2 
Highly articulated
Box Contents
RoboCop figure
Data probe
Beretta Pistol
Enjoyed this article? Share it!