SEGA & Phenom Elite Bring Sonic The Hedgehog To Sports Gear
SEGA and Phenom Elite will be working together on a new collaboration that adds Sonic The Hedgehog and Knuckles to sports gear.
---
SEGA announced a new partnership this morning with sports equipment brand Phenom Elite, as Sonic The Hedgehog will grace some of their gear. The two will collaborate on a brand new collection of gear that will feature characters from the iconic gaming franchise, including Sonic, Knuckles, Tails, and more. They will be added to a variety of sports equipment, including football cleats and gloves, both of which you can see below for Sonic and Knuckles, as well as mouthguards, compression wear, and other accessories to come. We have more info below and a couple of quotes from both companies about the new partnership.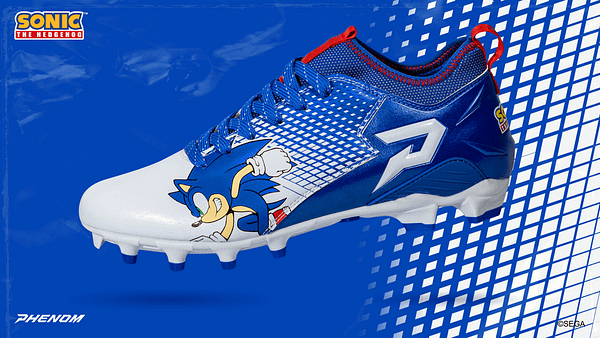 "Similar to Sonic speeding through Green Hill Zone, these Sonic-branded equipment items will unlock athletes' potential to "Go Fast" across the gridiron. The Sonic the Hedgehog collection for Phenom Elite marks the brand's third major pop culture licensing deal following collaborations with Warner Brothers and Activision. Through the collaboration, Sonic and friends will give athletes the extra encouragement to score big with some of Phenom Elite's high-quality equipment."
Sonic the Hedgehog Football Cleats – $124.00
Knuckles the Echidna Football Cleats – $124.00
Sonic the Hedgehog Football Gloves – $49.00
Knuckles the Echidna Football Gloves – $49.00
Sonic the Hedgehog Mouthguard – $19.00
Knuckles the Echidna Mouthguard – $19.00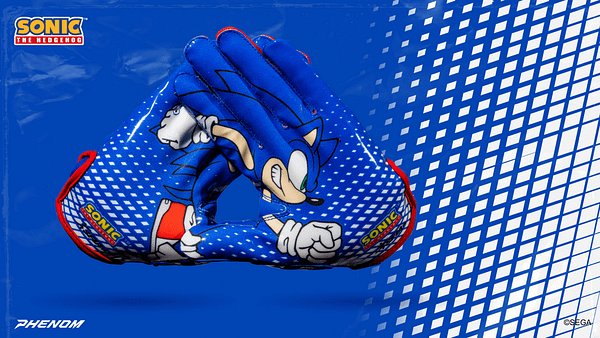 "Sonic has always embodied endurance, speed, and perseverance, much like the athletes who sport Phenom Elite, and we're thrilled to be partnering with SEGA to bring this pop culture icon to our equipment," said Nathan Dorton, CEO & Founder at Phenom Elite.
"At SEGA, we're proud to work with partners who align with the core principals of Sonic, and Phenom Elite is exactly that," said Maida Chan, Licensing Specialist at SEGA of America. "Phenom Elite is a cutting-edge operation in sports equipment that enables athletes to perform their best, and we hope that the Sonic the Hedgehog collection inspires them to succeed."