The Rise of Skywalker has been out for some time and yet again it has split fans down the middle. The movie perfectly balanced the world we were given and gave us a great ending to the Skywalker Saga. It's not the movie everyone wanted to see but you can't please everyone. I will be going to see the film for the fifth time shortly and nothing well fit perfectly like my own Wayfinder RockLove has revealed their newest Wayfinder necklace for The Rise of Skywalker fans. You will be able to take control of your own Wayfinder with their new necklace that is packed with detail. The necklace features a 24inch chain and each side of the pyramid shows the glyphs as seen in The Rise of Skywalker. There is even a red crystal in the center to act as the red dot blinking on the Exegol locator. This is a nice little necklace and collectible that a Star Wars fan can really appreciate.
The Star Wars: The Rise of Skywalker Wayfinder Necklace (White) from RockLove will be priced at $99. Sideshow Collectibles has pre-orders already live and you can find them here. Check out some of the other RockLove necklaces too as you can always find a way to carry Star Wars with you.
May the Force be with you.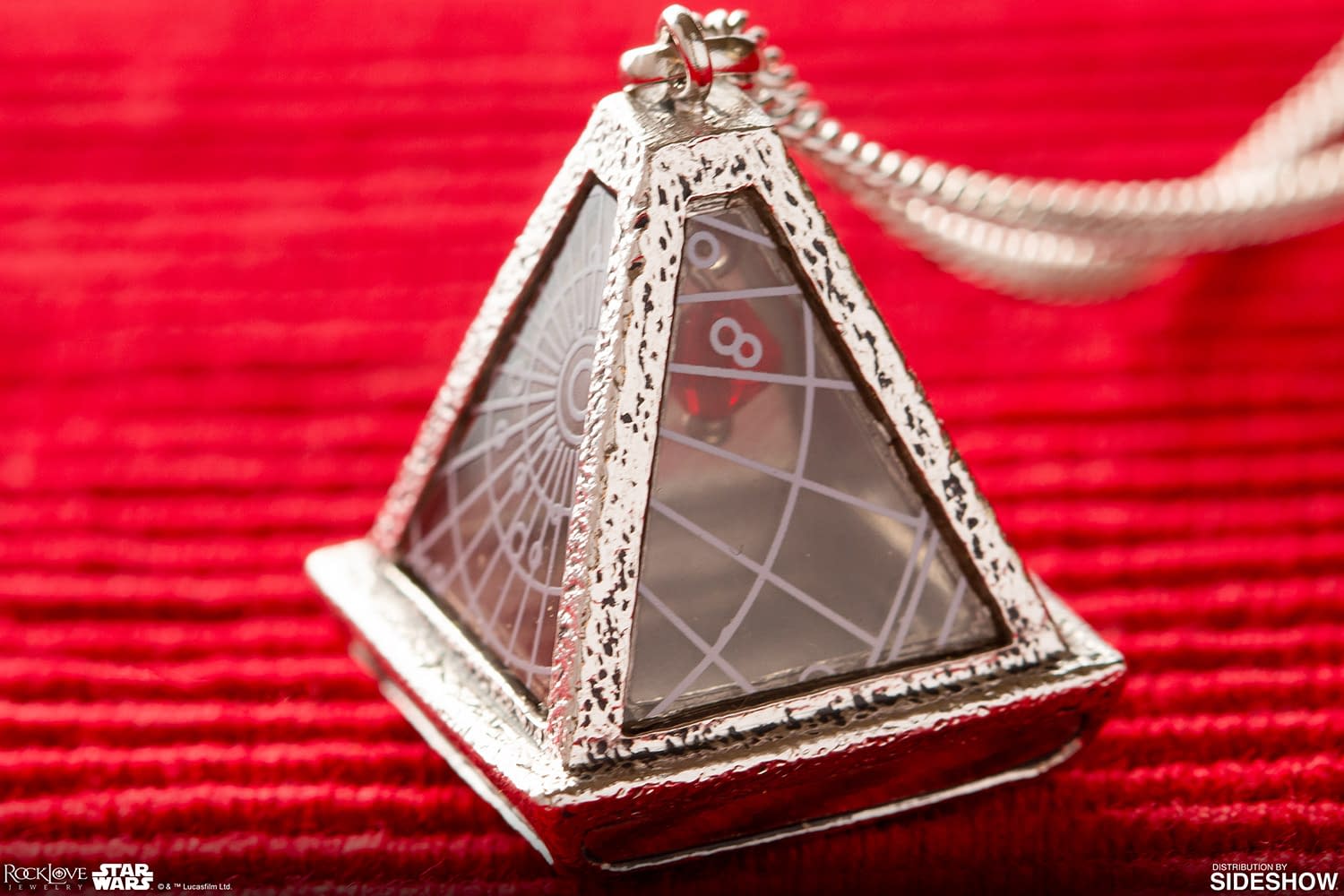 Wayfinder Necklace (White) Jewelry by RockLove
ABOUT THIS JEWELRY
Sideshow and RockLove present the Wayfinder Necklace (White) Necklace!
Sculpted in solid artisan brass and plated in white rhodium, the Wayfinder is a pivotal artifact in Star Wars: Episode IX – The Rise of Skywalker. Distressed and antiqued for detail, the pyramid-shaped three-dimensional pendant features four transparent acrylic panels with unique navigational glyphs and iconography. Shrouded within the Wayfinder is a suspended red faceted crystal that reflects brightly when held up to the light. The substantial pendant hangs from a heavy adjustable 24-inch white rhodium plated brass curb chain.
Every Star Wars™ | RockLove piece arrives in a signature Star Wars™ | RockLove Collector's Box, with embossed exterior and metallic silkscreened art inside. The two fitted pieces stack, with the jewelry mounted in a theatrical wide screen proscenium: a compelling addition to any display case.
Navigate the Unknown Regions with this Wayfinder Necklace!
ADDITIONAL DETAILS & DIMENSIONS
Materials – White Rhodium , Brass
Product Size – Adjustable Chain Height: 24" (609.6 mm) | *
Product Size – Height: 1.18" (29.97 mm) | Width: .944" (23.98 mm) | Depth: .944" (23.98 mm) | *
Box Size – Height: 6.00" (152.4 mm) | Width: 5.00" (127 mm) | Depth: 6.00" (152.4 mm) | *
Dimensional Weight – 1.00 lbs (0.45 kg) [Intl. 2.00 lbs (0.91 kg)] *
Enjoyed this article? Share it!