"The Mandalorian" Gets Another Figure From Hot Toys
Coming out of the season finale of The Mandalorian it is time to turn up the heat on your Star Wars collection. This time it looks like the Incinerator Trooper is getting his time to shine. This will make the fourth figure to come out from the series by Hot Toys and that is not surprising since it's so popular. The figure features the newly designed Stormtrooper features interchangeable hands, a display stand, and his flamethrower. I do appreciate that they included an attachable flame effect to really step up this figures game. If you're trying to build up your own Stormtrooper army then this is a must have for your collection.
The Star Wars The Mandalorian Incinerator Trooper 1/6th Scale Figure from Hot Toys does not have a price or a release date just yet. Pre-orders can be found here once they are live and stay tuned here at Bleeding Cool when more The Mandalorian collectibles go up.
Let's turn up the heat!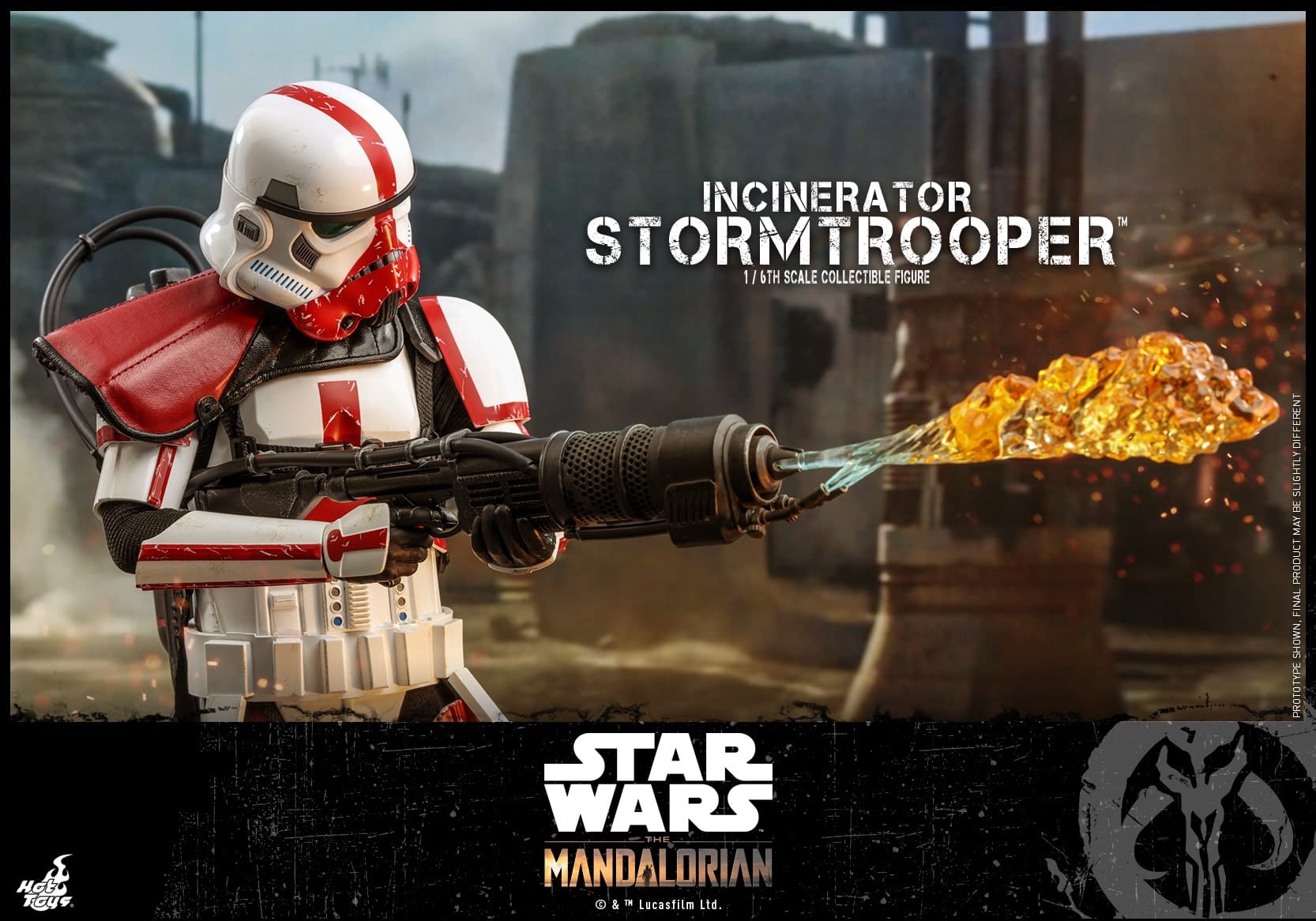 The Mandalorian – 1/6th scale Incinerator Stormtrooper Collectible Figure
Specialized stormtroopers of the Empire, Incinerator Stormtroopers wield flamethrowers and are equipped with heat-resistant armor. In The Mandalorian, Moff Gideon commands this dangerous soldier to flush out the Mandalorian and his friends from the cantina with devastating power.
Further expanding the collectible series of the highly acclaimed, The Mandalorian, Hot Toys is pleased to introduce the new 1/6th scale Incinerator Stormtrooper collectible figure based on the first-ever live action Star Wars series!
The highly-accurate collectible figure is specially crafted based on the appearance of Incinerator Stormtrooper from the show. It features highly detailed helmet and armor, skillfully applied weathering effects, the trooper's signature flamethrower weapon, and a figure base!
The Incinerator Stormtrooper will be a great addition for your Star Wars collection!