Super7 Halloween Galore! Universal Monsters, Superbuckets, and The Great Garloo!
Super7 is my favorite toy company (as anyone who has read this site before could tell you), and acquired the license for Universal Monsters. As a Monster Kid my entire life, this was a collecting dream come true. At SDCC this past July, I got to go to their Universal Monsters Boodega event and see some of what was coming, from ReAction figures to display pieces. I was impressed (although I really wanted one of the Frankenstein lighters…anyone got one?) and have been patiently waiting for the first wave of products to go up for order…and now they are here!
Let's take a look at the first wave of Super7 Universal Monsters ReAction figures, the first two Super7 Superbuckets, and one of their NYCC exclusives, and a shoe-in for one of my favorite figures of the year: The Great Garloo!
First, the Universal Monsters Superbuckets. Two are available now: Creature and Frankenstein. These retro-style blown plastic trick or treat buckets are a[user_id] great size, and feature fantastic sculpting and pain aps. Look at that Frankenstein! Each has a handle as well, and as a 34 year old man I can tell you that I wish I could go trick or treating with one of these this year. I hope they do a ton of these.
As I said above, this next figure is a shoe-in to make my year end list. The Great Garloo was a monster robot toy that was a sensation when released by Marx toys in 1961. He was a controlled by remote control, and could even pick things up with his hands! Check out this old commercial for the toy:
An original Garloo is one of my personal collecting grails (I got my other one this year: a boxed Kenner Alien 12 inch figure from 1979) but I have never seen one in person. Not once. So, when Super7 announced their ReAction figure for NYCC this year, I knew I had to have it. And boy is it great. The cardback is a great callback to the original box, and even has a little Marx logo. It pained me to open it, but once I did, I fell in love. Garloo has his necklace, is a perfect shade of mint green, and even has a shorter left leg to mimic the original. This is a perfect figure. Fellow Garloo fans: get one now before it is gone.
Ok, so that brings us to the Universal Monsters Wave 1 ReAction figures. This first wave consists of 6 figures: The Mole Man from The Mole People, Masque of the Red Death from Phantom of the Opera, Metaluna Mutant from from This Island Earth, The Mummy, The Wolf Man, and Creature From the Black Lagoon. All six feature cardbacks with amazing Ed Repka artwork. It is a crime that I opened these, but they are really great figures once they are loose.
All six are great. The only complaint I have about any of them is that Red Death does not hold his staff very well. They chose the perfect molds to cast these, they all stand and have little nods to each character. Creature and Wolf Man lunge out at you. The Mummy stalks you. They all really could not be more perfect.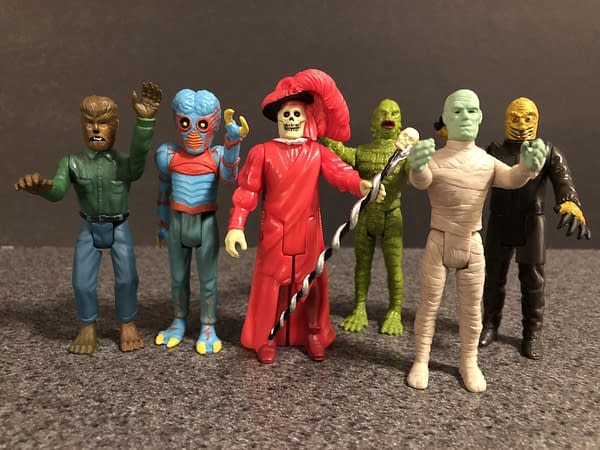 There is noting else to say. Yeah, I am bias, but that is because I really believe in what Super7 does. This Universal Monsters line has the potential to be incredibly special, and I cannot wait for whatever is next.
Do yourself a favor and get yourself some, or The Great Garloo right here.