Superman is back from the grave as more pre-orders show up from the 2019 revealed statue. This Prime 1 Studio statue is based on the DC Comics Death of Superman storyline. After his apparent "death" Superman went into a near comatose state to recover from his Doomsday encounter. When he finally re-emerged he was sporting a new black suit also known as the recovery suit. Prime 1 Studio brought this form of Superman to life with this nicely crafted and very stylish statue. The statue is quite massive as it stands 42 inches tall and will feature a rotating mechanism. The Man of Steel will also come with three interchangeable head sculpts from a long hair, long hair with a beard, and short hair with beard. The 1:3 scale Superman statue brings new light to classic costume design that will please any fan.
This is my favorite of all the Superman suits and this will be one statue that will be hard not to get. The black and silver paint adds a different depicting of the brightly colored boy scout that we are used to. Of the three heads, the long hair and bearded version are my favorite of three. The short haired version does give me some Zod vibes will I really enjoy though. This is one statue that any fan would love to own and pre-orders are back and live with Sideshow Collectibles. The statue is limited to 750 pieces and priced at $999. Pre-orders are still live and you can find him located here and he is expected to ship between October 2020 and March 2021. Make sure you take advantage while you can or if you missed the original drop of this amazing piece.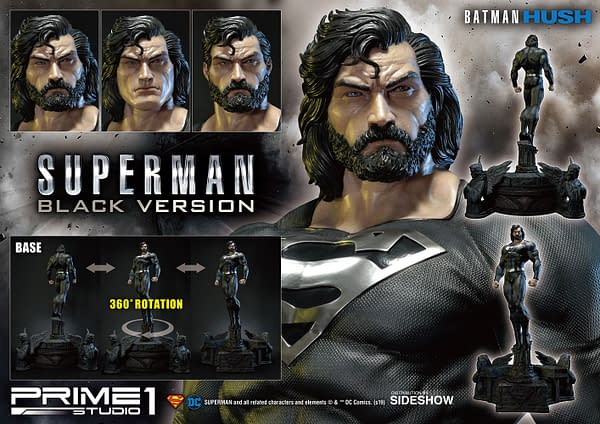 "Sideshow and Prime 1 Studio are excited to present the Superman Black Version Statue! This is the Black Suit Version of Superman, without his iconic Red and Blue costume. There are three alternate heads to choose from to display: long hair, long hair with beard, and short hair with beard.  This 1:3 Scale Superman Black Version statue measures almost 42 inches tall with a rotation mechanism on the pillar of the base which can be displayed in any direction. Don't miss out to add the Superman Black Suit Version Statue to your DC collection!"
Enjoyed this article? Share it!