Thanos Has Unlimited Power with New Mezco Toyz One: 12 Figure
Toy Fair is weeks away and Mezco Toyz couldn't hold their excitement as their Thanos teaser is now in full swing as they announce their next figure. The Mad Titan is here to destroy your One: 12 collections as he gets an amazing collectible. He will come with 3 different faces, normal, smiling, and frowning. Of course, he will come with an Infinity Gauntlet that even has a light-up feature that brings a great effect to the figure. This figure is pretty big so I hope the articulation still comes out strong instead of being hindered by the size. Thanos is priced at $155 and is set for a release between August and October 2020. Pre-orders are already live and you can find them located here.
Behold my power!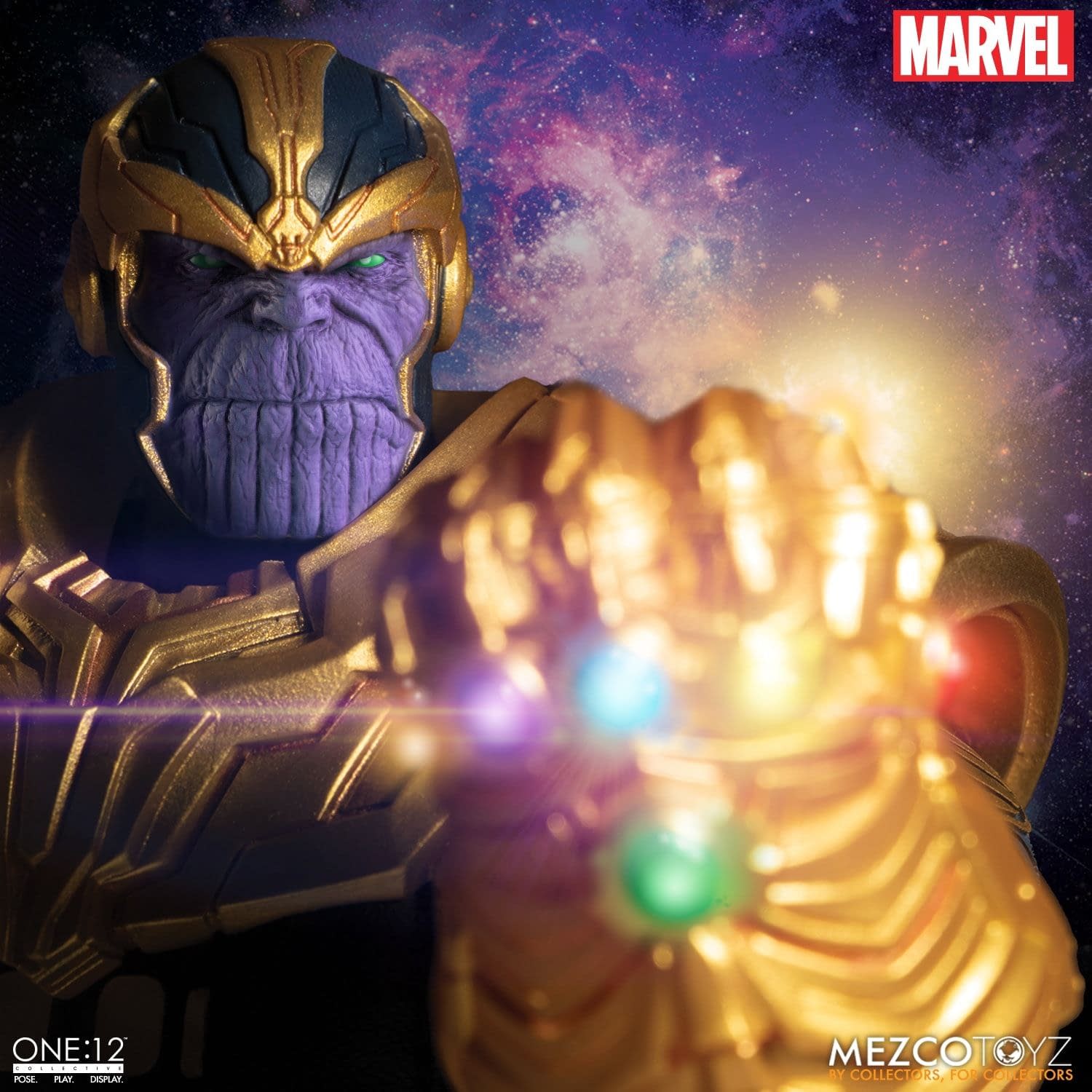 ONE:12 COLLECTIVE Thanos $155 Aug- Oct 2020
PRODUCT DESCRIPTION
"But in the end, as always, Thanos will stand triumphant."
The One:12 Collective Thanos is outfitted in a battle suit with reinforced chest and shoulder armor, and includes three head portraits depicting varying degrees of the warlord's grimace.
The Mad Titan wields the power of all six infinity stones, which shine brightly via a light-up function within his included infinity gauntlet. Thanos is able to control matter and energy with the Cosmic Cube that he can hold neatly in his hands.
A member of the superhuman race known as the Titanian Eternals, Thanos demonstrates enormous superhuman abilities and is able to absorb and project vast quantities of cosmic energy. Feared by the mightiest heroes across the cosmos, Thanos is plagued with saving the universe from itself.
THE ONE:12 COLLECTIVE THANOS FIGURE FEATURES:
One:12 Collective body with over 32 points of articulation
Three (3) head portraits
Hand painted authentic detailing
Approximately 21cm tall
Six (6) interchangeable hands including

One (1) pair of fists (L & R)
One (1) pair of holding hands (L & R)
One (1) pair of posing hands (L & R)
COSTUME:
Battle suit with reinforced chest and shoulder armor
Wrist gauntlets
Belt
Knee-high combat boots
ACCESSORIES:
One (1) Infinity Gauntlet with light-up function and two (2) interchange hands
One (1) Cosmic Cube
One (1) One:12 Collective display base with logo
One (1) One:12 Collective adjustable display post
Each One:12 Collective Thanos figure is packaged in a collector friendly box, designed with collectors in mind.