Batman week continues and this time we are getting a new release figure from Beast Kingdom. Coming from the Christopher Nolan classic Batman film, The Dark Knight, Joker comes to life with a new 1/9th scale figure. From their Dynamic 8ction Heroes line, Joker gets a highly dynamic and detailed figure recreation. He has 28 points of articulation and a huge focus on recreating his cloths. From the stitching, buttons, to the design and stylings, each piece was made with fabric to give him a realistic feel. Heath Ledger's portrayal was solidified in this figure and the head sculpt shows that iconic makeup and looks to him. We also get some accessories for this maniac with interchangeable hands, pistols, bazookas, grenades, and more.
Joker is one of Batman's most iconic villains and his time in The Dark Knight was a big change. The Joker was brought down to life and given real motives and a real threat to society. His crazy persona showed a broken man who just wanted to watch the world burn. This Joker figure from the Dark Knight gives fans a new collectible to add to their love of this character whether from the comics, the movies or a fan of Batman. The fabric elements take this figure to new heights and it adds another level of realism to it. Pre-orders for this figure are not live just yet but you will be able to find him located here when they do show up. I hope we can see more figures from this franchise come to life from Beast Kingdom. It would be nice to see their takes on Batman, Scarecrow, and maybe even Commissioner Gordon.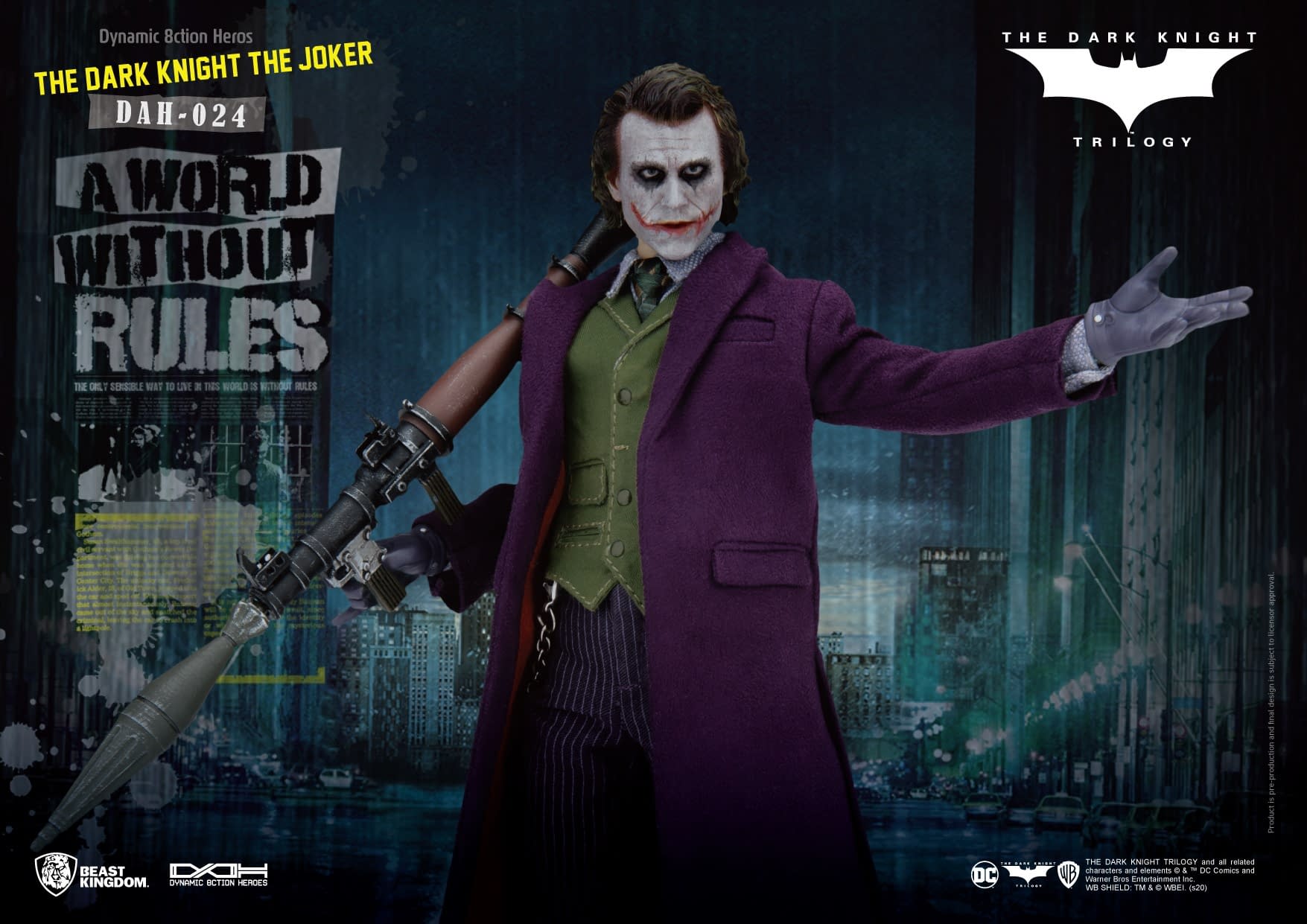 "The release of 'The Dark Knight' heralded a new type of superhero, and with it a new type of villain! Heath Ledger's take on the 'Clown Prince of Crime' is often considered as the definitive portrayal of the crazed comic-book villain. Bursting on to the screens in 2008 and changing the landscape for super-hero movies forever, nothing like it had been seen before. With every good hero a counter villain is a must, and this version of Joker took this notion of good vs evil to the next level! With clever makeup, a distinct taste for destruction and very anarchistic motives, the Joker from the Dark Knight is fondly remembered by fans the world over!"
"Beast Kingdom, The Entertainment Experience Brand, is proud to introduce the latest D.A.H (Dynamic 8ction Heroes) 1/9, action figure from the second in Christopher Nolan's Batman trilogy. The Dark Knight: Joker has 28 points of articulation, giving fans and collectors the very best in posable, realistic design. Conversely a huge amount of focus is given to The Joker's clothing, something the character himself took great pride in. Everything from the stitching down to the detailed buttons, a real metallic chain and more is beautifully recreated. A detailed head sculpt brings The Joker's manic look to real life. Finally not forgetting the D.A.H signature inclusion of a bevy of accessories, including four sets of hands, pistols, bazookas, hand grenades and more, means collectors are in no shortage of ways to pose and recreate their favorite scenes from the movie."
Enjoyed this article? Share it!