TMNT Q-Figs Exclusive Coming Soon For Q-Con
More and more exclusive collectibles are being announced every day now as we ramp up to what would have been SDCC in s couple weeks. Today we see that QMx has a set of their upcoming highly anticipated TMNT Q-Figs in variant colors. Not just any colors, but their classic black and white colors with the all-red headbands. These are the same sculpts that we are all eagerly anticipating being released a little later this year, although the classic comic figures are arguably way cooler. All four Turtles will be available: Leonardo, Raphael, Donatello, and Michelangelo. Each is in a cool battle pose, and are on top of a piece of the rooftop. You can see the exclusive TMNT figures down below.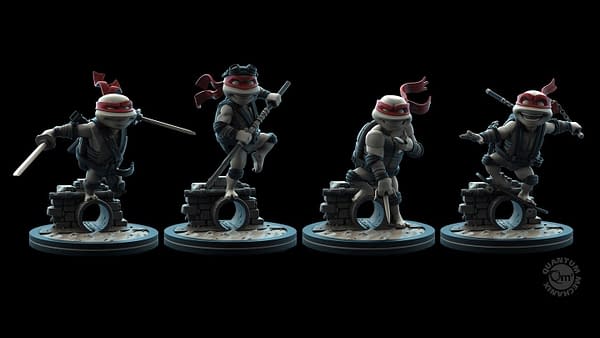 QMx TMNT Q-Figs May Be Their Most Anticipated Ever
"Q-Con reveal! Our exclusive Pizza Box contains a FULL set of black and white TMNT Q-Figs – their original comic book design! Limited to only 500 pieces and only available at qmxonline.com starting July 22nd at 6 pm Pacific. You also get the pins and the challenge coin."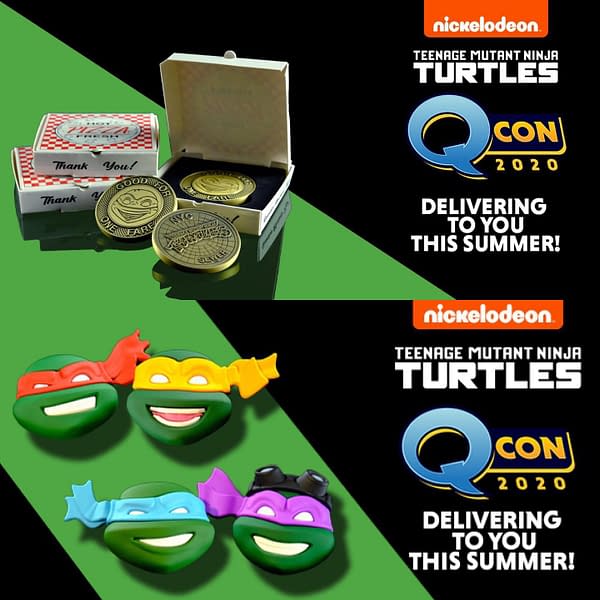 They will also have some TMNT pins and some really cool Turtles tokens that come in little pizza boxes. I am not sure if these are separate or if you get them with the Q-Figs, but either way, I need them. Honestly, these Q-Figs releasing have been at the forefront of my collecting brain since I found out they were coming. They will look perfect in my TMNT detolf, and that is the color ones I am talking about. Now I have to figure out a way to ensure that I get my hands on these comic variants as well. You can order these for yourself on July 22nd, part of what they are calling Q-Con. I am excited to see what else they will be offering.