New York Toy Fair: Visiting The Pokemon Company to Talk TCG and Detective Pikachu
Visting The Pokemon Company was one of the more fun experiences of New York Toy Fair this year. And with good reason, as excitement for the upcoming Detective Pikachu film hits a fever pitch. The team over there certainly is feeling the love, as out visit to check out the booth was awesome from beginning to end. When it comes to collectibles for fans both old and new, this is the place to check out.
First, the current series of the Pokemon TCG is focused on Sun and Moon, and they are pushing a new gameplay mode called Team-Up, using cards that pair Pokemon together on the same card for extra power when playing the card. Booster packs, starter sets, collectible tins, and a special Melmetal Box guaranteeing that card inside are available. Also for just $15 you can get cards housed in a Pokeball and walk into tournaments like a boss.
Looking at some of the clothing and such that will be available from Detective Pikachu, shirts barring the logos for the Hi-Hat Cafe and Ryme City and such will be available, along with an adorable Jigglypuff "Berry Juice" shirt. It is a low key and casual way for fans to support the brand and film out and about. There will also be pins and decals and even police badges!
TCG players will also be able to collect 24 different Pokemon cards featuring all the major Pokemon that make an appearance in the film. Psyduck, Mr. Mime, and Jigglypuff were revealed just today, and more will be revealed closer to the film's debut. These will be available in special TCG packs and bundles.
They are partnering with Wicked Cool Toys to create figures and more for the film, including a talking Pikachu that will feature the voice of Ryan Reynolds from the film. There will be a couple different scales of figures available on cardbacks, including these little adorable guys like Pikachu, Mr. Mime, and my personal fav, Bulbasaur.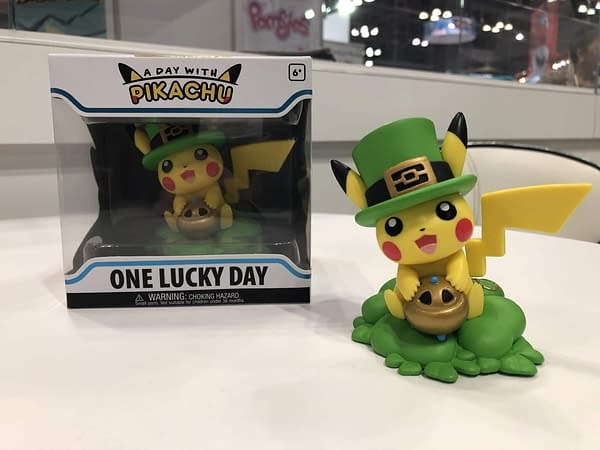 Finally, the first vinyl figure in their Day With Pikachu figures made in partnership with Funko was on display. "One Lucky Day" focuses on St. Patricks Day, and when ordered off The Pokemon Company website (where these are exclusive to), each will feature a teaser for the next months figure. This is available now.
One could not help but leave the booth with a smile on their face. Pokemon never went away, but between Pokemon GO, new games, and Detective Pikachu, Pokemon certainly seems to be becoming a juggernaut all over again.