The Ancient Transformers The Dino bots are back and this time their elder Gridlock is ready to roar. XM Studios has announced that the fan-favorite character is back and with a beautifully crafted statue. The 1:10 scale is hand crafted, hand painted, and brought to life by some amazing XM artists. This statue nearly took 2 years to create as they brought the Generation 1 Transformers design to life with a realistic aesthetic. The statue will have interchangeable pieces too to give collectors that extra feel of customization. Grimlock will come with two right arms, one holding his legendary sword and the other holding a spiked mace. For his left arm, he will also get two pieces, one will be holding a blaster, and the other is a simple left arm. To make the statue vine more impressive, Grimlock with come with a companion dino-mode statue. This little T-rex shows the Dinobot Transformers in his prehistoric glory.
This is a statue that was extremely put together with care by fans of the series. This will be a collectible that dedicated fans will truly fall in love with and be their centerpiece. The colors and the paint schemes on this statue are something special from the weathering effect to the details on the robotic parts. Grimlock will be limited to only 399 pieces to so collectors will want to act fast. The Transformers Generation 1 Grimlock Dinobots statue is priced at roughly $1,750. Some discounts are available and pre-orders are live and you can find him located here.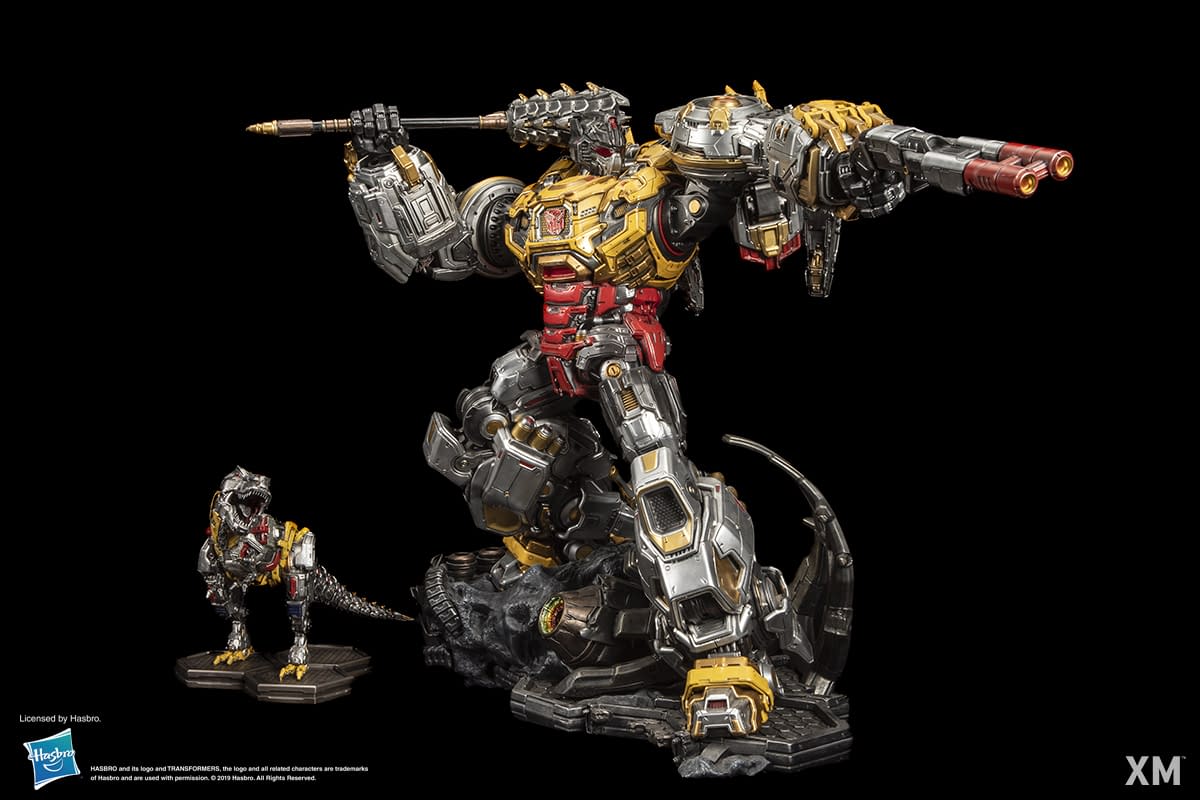 "XM Studios is excited to present our next Transformers Premium Collectibles series statue, Grimlock! Immortalized in amazingly detailed 1:10 scale cold-cast porcelain, each painstakingly handcrafted statue is individually hand-painted with the famous XM quality finish. Crafted from scratch, every nut, bolt and wire is lovingly designed and sculpted ground up by a team in mad love with the Transformers G1 era of cartoons. Inspired by one of our childhood favorite 80s cartoons, we took the G1's iconic form design and XMized them with modern details, to better fit in today's expectations of sophisticated robotry designs. We have spared no effort and designing these original pieces took our core team almost 2 years, resulting in an amazing balance of retro beauty with sleek modern details. What's a transformer without it's alternate mode? Yes, this statue comes with a companion statue, the vehicle mode so collectors can enjoy the beauty of both bot and alternate mode at the same time!"
The Grimlock Premium Collectibles statue features:
Two (2) Right Arm – 1 holding his sword, 1 holding a spiked mace
Two (2) Left Arm – 1 holding blaster, 1 left arm
One (1) Grimlock in his dinosaur (Tyrannosaurus Rex) mode
Light up Eyes for Grimlock
Cybertron theme inspired base
Crafted from cold-cast porcelain
ES: 399
Artists:
Andrew Griffith, Suheryanto Hatmaja
Frederic Daoust (Sculpt)
XM Studios Design and Development Team
Enjoyed this article? Share it!