Vampirella fans will want to check out this new statue based on the iconic artwork of José González. They are running a Kickstarter to get the statue made right now, featuring tons of awesome backer goals and of course, the statue. It features Vampirella in the 1/6th scale, with a bat perched on her finger, and stands 12.5 inches tall. She is posed on a logo base. Backers can even "upgrade" to a special black and white edition.
Read more about this one below, and click here to check out the Kickstarter page and order one for your collection.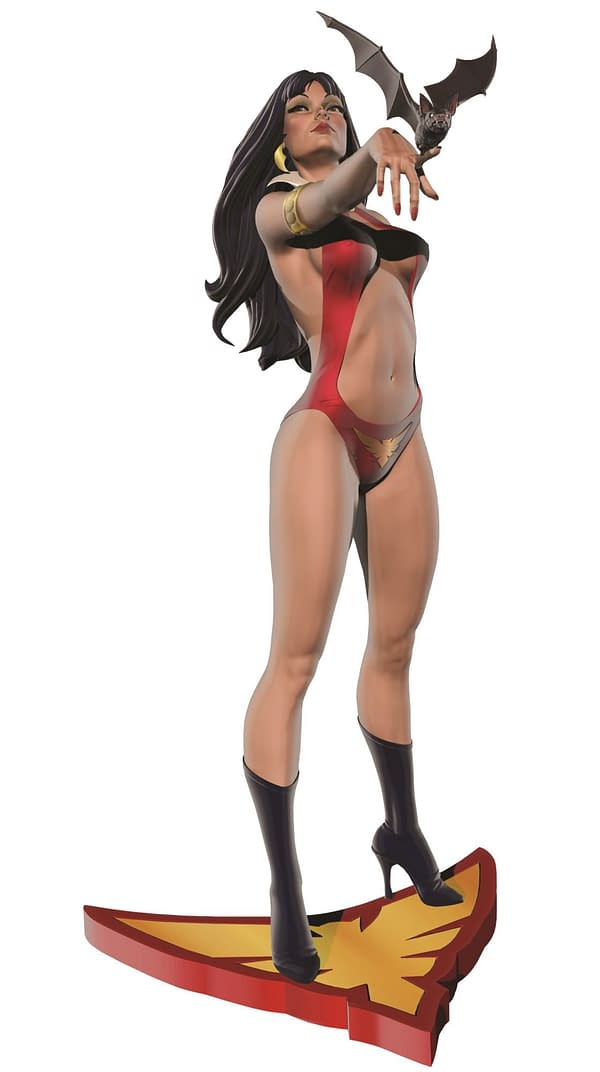 Dynamite Entertainment launches a Kickstarter for a breathtaking Vampirella statue based on art by arguably the definitive artist for the character – José "Pepe" González! Fans can preorder their statues now at a limited time value and check out other extras available in the campaign!
Support the Vampirella Statue Here!
Dynamite is proud to produce this definitive piece that belongs in every Vampi fan's collection in this hallmark year for the macabre icon. The high-quality resin sculpt is produced at 1/6 scale and stands 12.5 inches tall supported by a 5.5 inches wide base of her iconic bat logo. Steve Kiwus sculpted the piece, translating it from the legendary González image.
Vampirella first appeared in an eponymous magazine put out by Warren Publishing. Debuting as a simple horror anthology hostess in the vein of peers Uncle Creepy, Cousin Eerie and the Crypt-Keeper, she exploded in popularity and fans demanded fleshed out stories. Legendary writers and artists contributed to Vampi's history making creation. Godfather of horror and sci-fi fandom Forrest J. Ackerman came up with the concept, then underground comix legend and Wonder Woman artist Trina Robbins designed the costume, for a first cover by fantasy painting master Frank Frazetta and an interior story by Ghost Rider artist Tom Sutton.
The depth of her stories really expanded with writer/editor Archie Goodwin (Batman, Iron Man) and José González. The two introduced major supporting characters like Adam Van Helsing and Pendragon. González wowed readers with his jaw-dropping art utilizing unparalleled detail and ink washes, pushing the boundaries of the black and white magazine format. His frontispiece illustrations and occasional covers further cemented his legacy as he contributed to nearly every issue of the decades long Warren run.
The statue is also available in a black and white edition and backers can "upgrade" to get a limited edition marked and numbered Proof edition.
"We've had incredible success with our statues and busts to date focusing on great creators from J. Scott Campbell to Art Adams, and we're very excited to go now create a statue based on the art of THE classic Vampi creator!," said Nick Barrucci, Dynamite CEO and Publisher. "There was really no other piece of artwork that more deserved a statue for this special 50th anniversary occasion."
Other reward options and add-ons include a specially curated selection of graphic novels, art books that will perfectly complement the González and Warren era statue and enamel pins.
Enjoyed this article? Share it!