Wonder Woman 84 is still months away but you can still bring home Wonder Woman with a new sixth scale figure from Sideshow Collectibles. This figure is something else and you will see why. The figure is 12 inches tall and odd as it sounds she is fully articulated. Diana uses a new seamless body from Phicen for a completely different and more realistic looking piece. This Wonder Woman figure includes multiple interchangeable hands, sword and scabbard, her lasso of truth and her iconic shield. There is a Sideshow Exclusive version that does give you an extra exclusive spear accessory. The flawlessness of this figure is something magical and you don't ever see something like this. Could this be a new direction for bigger and higher-end collectibles? Only time will tell, and until then you can be the first to own this one. This is a figure that should easily please Wonder Woman fans and have them wanting more.
The DC Comics Wonder Woman Sixth Scale Figure from Sideshow Collectibles is set to release between August and October 2020. The standard collectors' edition will be priced at $245 while the Sideshow Exclusive figure will be priced at $255. Pre-orders for this very realistic figure are already live in located here. Don't forget to check out all the other amazing six scale figures from Sideshow Collectibles.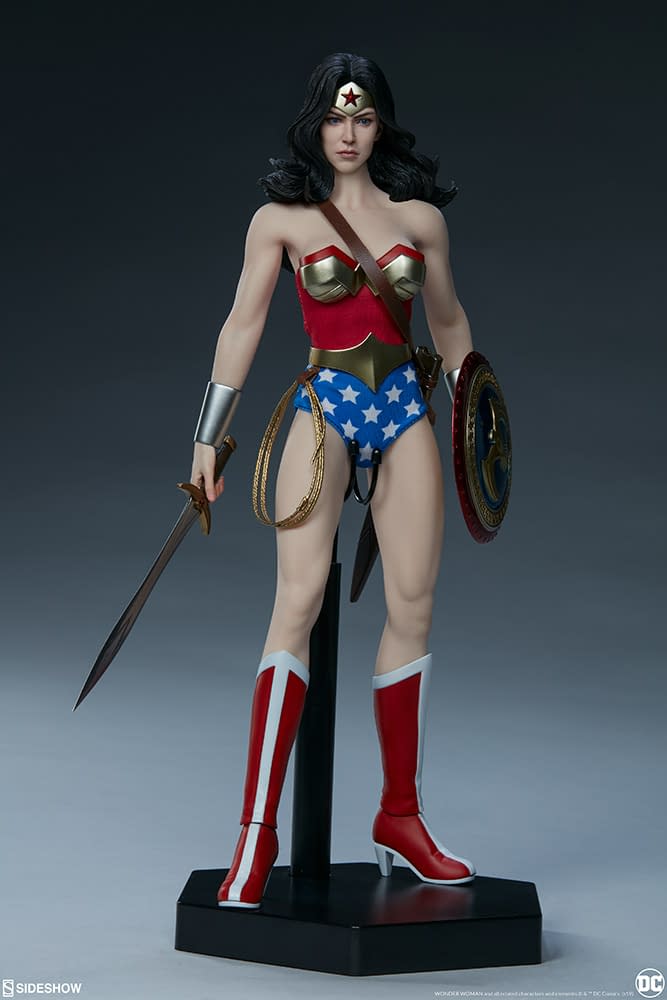 DC Comics – Wonder Woman Sixth Scale Figure
"The world of humanity is filled with people in need."
Sideshow presents the Wonder Woman Sixth Scale Figure, joining the league of DC Comics collectibles.
Inspired by the Amazon's iconic comic book appearance, the Wonder Woman Sixth Scale Figure features a seamless, articulated, muscular body type developed by TB League, as well as a fabric bodysuit in Wonder Woman's iconic red and blue colors with white stars. Over the suit, she has a sculpted gold belt and gold breastplate, her signature armor. Her portrait has flowing black hair sculpted with motion details and also features her golden tiara with a red star set in the center.
The Wonder Woman Sixth Scale Figure also features a number of swap-out Amazonian accessories, allowing you to craft a display worthy of the gods. Diana of Themyscira has sculpted red and white boots with articulated ankle joints as well as three sets of hands including fists, open hands, and grip hands. The figure also comes with two versions of the golden Lasso of Truth- one sculpted, coiled version and one fabric version. Additionally, Wonder Woman includes her silver Bracelets of Submission, her aegis shield, and her sword with a wearable scabbard, giving you an entire pantheon of possible poses.
The Exclusive Edition of the Wonder Woman Sixth Scale Figure includes a spear accessory, giving you an additional display option in your wondrous arsenal of weaponry.
Great Hera! Add a warrior's strength to your DC Comics collection and bring home the Wonder Woman Sixth Scale Figure today.
The Wonder Woman Sixth Scale Figure features:
– Seamless, muscular female body developed by Phicen
– Comic-book inspired likeness of Wonder Woman with iconic golden tiara
– Fabric bodysuit featuring the classic red and blue colors with white stars
– One (1) pair of red and white articulated boots
– Three (3) pairs of hands, including: Left and Right fists, Left and Right open hands, Left and Right grip hands
– One (1) pair of silver "Bracelets of Submission"
– One (1) sculpted "Lasso of Truth" in coiled state
– One (1) fabric "Lasso of Truth"
– Sword with wearable scabbard
– Shield
– Spear
– Sculpted Gold Belt
– Sculpted Gold Breastplate
– Product Size – Height: 12" (304.8 mm)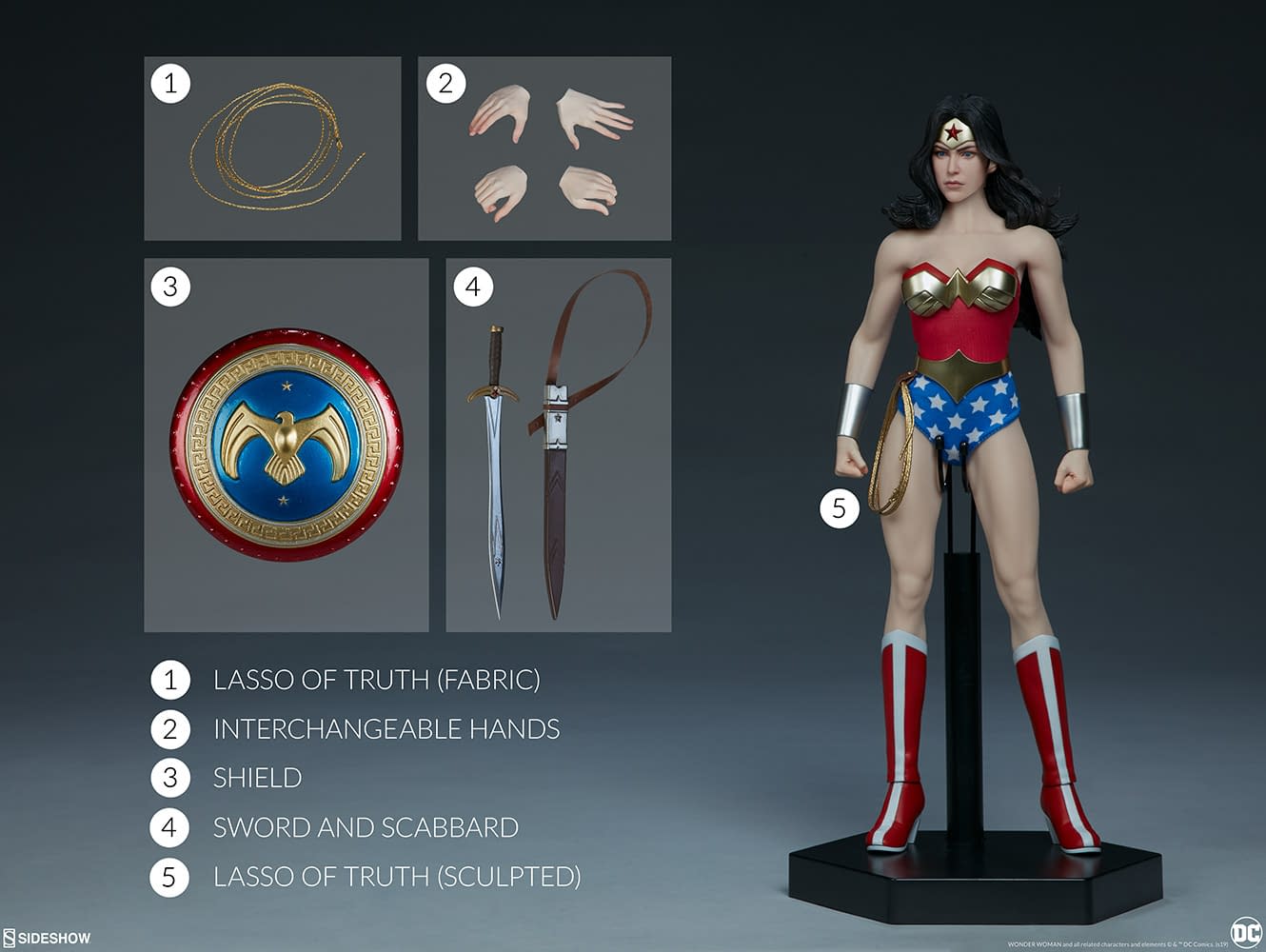 Enjoyed this article? Share it!