4 Thoughts About Bezimena from Fantagraphics
Bezimena by Nina Bunjevac appeared on my radar when Phil Hester described Bezimena as a "haunting, difficult, beautifully crystalline comic.", so I figured I'd give it a chance. Published through Fantagraphics in 2019, the black and white story received some amount of critical acclaim, including a positive NPR review.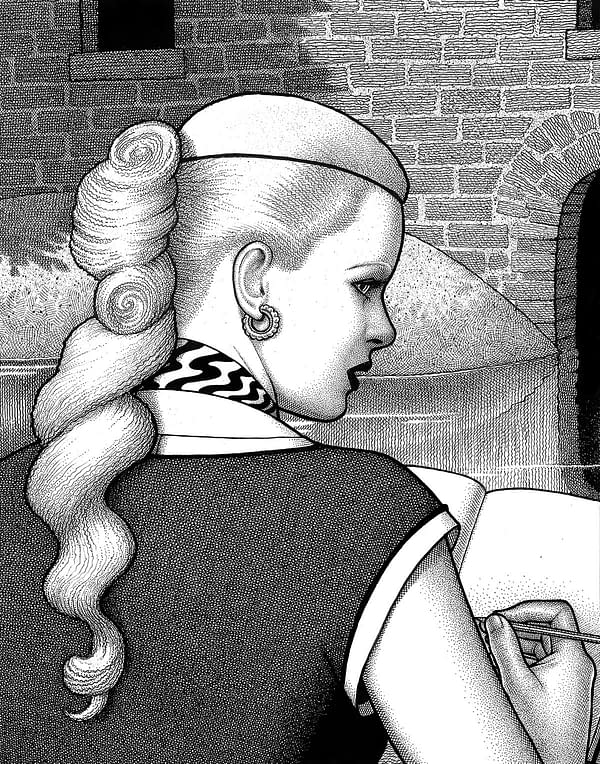 A wholly adult-only OGN that most closely resembles a David Lynch movie, Bezimena focuses its attention on the story of a sexual predator. Bunjevac formats the story in a manner where there's one page of dialogue (usually only one or two-word balloons) and then a massive illustration on the facing page. In some cases, there are explicit depictions of sex acts, which NPR describes as having dubious consent. If you choose to read Bezimena, especially if you have a history with sexual violence, tread carefully.
Bezimena is my introduction to Bunjevac's work; I've never read anything else by her. She's known for her two previous books, Heartless in 2012 (a Doug Wright award winner), and Fatherland in 2014. Bezimena, it turns out, earned the official Angoulême selection in 2019.
Bezimena is creepy and unsettling, which is no surprise, given the source material. Bunjevac expertly takes us through the delusions that exist within the mind of a predator. The illustrations (please, let's not have a debate about whether it's comics, Bezimena's a comic) remind me of the intense focus and quality of Bernie Wrightson's Frankenstein spot illustrations. There's a meticulous detail to Bunjevac's pencils that's staggering. There's an undercurrent of the bizarre in her pencils that's difficult to pin down, which perhaps highlights the not quite rightness of Bunjevac's unreliable narrator.
Bunjevac's essay at the back of the book is even more harrowing than the quasi-fable that precedes it, recounting her two experiences with sexual assault, including one with a man that was supposed to be her legal guardian. Bezimena left me with more answers than questions, and the aftereffect is much more than I bargained for.