Storm and Black Panther have shared a lifelong love that was finally realized in marriage back in Black Panther Vol. 4 #18, a tie-in to Civil War. Of course, a marriage that began during a heroes vs. heroes super-mega-crossover event, an old adage said, is destined to end during another, and that's exactly what happened in Avengers vs. X-Men, when the Panther has their marriage annulled even though the Avengers were 100% wrong in that conflict and the X-Men were 100% right. What a dick!
But in Shuri #2, when Storm learns that her love is lost in space, she can't help but come running to Wakanda…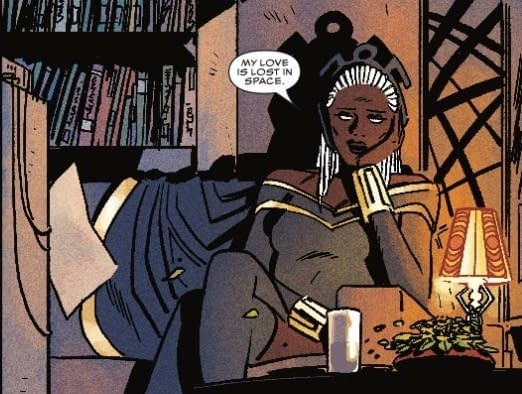 Oh, Storm. You're better off without him, girl! Besides, there's more important business to attend to in a newly relaunched Uncanny X-Men, after all.
Though we hope these two don't get back together (at least not without a lot of apologizing on T'Challa's part), we do want to see where a potential Storm/Shuri team-up is going.
We'll get our wish when Shuri #2 hits stores next Wednesday.
Shuri #2
(W) Nnedi Okorafor (A) Leonardo Romero (CA) Sam Spratt
In Shops: Nov 21, 2018
SRP: $3.99
Enjoyed this article? Share it!