Advance Review: It's A Haunted World In Harrow County #5
Reading Harrow County is a real trip. I can never tell what's coming up in each issue, only that it has so far avoided any rough edges in transition that might make me think, even for a moment, that I might put the series down. With gorgeously colored and expressive artwork by Tyler Crook, Harrow County sets the stage for a folk tale ambiguity in which storytelling can thrive. Who's the hero? Who's the villain? It feels like just about every character in this rural community, from mainstays to individual ghosts and ghouls, could turn on a dime from one side to the other of the threat spectrum, and that's what issues #4 and #5 have been building toward. Writer Cullen Bunn has done an excellent job on the pacing of this comic so far. While it has some qualities that could render it neatly novellistic (and the thought of seeing a collection is already something to look forward to), it is deeply episodic. So much so that Bunn is very careful not to drop too many hints about what's coming up in the next issue each time, though you might get a bit of a cliffhanger to bridge that shift, like we did at the end of Issue #4.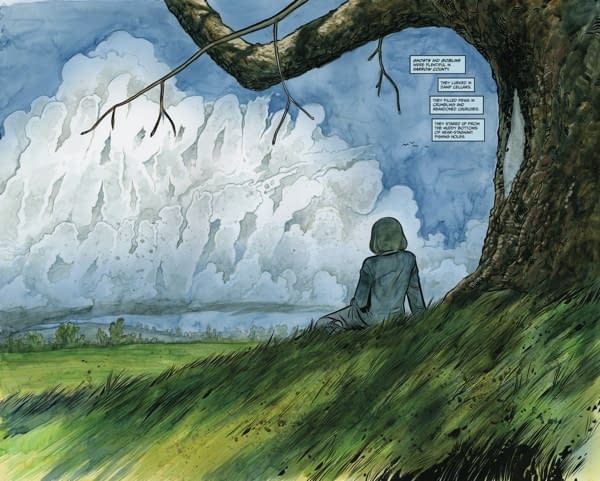 The theme of Issue #5 works on a number of levels, and spins out of the concept of being alone and yet not alone. Emmy is beginning to realize that she herself is actually one of the many haints of Harrow County. What a concept. And yet she is incredibly lonely and that isolation does not exactly help her move on with her life. To turn the tables and enable the reader to understand not only that Emmy is ambiguous in her abilities, but that she is part of the narrative of a PLACE is really quite an important achievement in this series. She is part of a haunted world, not just a victim or spectator.
The title of the series is a place name. The airy, uninhabited spaces of that county are where the haints manage to exist, many of which Emmy is increasingly encountering or hunting down. As a reader, so far in this series I haven't questioned whether Emmy is really "free". She's so stubborn, and even in her panic rather brave, so blunt in revealing her thoughts, even, that I've assumed that she could shake off whatever kind of predetermined fate seemed to hang over her. But in truth she's part of something more pervasive than is easily rebelled against.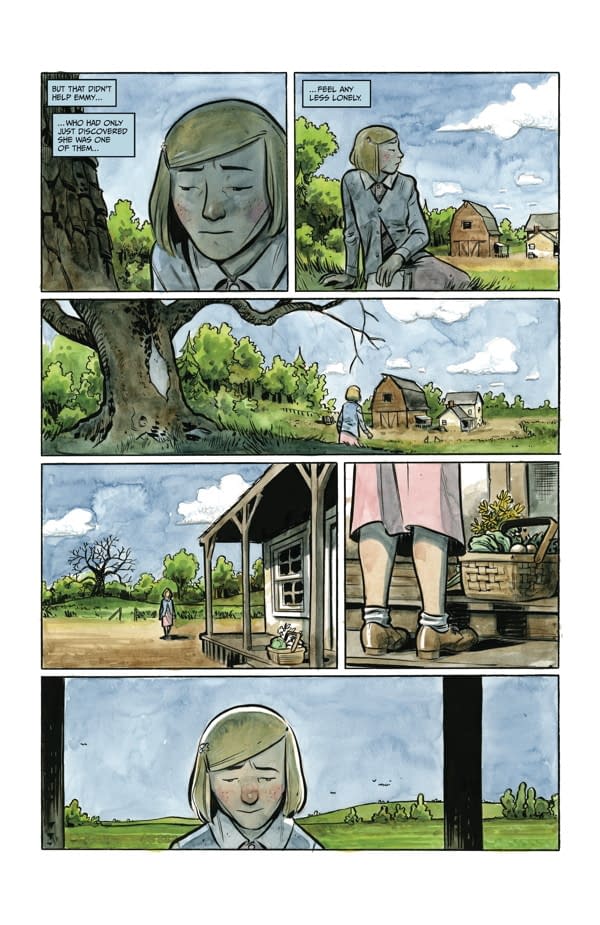 What I'm gradually becoming aware of in Issues #4 and #5 is how large that shadow looms over her, though, and as she comes to look directly at the facts, even she can see and own the truth: she is one of the legendary beings of Harrow County, in a sense, and she may never be "free" of that.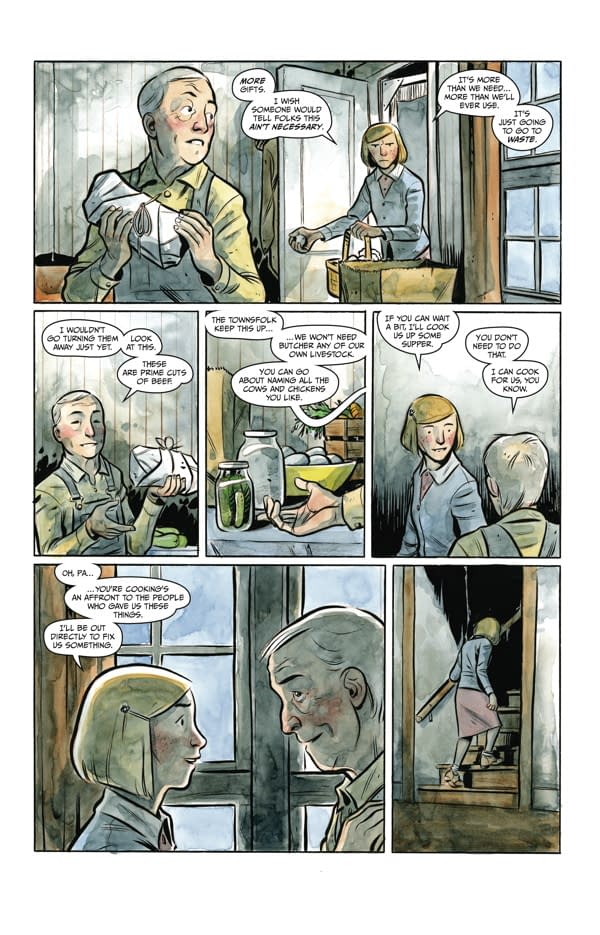 I'm quite afraid for Emmy at this point in the story, and not afraid she'll be taken down by a hoard of fiery skeletons or a slit-eyed creature of the darkness. And maybe not even because I'm afraid the people of the town will turn against her. I'm afraid for her because she wields too much power. Too much of the balance of the supernatural ecosystem depends on her and even small things might sway that balance.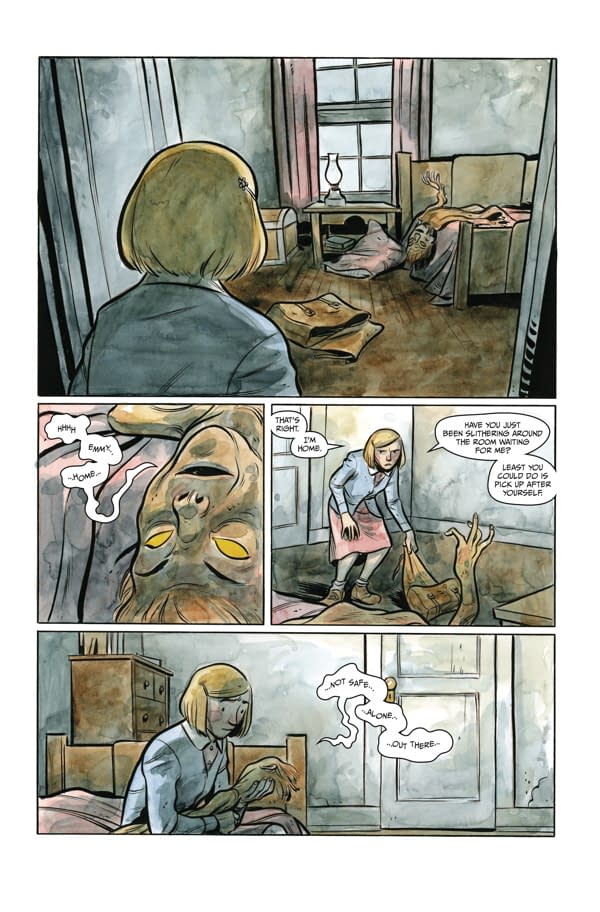 Issue #5 gives us pause for reflection about Emmy's identity and state–how being a haint is something she must address even as it alienates her–but also sets us up for some major changes in the dynamics of conflict within the plot.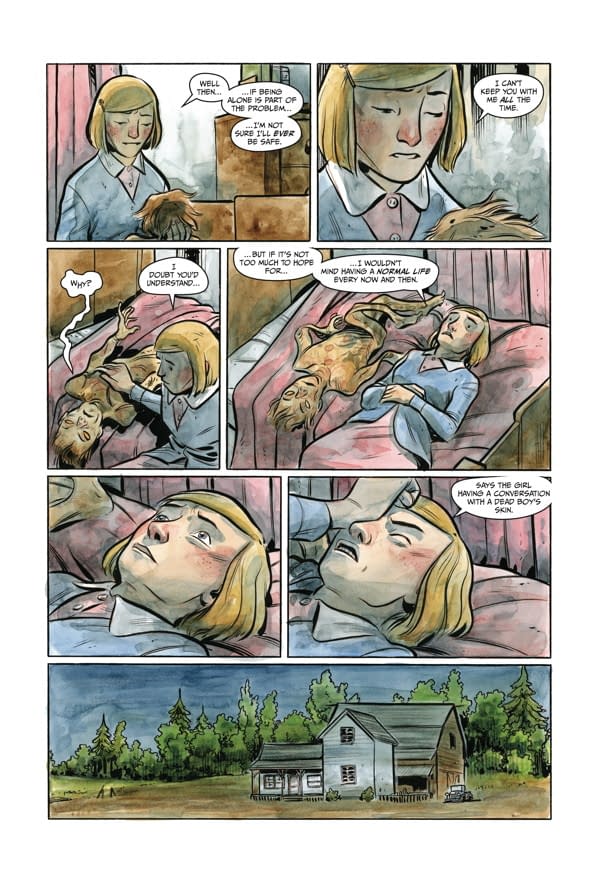 Don't miss out on Issue #5, arriving in shops this Wednesday, September 9th from Dark Horse Comics. Like any good folktale that's just getting good, there's a further turn of the screw coming up and you'll have to play your part to decide just who Emmy is and who she'll be. And as goes her fate, so goes the fate of Harrow County.