Last month saw Warren Ellis, Bryan Hitch, Kevin Nolan and Alex Sinclair give us The Batman's Grave #1 from DC Comics, including an Alfred Pennyworth on the whisky who had some suggestions for Bruce Wayne.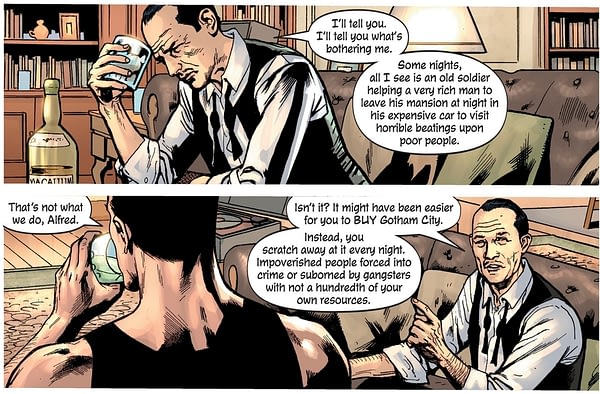 Today, the UK left-wing political movement Momentum that supports Jeremy Corbyn and the Labour Party, echoed such sentiments in a political broadcast.
While today's The Batman's Grave #2 has Alfred a little worse for wear.

But he is not entirely walking back his comments to his boss.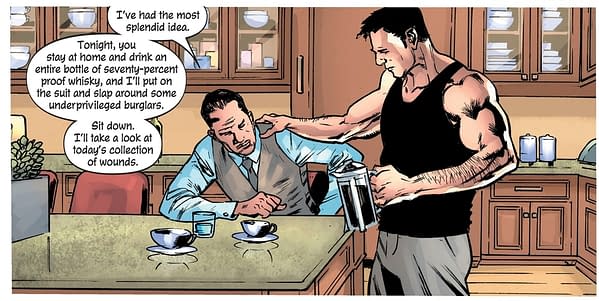 Indeed, when he joins Bruce in the Batcave, he seems to be doubling down rather.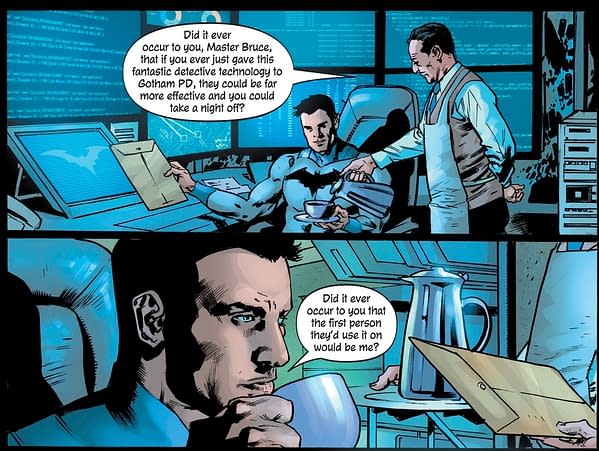 And? Yes, giving his amazing technology to track Batman's villains may also see them target him as well. But also his villains. And with their manpower, do a better job. Alfred can't blame it on the whisky this time around…
The Batman's Grave #2 is published today. Maybe in December, Alfred will lead the proletariat on a march to the Bat-cave singing songs of revolution and wondering how he is still alive after that thing with Bane.
BATMANS GRAVE #2 (OF 12)
(W) Warren Ellis (A) Kevin Nowland (A/CA) Bryan Hitch
A man was murdered, and the Batman is in his head-and he knows how it happened. All he has to do now is survive his own deduction. Don't miss the second chapter of this new thriller from writer Warren Ellis and artist Bryan Hitch!In Shops: Nov 13, 2019
SRP: $3.99
Enjoyed this article? Share it!