"I Always Thought The Avenger Was A Weirdly Underused Hero." – Mark Rahner On The Avenger Special
We have another writer to writer interview, this time with David Walker, writer of the Doc Savage Special, talks with Mark Rahner about the Avenger Special, both on sale now. DAVID WALKER: When did you first discover the character of The Avenger and his Justice, Inc. crew? Has this been a character that you've wanted to work with for any length of time?
MARK RAHNER: The paperback reprints from the '70s were some of the first novels I ever read as a child, so writing an Avenger story brings me full circle. Couldn't be prouder to do it. By the way, Edu Menna's depiction of The Avenger strongly resembles the ones on those great paperback covers. Avenger fans really ought to dig that.
I always thought The Avenger was a weirdly underused hero. He should be as well-known as The Shadow and Doc Savage – though he had fewer original pulp adventures. He debuted the same time as Batman, and they have a bit in common, but Richard Benson seems even more traumatized and haunted and driven than Bruce Wayne.
DW: One of the things I always liked about the original Justice Inc. pulp stories was the diversity of the cast. Did that play into your development of the story?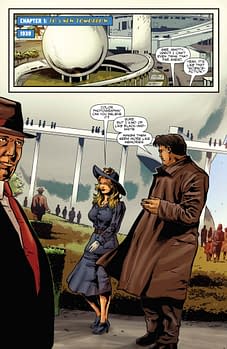 MR: You bet. The Avenger wouldn't be what he is without the Justice, Inc. team, and you don't want to shortchange them. Mac the dour Scotsman was always my favorite. His banter with Smitty the giant might as well have been the model for Spock and McCoy. Having the black couple, Josh and Rosabel, as equal members of the team was edgy and progressive way back in 1939. Which might be easy to lose sight of in 2014. Then you've got pre-feminist ass-kicker Nellie. Benson was an amazing man who surrounded himself with a new family of extraordinary team members.
DW: There is a strong pulp sensibility to the story, while at the same time you address some very important issues that were relevant then, and remain relevant. Can you talk a bit about the decision to have this be more than a simple pulp thriller?
MR: Benson is a machine utterly dedicated to justice. And you'd be hard-pressed to think of greater injustice at that time than how black Americans were being treated. In fact, you really have to go out of your way to avoid it. Benson doesn't care about music. He isn't concerned that he's dealing with a big star. He's got another important – and gruesome – case to solve fast. But when Billie Holiday tells him her story, there's no way he's going to turn her away.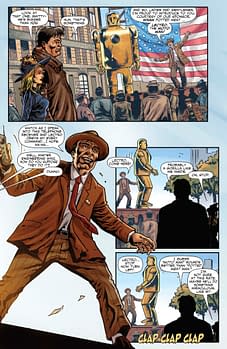 DW: I love the amount of historical detail that went into the story, and I understand that you come from a journalism background. Does historical research play a big role in you writing for comics, and is that in any way connected to being a journalist?
MR: My journalism background affects my research and writing in that sometimes I have to force myself to stop the research and start the writing! But it's also fun to delve into something as fantastic as the 1939 New York World's Fair. It was where people saw TV for the first time. And I hear that became a thing. The robot in my story is modeled after a real one that was there.
DW: What drove the decision to have Billie Holiday be part of the main story?
MR: At first, I was just being a wise ass. Dynamite wanted a holiday story, so I gave them Billie Holiday. But the more I researched her life, the more it seemed like a natural for Billie to be in The Avenger's world. They both rose above unthinkable sadness to do awe-inspiring things.
For more on The Avenger Special, click here.