Amazing Spider-Man #798 Review: Gobby vs Spidey- Plus, That Thing You've Been Waiting For
[rwp-review-recap id="0"]
The Green Goblin attacks the Daily Bugle while armed with a Tritium bomb. He's looking for Spider-Man, of course, and he sends Peter Parker to retrieve him. The pair duel while the Bugle evacuates and the clock ticks down. Elsewhere, J. Jonah Jameson tries to escape the warehouse in which Osborn left him.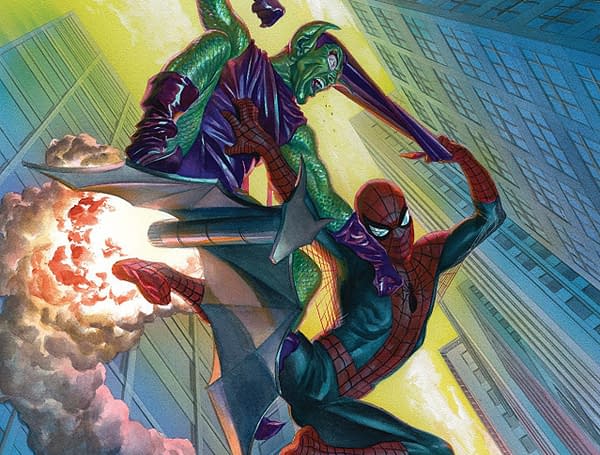 Amazing Spider-Man #798 manages to pull off another solid issue by letting the battle between Spider-Man and Green Goblin take center stage. There are still many parts of the comic which are shaky, but I can't say that I came away from this one dissatisfied.
The opening where Peter Parker's narration talks about how awesome his life his right now before Goblin shows up is more than a little trite. There is a climax to the battle that makes little sense in context and makes you wonder if Spider-Man intended to leave Osborn to die.
There's also the underlying question of why Osborn hasn't exposed Spider-Man's secret identity to the world already. That seems like it would ruin his life far worse than just threatening him with it.
That aside, most of the battle is fun, and Dan Slott gives the Green Goblin some funny dialogue throughout most of the book.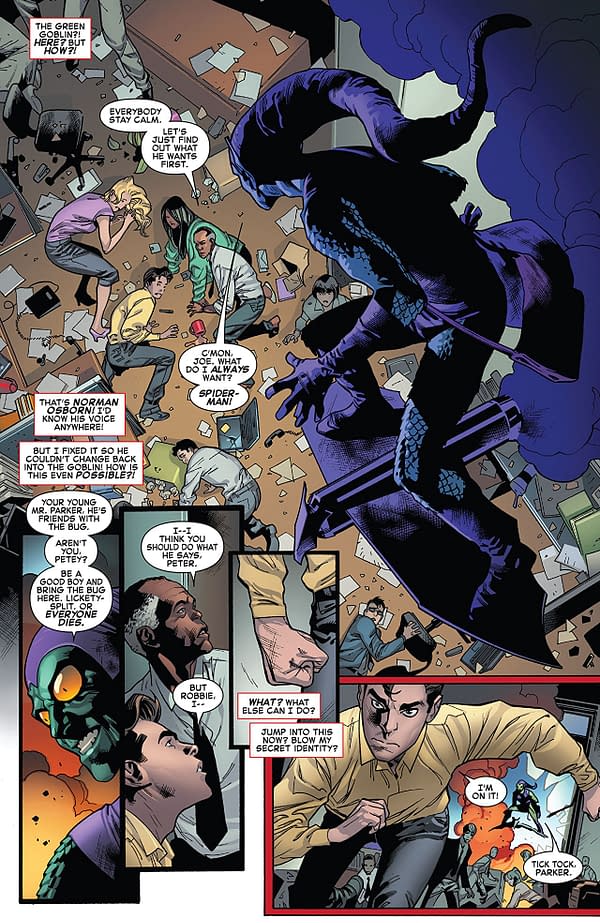 Stuart Immonen's artwork continues to be rock-solid. He plays with shading quite well, and the world is given a unique texture that makes everything look that much more real. Some of the faces look a bit bizarre, especially one where Betty Brant's face is expressing an emotion alien to human beings, but his work holds together for most of the comic. Wade von Grawbadger's inking bounces between subtle and heavy as needed for the scene. Marte Gracia's color work is well-balanced and gives the world of Spider-Man the vibrancy it deserves.
This was another decent issue of Amazing Spider-Man. "Go Down Swinging" looks like it could be a good finale to this troubled run of ASM. The comic is fun, the dialogue is funny at times, and it's nice to have ole' Norman Osborn back on the scene. This one gets a recommendation. Check it out.
[rwp-review-ratings id="0"]
[rwp-review-form id="0"]