Posted in: Comics | Tagged: andy mangels, Bionic Woman, Comics, dynamite, entertainment, Judit Tondora, Lindsay Wagner, lynda carter, wonder woman
---
Andy Mangels Talks Bringing Lynda Carter's Wonder Woman And Lindsay Wagner's Bionic Woman Together
By Byron Brewer
Following up on the critically-acclaimed Batman '66 Meets The Green Hornet, Dynamite Entertainment in December again pairs two icons in an all-new series set in the TV heyday of Lynda Carter's Wonder Woman and Lindsay Wagner's The Bionic Woman, written by Andy Mangels (Star Wars, Star Trek, The X-Files) and illustrated by up-and-coming artist Judit Tondora.
Andy Mangels is a USA Today bestselling author and co-author of over twenty fiction and nonfiction books — including Star Trek, Roswell, Iron Man and Star Wars tomes — and is an award-winning comic book anthology editor. As a pop culture historian, he has also contributed to international magazines and newspapers, and has scripted, directed and produced over forty DVD documentaries and Special Features projects. In 2012, he was awarded the prestigious Inkpot Award for Achievement in the Comic Arts at Comic-Con International.
We talked to the writer about this eye-popping team-up miniseries coming in December from Dynamite. Covers: Cat Staggs, Alex Ross, Michael Adams, and Judit Tondora.
BYRON BREWER: Andy, this is one of those magic TV franchise mash-ups where everyone asks, "Why hasn't this been done before?" So: Why hasn't this been done before? (laughs) And what is it like being part of this dream superhero team-up from the 1970s?
ANDY MANGELS: As a kid, when we play with action figures and dolls, we can create any adventure we want to. Captain Kirk can ride in a landspeeder. He-Man can team up with Spider-Man to stop Baron Karza. But we almost never saw the magic of our minds reflected in TV reality. Sure, the Hanna-Barbera franchises would group together sometimes, but for the most part, team-ups were a rarity. The cost of the combined casts of shows, not to mention the question of who owns the rights, meant that team-ups were few and far between. Batman and Green Hornet. Shazam! and Isis. Six Million Dollar Man and Bionic Woman. Not too many others…
But in comics, team-ups are de rigueur, and part of the magic that we as comic creators get to do is to reimagine what pairings of beloved characters could mean, given our (hopefully) more advanced storytelling and creativity.
I was up for the writing job for Wonder Woman '77 long before anyone out in the "real world" knew it was even a possibility, and the ending to my first year proposal was to do this cross-over. I didn't get that series job, but I approached DC and Dynamite about doing the cross-over, independent of either main series. After a lot of negotiation, it finally happened! And I'll tell you, I've written Star Wars, Star Trek, X-Files, Freddy Krueger, and lots of comics… but this project is by far the coolest and most exciting project I've gotten to write. This book cuts right to the core of my ten-year-old self, who would never have believed that his imagination of this team-up could ever be a reality.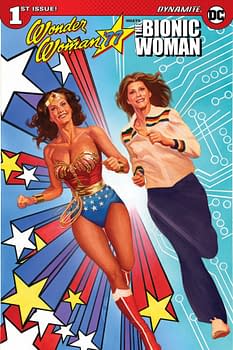 BB: Both TV franchises, Wonder Woman and Bionic Woman, have hardcore followings. Has it been difficult to find the "voice" of either character, as portrayed by a live actor embedded in our memories?
AM: Finding the voices isn't difficult because I have been a huge fan of both shows for 40 years now. Many people know that I have one of the largest Wonder Woman collections in the world, and the largest when it comes to TV show materials. I've helped Warner Bros. out on the Wonder Woman DVD sets and La-La-Land's upcoming Wonder Woman television soundtrack set, and been in five documentaries on the character. What people haven't known is that I almost produced the Six Million Dollar Man and Bionic Woman sets for Time Life, back when I was doing DVD production work. I love these shows, and I know these shows!
When I'm writing Diana Prince or Jaime Sommers, I often am reading the dialogue out loud, to see if I can "hear" Lynda Carter or Lindsay Wagner saying the lines. When I write the sound effects, I'm making the sounds and trying to spell what was on the shows. And I'm strictly making sure not to contradict anything from either TV series in the books; some licensed books play fast and loose with continuity, but I've always made it a point to respect what came before, not to think that I know better than the people who created it. That said, in order to make a team-up possible, we do have to imagine a world in which both characters exist simultaneously.
I think that not only will hardcore fans be ecstatic at how well the entire creative team is capturing their memories, but casual readers and TV viewers will enjoy the hell out of it as well. Think of this as a 3-part television cross-over with an unlimited "on-screen" budget!
BB: Because of the title of the piece, I am assuming Diana will be a federal agent working for IADC while Jaime is working for the OSI? In addition to the superheroics expected, will we be getting some cool Cold War spy adventure in this miniseries?
AM: You've got that right. The IADC (Inter Agency Defense Command) actually overseas multiple government agencies, such as the FBI, CIA, OSI and others. So, when the threat that happens in this series occurs, agents from many of the groups are called in. That would be when Diana meets Jaime… except they actually meet prior to their official meeting…
Concerning spy adventuring, it took some maneuvering through both shows' histories to come up with the threats — note that that is multiple threats — that were worthy of the two heroines and this adventure. Did I mention the unlimited "on-screen" budget? There are spy and espionage elements, there are super villains, and there are hidden agendas behind hidden agendas! BB: What I am really excited about here is seeing the tropes of both shows criss-crossing: Jaime in Wonder Woman's invisible plane, Diana throwing something heavy to the Bionic Woman with the trademark sound effect of the BW series, Diana Prince changing into WW and maybe being picked up by Jaime's bionic ear … How challenging is it to pull these off and still have a great story going at the same time?
AM: I promise fans that they will see almost every element that they want to see from the series. The invisible plane? Check! Max the bionic dog, check! Lasso and tiara toss? Check! 1970s bell-bottom pantsuits? Check! Bionic hearing, sound effects for jumping, spins from one outfit into another, supporting cast… it will all be here. One of the things you mention not only happens, but is on a future cover!
It's easy to work these elements in since I don't have a TV-show budget. I can use the invisible plane as much as I want to, for instance. I can have returning cast members who would be too costly in live-action. I can have fifty opponents in a scene instead of three. And I can work in things that would have been too expensive to film on television; there is a comics-only element that will show up in issue #3 or #4.
BB: Who – or what – is CASTRA?
AM: They are an evil cabal with nefarious plans. But like any cabal, they have many figureheads within their confederacy. In this story, some of those leaders are returning villains from both Wonder Woman and The Bionic Woman, except now, they too have teamed up. And they're bringing a world of hurt to our heroines and everyone associated with them!
BB: Any signs of the Cheetah here?
AM: There isn't, because DC used Cheetah already in the Wonder Woman '77 comic. But there are several characters who had comics-to-live-action versions who will appear, and two characters who started out under one name on the Wonder Woman TV show who will be known by another name — and look — by the time you see them in this series.
BB: I know that often, even in a story like this, atmosphere is important and period/location often becomes almost a character itself. Andy, did you and/or artist Judit Tondora put any time into studying the history of the period apart from the old TV shows?
AM: I have spent months now, screencapping HD episodes of Wonder Woman and DVD episodes of Bionic Woman to provide Judit Tondora with anything she'll need to get the details correct. I think I've overwhelmed her with reference! I grew up in that time period, of course — as did our letterers, Tom Orzechowski and Lois Buhalis — but Judit and our colorist, Michael Bartolow, are younger, and don't remember things quite the same as us Baby Boomers do. I work very closely with the team, as does my excellent editor, Matt Idelson, to make sure details are right.
Sometimes that means removing telephone poles where they shouldn't be, or making clothing adjustments so outfits are more "period." Other times it means remembering what politics and gender roles and so forth were then versus now.
By the way, I do want to gush over Judit for a bit. We found her through David Campiti's Glass House Graphics. I had written for David at Innovation Comics many moons ago, and when I described what kind of artist we wanted, he sent Judit our way. Her samples showed a gorgeously fun sensibility, with a lot of detail and action, but some beautiful storytelling. I'm writing full-script, and giving her a lot of panels to do — this is not a decompressed, stretch-it-out-for-the-trades book — and Judit is knocking it out of the park, page after page. I've been seeing a lot of Nicola Scott in Judit's work; she's not aping Nicola, but has a similar sensibility. And although some of the early character sheets showed Judit was still working out the likenesses, those were samples to get the job. She's got the likenesses down now! And she's not doing heavily photo-referenced likenesses as you see in some licensed books. Judit is incorporating the likenesses into actual vibrant comic art.
BB: Last one: Will EITHER of the Steves – Austin or Trevor – be showing up for the mini?
AM: Steve Trevor, definitely. He shows up on page 8 of issue #1 and goes from there. Steve Austin… well, he's a different license from Universal, so how about I say that Steve's presence is definitely a part of the mix, just as it often was on The Bionic Woman TV series. Whether we'll see him or not… that's a Six Million Dollar Question!
BB: Thanks for your time, Andy, and like others who grew up in the 1970s or have seen the TV shows, I am really looking forward to this dream team-up book.
AM: Thank you for the opportunity to talk about this project. I knew it would generate a lot of excitement among fans and retailers, but from the July announcement in the New York Times until now, it's been a massive amount of interest and support. The whole creative team intends to give you the best value for your money, and your imagination!
---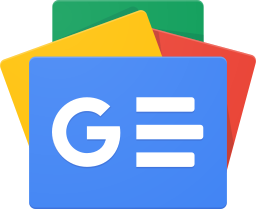 Stay up-to-date and support the site by following Bleeding Cool on Google News today!