Ant-Man and the Wasp #5 Review: A Solid if Unexciting Finale
[rwp-review-recap id="0"]
Ant-Man and the Wasp have returned to Earth…or so they think. They're larger than the planet, but they're not suffocating in space. They are still in the Microverse, and they're still entangled. Scott nor Nadia can shrink or grow without the other willing it. Their memories are becoming muddled, and it's only a matter of time before the situation worsens. They must get back to Earth and detangle.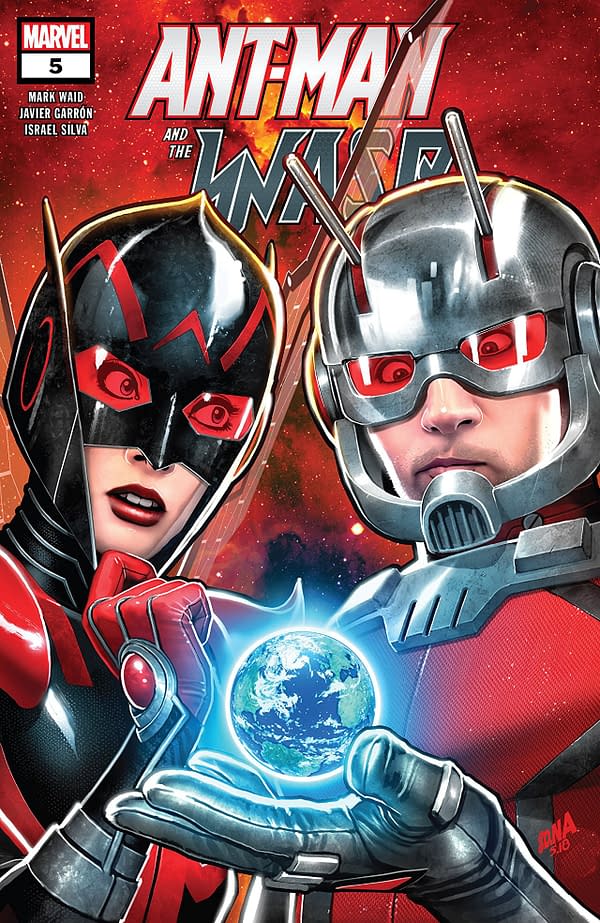 Ant-Man and the Wasp #5 concludes this miniseries which has found Scott Lang and Nadia van Dyne trapped in the Microverse. There's no real antagonist of this story; the conflict is the ethereal theoretical physics-based conflict of returning to our universe from the Microverse.
There's not really a clock on it either beyond the possibility of Nadia learning Scott's browser history (no joke) and Scott wanting to get to his daughter Cassie's birthday.
None of this makes it an outright bad read; it just feels relatively low-stakes considering all the big-idea quantum physics going on. That said, I am content just watching the Astonishing Ant-Man and the Unstoppable Wasp teaming up.
There is an arbitrary cliffhanger at the end that will likely only be resolved if Mark Waid gets and Ant-Man and the Wasp ongoing out of this. Unfortunately, there's been no rumor of that as far as I know.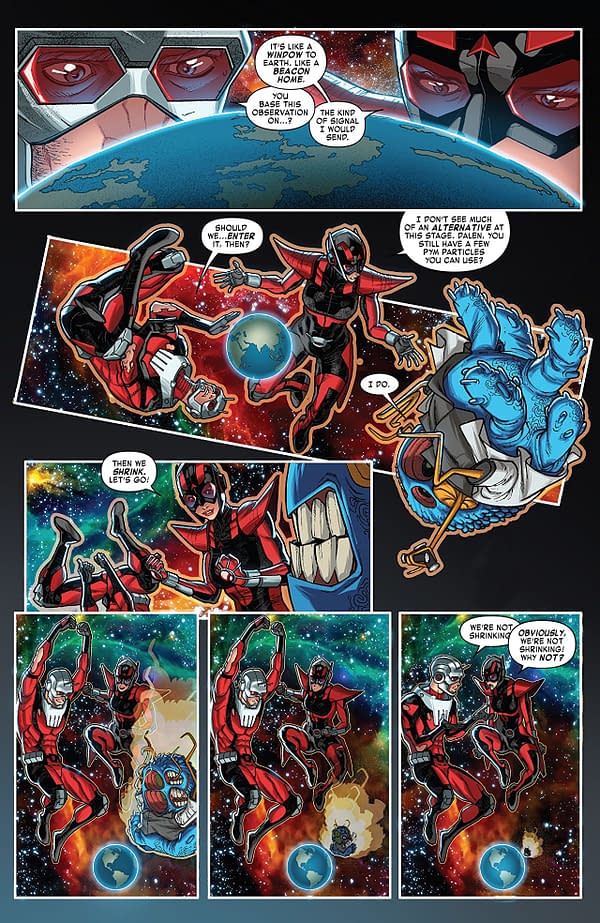 Javier Garron finishes strong with another visually energetic issue that balances strong detailing and an almost cartoonish exaggeration of said details. I still like the stubble given to Scott, and I like the exchanging of costumes that happens as Scott and Nadia become more entangled. Israel Silva's color art contrasts strongly, and the balance almost looks odd at times. The heavy red and black can almost weight the color palette too much. That said, the coloring gels more often than it doesn't.
Ant-Man and the Wasp #5 finishes the series on a decent note. It's not the best issue of the miniseries, and the book doesn't give a narratively strong finish. That said, it's still a good bit of fun and worth a recommendation if you want more of the wacky sci-fi adventures of Scott and Nadia. Feel free to check it out.
[rwp-review-ratings id="0"]
[rwp-review-form id="0"]