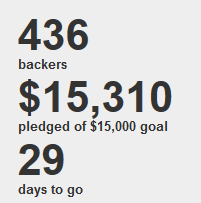 Well, that was quick. When we first posted news of Art Baltazar and Franco's all ages Aw Yeah Comics line hitting Kickstarter at about 10am ET this morning, there were about $500 worth of donations already. And now, a few hours later, they are over $15,000, their targeted figure.
Backers include Greg Pak, Joshua Fialkov, Chris Samnee, Neill Cameron, Bob Greenberger, Jamal Igle, Chris Sims, Jill Thompson, Phil Hester, Chris Eliopoulos, Chris Roberson and hundreds more.
Which means it's time for the stretch goals! They have now posted;
The first 6 issues have been funded! Thank you all so much! The AW YEAH ARMY is in full force today! Because of such fast success, we've decided to go for more! We've added the ability to upgrade your pledge to pre-order the first 12 issues of AW YEAH COMICS! Let's take it to a full year's worth! If we can hit $30,000 we'll print up issues 7-12! Backer will also get the exclusive digital comic and MP3! Due to popular demand, we will ship these WORLDWIDE! PLEASE BE ADVISED that backers at this level outside the United States will pay actual shipping costs to get it sent to their doorstep.
Something Bryan Q Miller is also having to think about after his own Kickstarter for Earthward reached its goal of $30,000 today as well.
Kickstarter. You've got to love it.
Enjoyed this article? Share it!