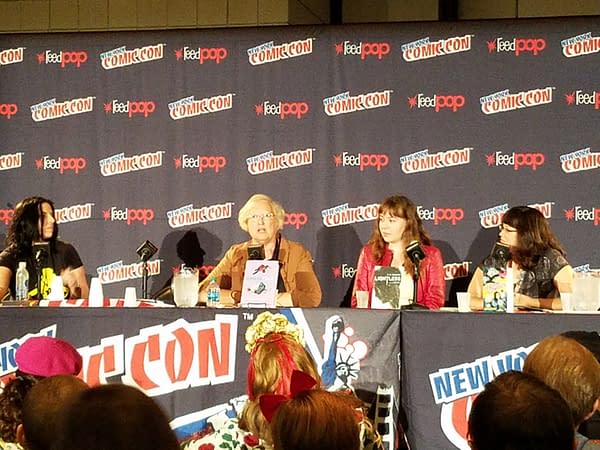 John Odum writes for Bleeding Cool…
Blastr's Women in Geek Media panel featured Fangrrls managing Editor Cher Martinetti, authors C.A. Higgins (Lightless) , Connie Willis (Crosstalk), and Sarah Kuhn (Heroine Complex), as well as Jamie Broadnax of Black Girl Nerds – who dropped into the panel a bit late, having to rush over from the Women and Gender Nonconforming Writers of Color panel only minutes before. While that previous panel had ventured into similar territory, the focus was decidedly less on the professional, as the discussion led by Martinetti steered more into the personal and cultural.
Willis wasted no time discussing her experience as a woman science fiction writer going back several decades, praising the supportive elements of the culture when she started writing.
"Science fiction was always ahead of the curve," she noted, granting that sci-fi was unquestionably male dominated when she entered the business, but indicating that had not been her perception at the time.
Willis felt that "on the whole, science fiction is very welcoming to women," but noted that it had not always been so. Willis cited, as a turning point, 1975's semi- legendary essay-slash-meandering-lecture in which sci-fi patriarch Robert Silverberg pushes back against speculation that author James Tiptree Jr. was actually a woman (Tiptree was the pen name for Alice Hastings Bradle), suggesting by inference that no woman could possibly write science fiction that well. It was a historical benchmark that segued into a discussion of the attempted coup by the self-dubbed "Sad Puppies" who successfully organized a "coup" of the Hugo Awards in recent years in response to the increasing diversity of award recipients and the increasing success of women and writers of color in the genre.
"A lot of people vote, very few people nominate" Willis explained in recounting the controversial uprising, since countered by increased voting and reforms of the rules. "When the [Sad Puppies successfully nominated] slate came out…suddenly here were all these names that no one had heard of."
At the end of the day, a more open process – as well as the relentless undeniability of the market – allowed artistic merit to win out over the Puppies' brand of reactionary territoriality in the Hugo arena.
"Success is the best revenge," Willis concluded.
Other panelists spoke to personal experience with backlash. Kuhn recalled how she had to "constantly justify her existence" as a geek media journalist when she started.
Panelists also gave a nod to women in gaming who, as a result of the Gamergate phenomenon, find themselves subjected to a level of harassment (such as doxing and swatting) that all were grateful not to have experienced.
But even without the experience of such extreme forms of harassment first-hand, the double edged sword of social media was undeniable.
"People say all kinds of mean, vitriolic things on Twitter because they want attention" Broadnax noted, advising listeners that "that block button is your friend."
Martinetti coached writers in the room that, despite the stories, "you have to put yourself out there in social media to be successful,: adding that "you're going to expect that people are going to come after you… it's just a reality."
Despite the accounts of conflicts, both at the personal and cultural levels, Martinetti was always careful to direct the energy of the discussion firmly into the pro-active: "Pop culture is important, science fiction is important, because that's the field where we explore ideas," urging the audience to support the type of work they want to see more of.
"If you don't see something you like," she added, "then create it."
Enjoyed this article? Share it!