Batman Has Been Around The DC Universe For At Least 30 Years (Or Not)
Do you remember the new DC Timeline? Teased at New York Comic Con, collated by Bleeding Cool, with Dan DiDio promising much, with aspects being revealed in the Anniversary editions of various titles. The Timeline was meant to make its full debut in the DC Free Comic Book Day comic book that was printed and pulped, without a single cop seemingly making it out of the Diamond warehouse or DC printers. It was also meant to kick off the Generations one-shots, each telling stories from a different DC Generation – five in total, including the much fabled 5G. Then publisher Dan DiDio was fired and the plan was pretty much junked.
But some aspects have made it out into the wild. The new Epilogue for Flash Forward planned for Free Comic Book Day ended up in the Flash Forward trade paperback, rewritten to have Wall West repairing the multiverse rather than the DC Timeline. But we have seen Wonder Woman established as a pre-War hero now, and the Justice Societ Of America restored to the 1940s. But the plan to have an established Batman and Superman ageing during that period, and replaced in their roles in the present appears to have gone by-the-by. However a stretched out timeline has, to some degree been restored. Every Robin has had their day, Batman is older now and in yesterday's Batgirl #47 we even get a remnant of what once might have been the new DC Timeline. With Joker looking to get access to the old tech, offline, analogue computer systems that Batman has in the Bat caves, Barbara Gordon gives him what he wants – maybe.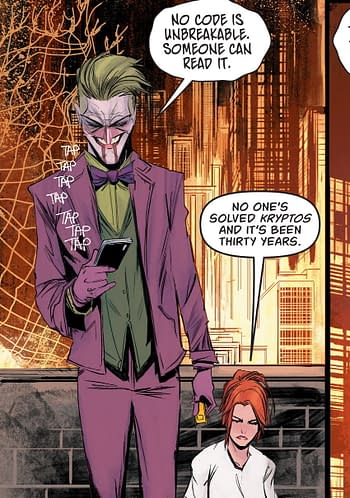 Establishing that Batman has been around, active and visible in the DC Universe for thirty years. Which means he also has to be pushing fifty, where the DC Universe had previously insisted he was in his twenties. Having his son age up to thirteen in DC Rebirth can only have helped push that too. Maybe look for those grey hairs, Bruce Wayne? You've certainly done enough to deserve them.
UPDATE: Or Not. Graeme e-mails to tell me 'When Batgirl says Kryptos has been around for 30 years, she's not talking about Batman… or even Superman's dog.'
Okay,
apparently referring to this Kryptos
, as in "a sculpture by the American artist Jim Sanborn located on the grounds of the Central Intelligence Agency (CIA) in Langley, Virginia. Since its dedication on November 3, 1990, there has been much speculation about the meaning of the four encrypted messages it bears. Of these four messages, the first three have been solved, while the fourth message remains one of the most famous unsolved codes in the world. The sculpture continues to be of interest to cryptanalysts, both amateur and professional, who are attempting to decipher the fourth passage."
DC Timeline, as you were. I plead being British, but also only one of you got in touch to say…
BATGIRL #47 JOKER WAR
DC COMICS
MAR200519
(W) Cecil Castellucci (A) Robbi Rodriguez (CA) Giuseppe Camuncoli
Knock knock!
Who's there?
The Joker.
The Joker who?
The Joker who's here to have a nice chat with Barbara Gordon!
Don't miss this devastating tie-in to "Joker War"!In Shops: May 27, 2020
SRP: $3.99
Batgirl #47 is in comic stores this week. I picked up mine from Piranha Comics in Kingston-Upon-Thames. Piranha Comics is a small south London comic store chain with a small south-east store in Kingston-Upon Thames's market centre, which runs Magic The Gathering nights on Fridays, and a larger south-west store in Bromley, which also runs Magic nights and has an extensive back issue collection and online store. If you are in the neighbourhood, check them out.