In a move Bleeding Cool saw coming, Fox has awarded the rights to Buffy the Vampire comics to BOOM! Studios, the explosive comic book publisher in which it owns a minority stake, the day after the final issue of the previous licensee's comic hit stores. The license switcheroo follows a previous shift of another intellectual property created by alleged fake feminist Joss Whedon, Firefly, from Dark Horse to BOOM! in July. Whedon himself announced that Fox was pulling the license from Dark Horse in August, but didn't name the publisher's successor at that time.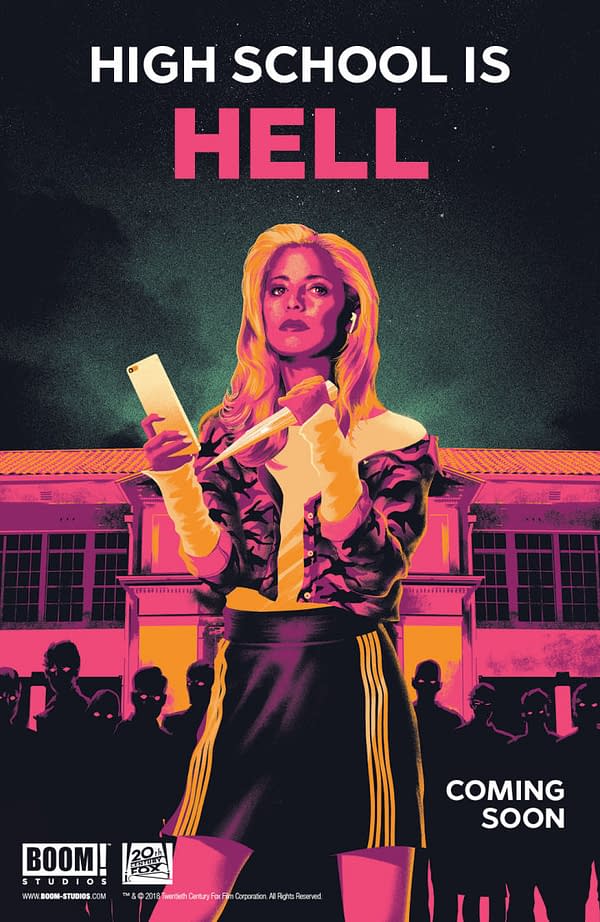 BOOM! Executive Editor Jeanine Schaefer gloats:
I remember watching the premiere of Buffy the Vampire Slayer over 20 years ago, and the feeling of empowerment that came with seeing a girl get to kick ass and have flaws at the same time, and to not apologize for who she was. It's an honor to oversee that world for a new generation and to bring them that same feeling of knowing your greatest power comes from being true to who you are. Buffy is about love at its core, love for your friends and yourself. The characters are allowed to be equal parts human and monster, and seeing them struggle to balance those parts of themselves, the same parts we all struggle with, is why it still resonates with audiences of all ages and backgrounds today.
Though the news was revealed in an IGN EX-X-XCLUSIVE, this reporter first learned about after seeing Rumourmonger-in-Chief Rich Johnston dancing around the Bleeding Cool offices, singing his signature song: "Pip pip, pip pip, you 'eard it here first you did! Pip pip, pip pip, the best gossup four a quid!" We can't ever understand a word he's saying, but he seemed happy. In addition to predicting a licensing shift for Buffy last December, Johnston casually dropped the news yesterday as an aside in a different article, scooping IGN by more than 12 hours.
The ongoing war to control intellectual property has been heating up in the comics landscape for some time. We've recently seen Sega dump Archie Comics the night before San Diego Comic-Con, only to show up the next day holding hands with new Sonic the Hedgehog publisher IDW. We've seen Disney, which owns Marvel, the largest publisher in the superhero-industrial complex, ship its kids comics licenses for Disney movies to both IDW and Dark Horse, all-ages versions of Star Wars and Marvel's own characters to IDW, and digest reprints of Marvel comics aimed at mass audiences to IDW. Disney is also in the process of acquiring Fox, and thus its minority stake in BOOM!. DC Comics, now working under the umbrella of the AT&T-reorganized Warner Media feat Michael B. Jordan, is sitting on top of (not literally) the hottest licensing opportunity in comic book history after revealing Batman's penis in a Black Label comic Wednesday.
Enjoyed this article? Share it!