Border Town #1 Review: It's Frigging Awesome
A teenager named Frank moves to the border town of Devil's Fork, Arizona. He's reluctant but has no choice in the matter. On his first day at his new high school, he meets Quinteh, Aimi, Julietta, and Blake. Frank his Irish and Mexican, and that turns into a problem when he figures out one of his new friends is a skinhead Nazi. Worse yet, something dark and supernatural is taking place in Devil's Fork, and it's tearing its way through the town.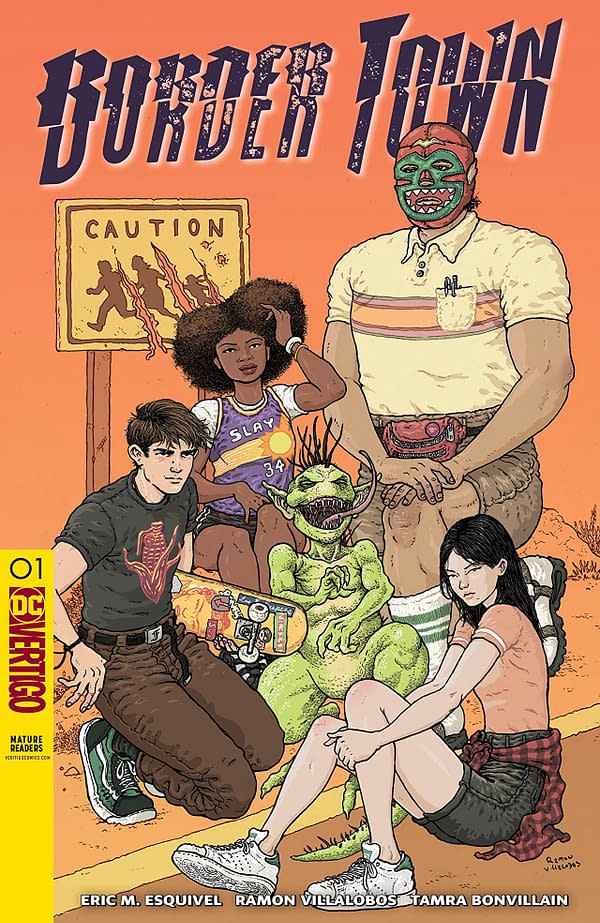 Border Town #1 is friggin' awesome. Its characters, premise, and themes all coincide to create a compelling first issue that pulls the reader into its brutal world.
The teen angst of Frank could easily grow old for the reader if his setting and life didn't quickly justify any ill feelings he maintains. Plus, the comic reveals over time that it's a bit more than mere angst.
Aimi, Julietta, and Quinteh aren't revealed too much in this first issue, though I can tell you Quinteh is probably going to be my favorite character.
The themes of racism, prejudice, and the overall turmoil that can exist in these border towns make the story ring true and give it some additional depth. It wants to make a statement, and I can't help but admire that.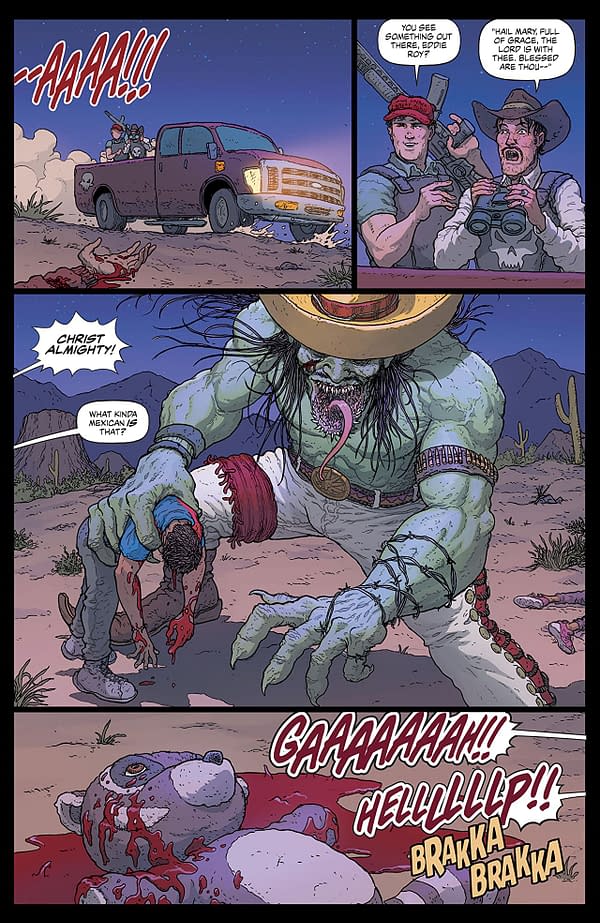 Ramon Villalobos' artwork is fantastic and gives the book the kind of visual grit needed for its low-to-the-ground and brutal story. It's loaded with subtle details and visual references that treat the observant reader. Tamra Bonvillain gives a good color palette that off-sets its warm shades with cooler purples and blues when called for.
Border Town #1 is a strong first showing from this new wave of Vertigo comics (that aren't associated with Sandman). The characters are engaging, the story is compelling, and the artwork is great. Eric M. Esquivel, Ramon Villalobos, and Tamra Bonvillain rocked this book, and I highly recommend giving it a read.
Also, stabbing a comic is really dumb, and posting it on social media doesn't really make you seem hardcore at all. I wasn't on board with the Secret Empire burning campaign either, and I didn't even like that story. It kind of sounds like some people don't like it when a comic discusses racism at all (however poorly in the case of Secret Empire).
The only dumber thing I can think of is buying a shipment of Rose Tico toys with the intent of destroying them in a video, only to figure out you can't cut them with scissors because they're die cast.