Catching Up With Horror Master Steve Niles
Steve Niles and I go way back. I first interviewed him for a website I ran back in 2001 when he was doing the book Fused for Image, before 30 Days of Night was even announced. We became fast friends and worked on a handful of projects together from Savage to Strange Cases and a 30 Days of Night mini. I jumped at the chance to interview him again 13 years later.
DAN WICKLINE: I know you've been into horror your whole life, but where does your love of horror come from?
STEVE NILES: I really have no clue when or why it started. What I do know is I was terrified of horror when I was a little, little kid. I'd watch and wind up being up all night driving my parents nuts, then I'd just watch again. My mom says one day everything I was scared of became what I loved most. They just went with it. Besides that I just have a lifelong love of all things horror from classic Universal Monsters to Night of the Living Dead. I just love it all. I have no clue why. DW: What was your first experience with Ash? Were on you board from the first Evil Dead or did you join in later with Army of Darkness?
SN: I started with Evil Dead on my Betamax. I had a copy I played so much I wore it out. Evil Dead was not only huge for me as a horror fan but as a young, wanna-be creator, Like Night of the Living Dead, Evil Dead was made by a bunch of kids in the woods. It's always been a huge inspiration for me. I saw Army of Darkness when it came out and even though it was drastically different, I loved it. Don't forget Raimi teased us all at the end of Evil Dead 2 so I sorta knew what was coming, I knew it would be funnier and campier and I just loved every bit of it.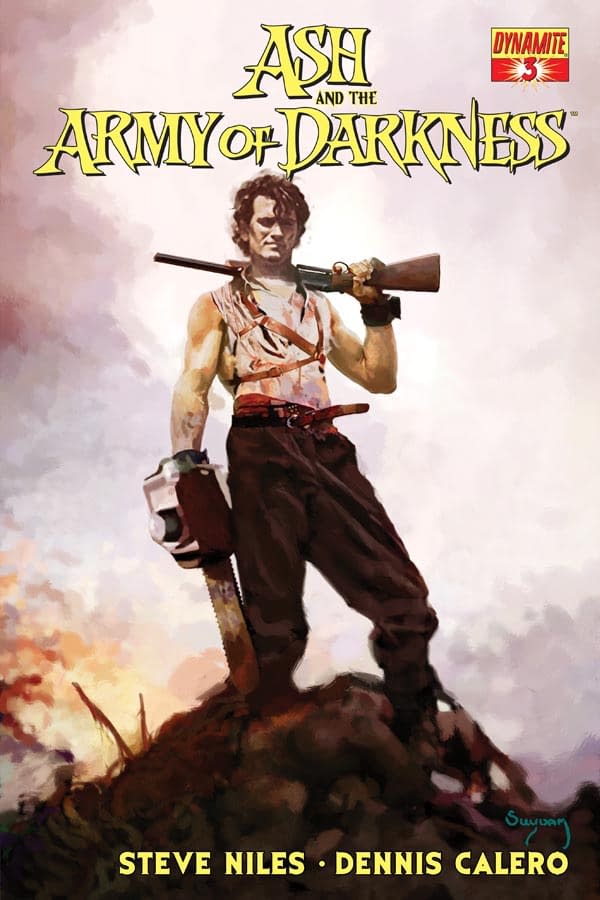 DW: Ash is synonymous with Bruce Campbell. Does that make writing this particular character more difficult or easier? Do you think about Campbell when you are writing the dialogue?
SN: I don't really know Campbell outside of the Evil Dead films so he IS Ash to me. HonestlyAsh almost writes himself, I write these scenarios and his dialogue falls out. It's pretty fun. You can always rely on him saying the exact wrong thing at the exact wrong time. I love that.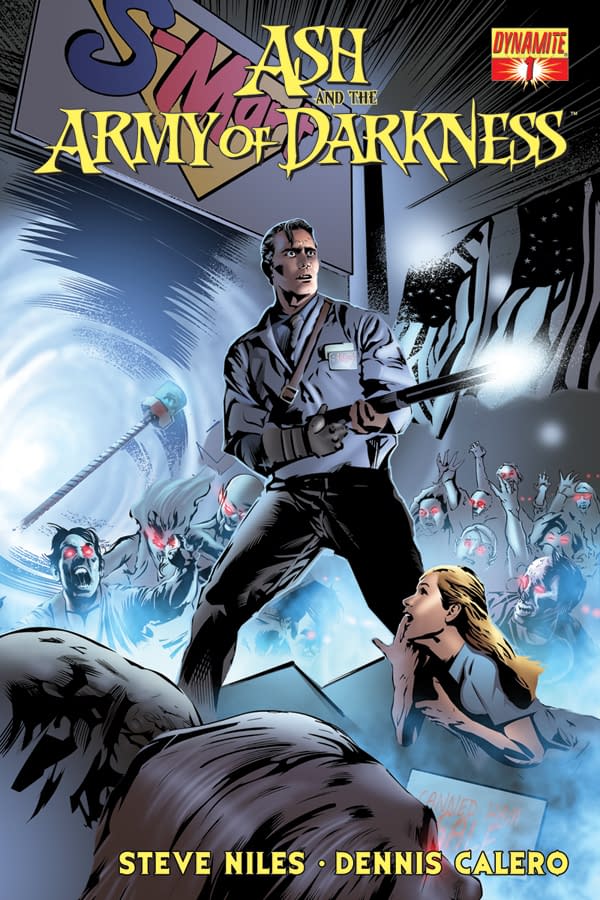 DW: For those who haven't gotten into the Dynamite series yet, how does it connect to the movies? And what has Ash been up to prior to the series?
SN: The story we're telling picks up right where the film leaves off. Ash was tricked. He's been spinning through time like a pinball until he is brought back to the Dark Ages. What we are rapidly learning is that Ash must stay behind and deal with he curse once and for all or he will never be safe no matter what time he runs to.
DW: What is your process for telling a story, especially a licensed property? Do you plot out get approval, go straight to script?
SN: Yeah. This is pretty different for me. I have to write out full outlines to get approved. It takes out some of the spontaneity but I understand I'm playing with someone else's toys.
DW: Do you remember that little joke cartoon Kody Chamberlain and I did with Cal McDonald and Ash? Since you're writing this series now, any chance at a crossover?
SN: I remember that. You gonna post in in this article? It's been discusssed. The two character would certainly have interesting chemistry.
DW: Yeah, I'm going to post it in the article.

DW: When you and I do get to talk, you always seem super busy. so what other projects do you have coming up?
SN: I'm starting to slow down a bit. I did too much for a while there and it just wore me out. I'm going to only be doing 3-4 titles, series in the next few years so I can focus. There will be more Criminal Macabre. I have a new ongoing coming up called the October Faction. I am very excited about that. The plan is to put everything in there, instead of doing a million minis. I have a great new artist Damien Worm so we're excited. I also have a sci-fi cop horror story called Vulture. I'll have more on that soon.