Cobra Plot Adds 36 Variants to Rob Liefeld's Snake Eyes: Deadgame #1
In what may be the most diabolical plot from Cobra, a ruthless terrorist organization determined to rule the world, Cobra shell corporation IDW will produce 36 variant covers for the upcoming release of Snake Eyes: Deadgame #1, the new GI Joe comic by superstar artist Rob Liefeld.
"Greetings, citizensssss of comicsssss!" screeched publisher and CEO Cobra Commander in the press release, which in addition to being sent out to comic book news websites was also broadcast on a pirate television signal that interrupted every channel in the world. "In just one week, Cobra's variant covers will be in every comic book sssshop in America! So many variant covers, the comics indusssstry, in its already weakened state will be completely overwhelmed! Hahahahaha!"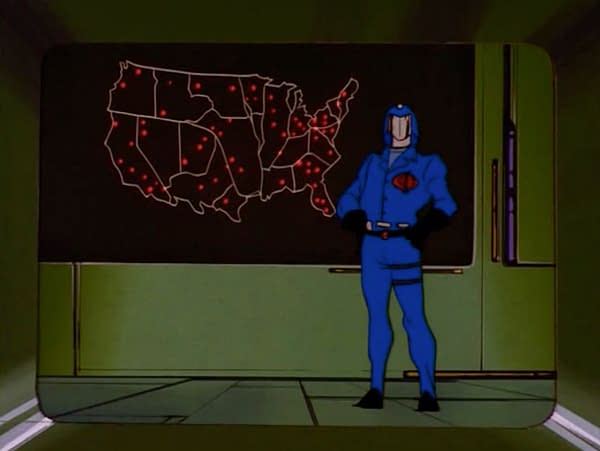 "Commander, you idiot!" interrupted Editor-in-Chief Destro in the press release. "You're giving away our plan. What about the GI Joes?"
"Yes, commander," added Vice President of Sales and Marketing The Baroness. "If the Joes catch onto our plan, they could try to stop the shipments."
"Silence, you foolsss!" the Commander replied. "Let the GI Joes come. With this many variant coversss, Cobra is invincible! Now, dispatch Zartan and his Dreadnoks to deliver the comics to comic book stores."
"All of the Dreadnoks, including Zartan, have COVID-19, Commander," said Destro. "They all live in Florida."
"What?!" the Commander replied, now visibly irate. "I told those imbecilessss to wear massskssss! Cobra has pioneered the field of mask-wearing for decades! Arrggghhh!"
At that point, the press release cut out when Cobra Commander fired a laser pistol into his web camera. Below, check out all of the variant covers for Snake Eyes: Deadgame #1, in comic stores on July 15th, so long as the GI Joes don't try to interfere.