[rwp_box_recap id="0"]
An old team, an old, old format.
Ed Brubaker's written for penciller Sean Phillips for almost fifteen years (beginning with Sleeper) and between the two of them (and a murderer's row of colorists: Val Staples, Dave Stewart, Elizabeth Breitweiser, and the most recent, Jacob Phillips) they're responsible for some of the American/British comics' industry's best crime stories.
Not coincidentally, those two are also the only people that Image Comics signed an exclusive with.
They re-launch Criminal with a new #1 this month, complete with a new mission statement of wanting to surprise the reader, and hopefully, shorter stories. Broadly speaking, the change away from a mini-series and towards an ongoing comic feels fresh in the current landscape. Of course, the American mainstream used to publish one issue stories all the time, and switched years ago to publishing stories authored with an eye towards a completely different SKU.
Criminal #1 begins the issue with a kid trying to steal a diamond necklace a retiree with dementia. It's Criminal, for God's sake. It's dark and hyper-masculine in the way crime and pulp comics can be. (I like the Phillips' trick of using heavier, heavier blacks to indicate drunkenness. Or to indicate two people know each other pretty well by their body language and the way they hold a cigarette.)
Criminal's publication history makes it difficult to write about the character or plot or themes without spoiling something in the issue, and I want to spoil it so bad. Like the best authors, the team puts you in the shoes of their criminals. You see the horrible things they do, but also why they make the choices. Of course the kid whom I won't name feels guilty about stealing from a grandfather living with dementia.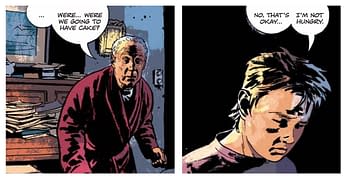 Of course it gets worse. It's Criminal. The team executes the single issue that must also set up the world well. It's a not quite whirlwind tour of the Criminal world, but through the eyes of the main characters, we see the big names. I'm skeptical it'll bring a truly new reader up to speed, but you never know.
In the backmatter, Brubaker writes: "I don't want you to know exactly what's coming next. I want to put out a book that can do a single issue story, or a two-parter, and go from an issue like this one here, to a story set nearly ten years later in the next one."
If, like me, you're an old hand, it's more of what we've come to love Criminal for. If you're new, the team made this for you. Give it a try.
[rwp-review-ratings id="0"]
[rwp-review-form id="0"]
Enjoyed this article? Share it!