Dark Souls: Age of Fire #3 Review – Too Narrow a Focus?
[rwp-review-recap id="0"]
Arkon meets Wolf Knight Artorias in Oolacile, and the Wolf Knight doesn't recognize Arkon. They duel, but Artorias discerns the Black Knight's identity before it is too late. Dark days have come to Lordran. Undead are spreading across the kingdom, Seath the Scaleless is taking advantage of the crisis, and Lord Gwyn has come down from his throne to rekindle the First Flame.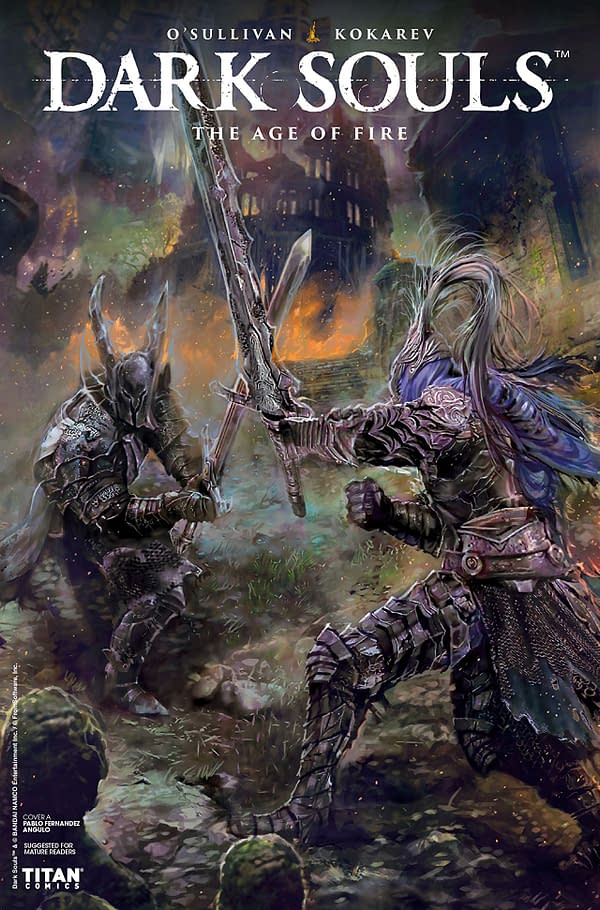 Dark Souls: Age of Fire #3 begins diving into the inciting incidents of the first game with the arrival of the Undead Curse and Gwyn going to the Kin if the First Flame to reignite the flame.
The book continues to focus on characters in the margins of power, which puts a new perspective on the stories of the Lordran and how it affected the people.
The problem is the narrowness of that scope. We only get snippets of events from the perspective of Arkon, Gravis, Liste, and Wurdow, and these are only warriors and servants of those seats of power.
It's oddly reflected in the paneling, which is a little too narrow for its own good. You don't get a firm grasp on events and surroundings, because most of the panels in the comic are wide but thin, restricting the view of the landscape.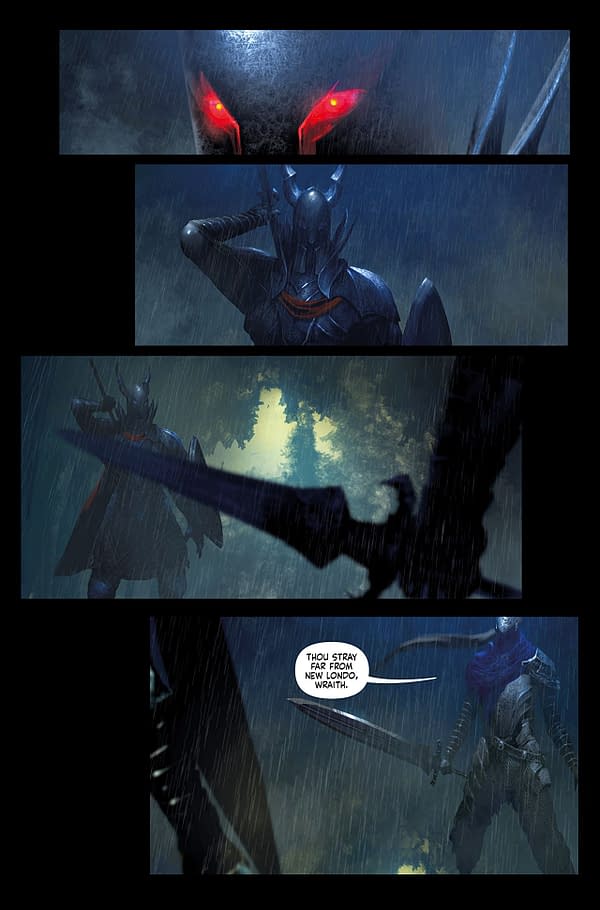 Anton Kokarev's artwork is good, mind you. It has an unnerving realism balanced against odd imagery and figures creating this dissonance in the reality. Like Dark Souls should, it all looks just a little wrong. Plus, Seath looks pretty damn awesome. The fight between Arkon and Artorias leaves a little to be desired. The color work is pretty damn solid too, adding to the grim and gritty atmosphere with blacks and grays cast against neon red.
Dark Souls: Age of Fire #3 is a solid read, even if it does highlight some of the flaws in the story. The scope is too narrow considering the events it's expanding upon. It seems willing to hold much of the mystique of the Dark Souls canon while still trying to add a new part and additional information to it. That's a good idea, but it still feels restrained. That said, it still has enough good going on with the artwork and characters to justify a read, and I can recommend it.
[rwp-review-ratings id="0"]
[rwp-review-form id="0"]