DC Meet the Publishers Panel is Lively as Always at NYCC
by Octavio Karbank
It's that time of year again when comic book enthusiasts converge from across the globe to attend New York Comic Con. It's when you see major publishers like DC Comics coming down to promote a bunch of their work, both new and old. Today was no different as at the DC Meet the Publishers Panel, Dan DiDio and Jim Lee ran the show as they provided audience members a glimpse into the future of DC Comics.
After the initial introductions, in which DiDio and Lee ran a video promoting the new DC Universe App, the streaming service which is going to have such shows like Titans and Doom Patrol, they started to get to the nit and gritty.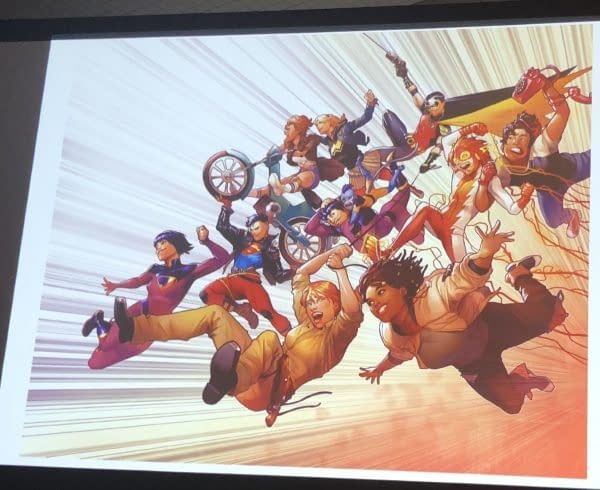 There was talk about how they seek to promote content for wider audiences and trying to find ways to make the DC Universe feel cohesive in light of all the ideas supplied by creators. The two powerhouses then quickly mentioned the company was making a YA (young adult) comic book line. DC will be putting out DC Zoom, which is meant for ages 6-12, and DC Inc., which is meant for everyone else. It definitely highlights DC's efforts to make comics accessible for kids, you know, as they once were, way back when.
From there, DiDio and Lee mentioned Batman's 80th anniversary, which would revolve around Detective Comics #1000; coming out in March. A bunch of news will be announced as the date grows closer and it wouldn't be surprising to hear that a ton of variant covers will be along for the ride, akin to Action Comics #1000.
Things went up a notch as comic book writing maestros Brian Michael Bendis, followed shortly thereafter by Marv Wolfman, came up on stage to talk about their upcoming work. Bendis is dedicating his energies to such projects like Young Justice, which will feature the return of classic characters like Conner Kent and introduce Ginny Hex, the great great granddaughter of Jonah Hex (who comes included with Adam Strange's ray gun, and his Wonder Comics, the intent of which was supposed to essentially reflect the energy of youthful superheroes. Additionally, Robin (Tim Drake) and his personal journey shall be the lynchpin of the book itself.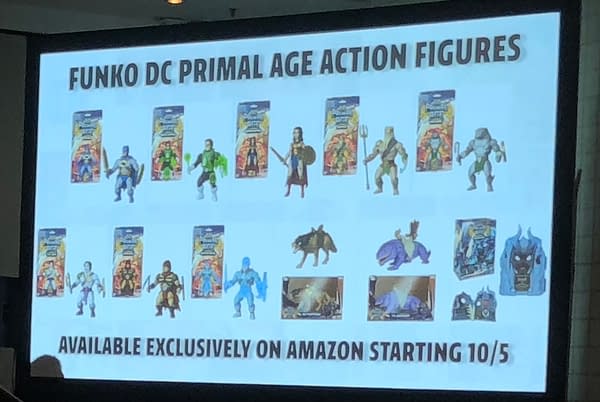 For his part, Marv Wolfman, who received a standing ovation, discussed his upcoming DC's Primal Age Comics, which was originally something of a gag/stunt that finally became a tangible idea. Focusing on fan-favorite heroes like Batman and Wonder Woman and putting them in a barbarian/caveman setting, clearly this is the book we've all been dying to read!
The panel finished up with audience members receiving NYCC Exclusive DC Primal Age figures; it was quite a treat!