Which Comics Should Fans of DC TV/Film Start With? DC Broke It Down at SDCC
Words and Photos courtesy of Bleeding Cool's Mike Sangregorio:
On Saturday afternoon at San Diego Comic-Con DC closed out a string of panels with a discussion of what should be considered essential reading for those fans who discovered its characters through other mediums, such as television and movies. It was moderated by Mike Avita, host of Behind the Panel, and included creators Alisa Kwitney, Marv Wolfman, Paul Levitz, and Nicola Scott.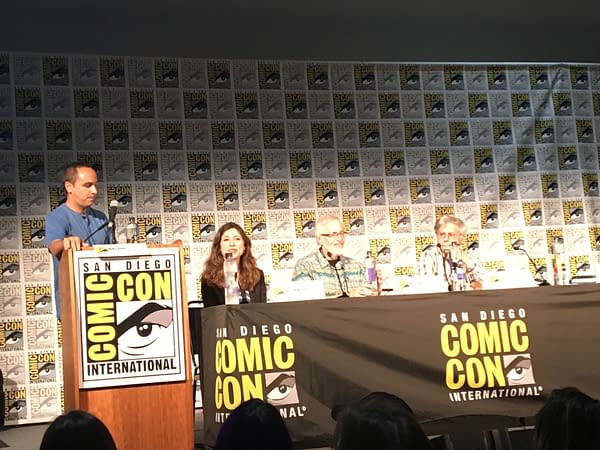 All in attendance agree that they want to suggest the comics which are "classics, the ones that will make new fans into lifelong fans."
Kwitney was the author of the Zatanna-centered title Mystik U. She begins by reminiscing about having worked with legendary editor Karen Berger earlier in her career.
Wolfman lists a few of his accomplishments "for this company," including the New Teen Titans. Avita adds that his work is an Essentials list all on its own, but Wolfman recommends the first collection of his most recent Raven series. It was written to be free of too much continuity and to be given to a fan who came to the character from the various shows.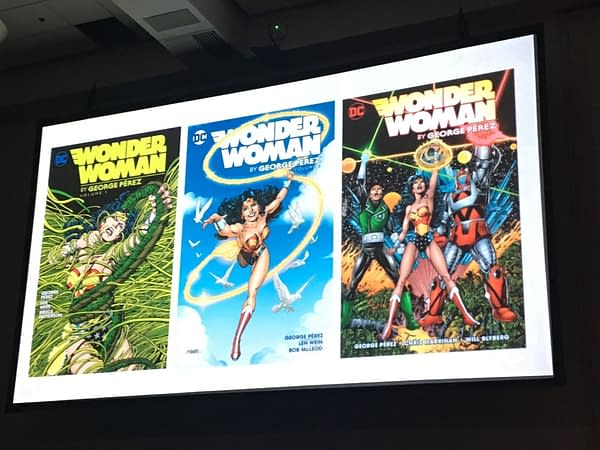 Levitz added that "if [Wolfman] didn't write it, I probably did." He listed his most well-known credit as being his three different runs on the Legion of Super-Heroes. When pressed to help new fans come to the Legion, a property known for complex mythology and high number of characters, Levitz recommended reading his second run, which includes the celebrated "Great Darkness" story. This is not only the work he is most proud of but offers a good introduction in the form of an Annual he wrote specifically with this in mind. He remembers that this was the first Annual DC printed.
Levitz said that it is important to match the comic to the fan:
"Not all comics are for all fans. If a fan comes to comics from the Watchmen film then you probably should not begin them on the original Black Lightning comics, as those are filled with references from 40 years ago."
Scott added:
"Not every Batman issue, or story, is necessarily going to be for you. There are 80 years of stories, and I guarantee that something in there will appeal to you. […] Each adaption of Batman is as different from one another, as each is from the source material. That the person who enjoyed the [Christopher] Nolan movies will not necessarily enjoy the same comics as someone who enjoyed the black-and-white serials."
Levitz said that Christian Bale used to take a copy of Batman: The Long Halloween into his trailer to review how he would pose in the next scene, based on Tim Sale's art. Levitz added that it was very important to update characters periodically for new audiences. He finds that the way he writes comics has changed. Decades ago he would have to pick and choose what information he referred to because if he did not have enough story space to properly explain the concept but "now, in a post-Google age, everyone can instantly look up what I am talking about and that changes what I can write and how to write it."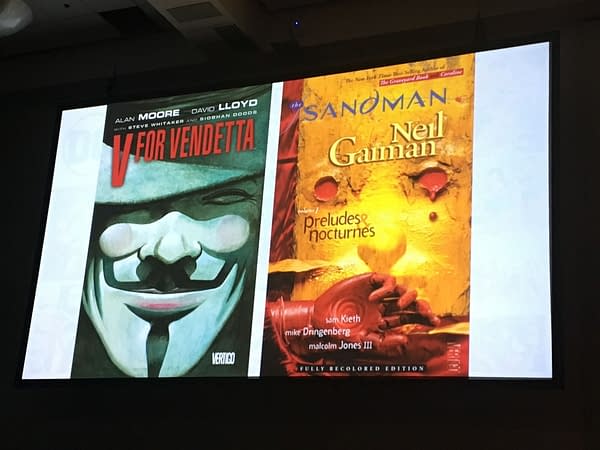 Scott's first contact with comic superheroes was the Wonder Woman show, but she did not read comics until she decided to draw them. She loved the Supergirl movie starring Helen Slater, and she remembers recording it from TV onto VHS and rewatching it over and over again. She thinks that Supergirl and Wonder Woman are great introductory characters for young boys too, as at that age they are equally exciting as the male characters.
Scott recommended that any Supernatural fans in the audience read Hellblazer from the 1980s/1990s, as much of what makes the show great was originally pulled from there. In keeping with non-cape and costumes comics she recommended Grayson, the super-spy series, as a great introduction to the character without necessarily relying on his Nightwing identity.
All panelists agreed that Neil Gaiman's Sandman was another great work for those not interested in only superheroes. Kwitney recounted that she saw a Death cosplayer this weekend who said that she was not sure that Gaiman's comics were as popular as his novels. Kwitney added that this was a great example of something not being as popular as you might think even though it is important to many. Seminal works periodically need to be reintroduced.
Kwitney recommended Supergirl: Being Super by Mariko Tamaki and Joëlle Jones as something to give any fan of the character, and the Books of Magic as comics to give any Harry Potter fans.
Avita says that he is personally a fan of the DC Earth One line and says that it is almost something he would expect to see from "The Marvelous Competition." He appreciates that stories are literally being told in different ways today then they had in the past. Levitz added that readers today are smarter than readers have ever have been before, and one of the problems caused by this is that you cannot rely on the same old tropes to entrance new readers.
He gave the example of the film John Carter, which he believed failed to connect with audiences because fans had seen those ideas in other places, notably Star Wars, and that the impact of the original books, on which the film was based, can not be felt today because too much has been produced since then. This extends to characters. Some can be continuously reinvented, which is why "Barry Allen can last for 50 years while others are not as successful, and you have to put them back on the shelf."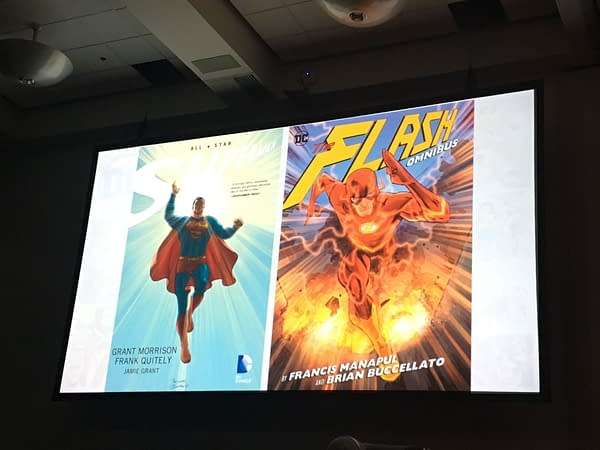 Scott was proud to have brought Steve Trevor back as a love interest during her run on Wonder Woman as part of DC Rebirth. When she met Wonder Woman film director Patty Jenkins she was told that the two versions, film and Rebirth, are basically the same. This was in contrast to the last time he was seen in any major capacity as a love interest which was "in the animated film, almost a decade ago, where he was a lovable prick."
Scott ended the panel by reminding everyone in the audience that they should read the acclaimed Vertigo series Y: The Last Man as soon as they can, if they have not already done so, because "the television show is on its way and you want to read this first." Scott also informed everyone in attendance that Wolfman celebrates 50 years of working for DC this month, to a round of applause.
Given away during the panel was a free DC Essentials comic and magazine, which featured a short story by Robert Venditti and Scott Kolins that has the Justice League facing the Riddler. They overcome him using the power of the Essentials' list. Let us hope this is an another esoteric story that Grant Morrison can work into The Green Lantern.