The DC Primal Age 100-Page Giant is Half-Baked Fun
DC Primal Age is a wonderful idea in theory. Combining the style of the old Masters of the Universe toy line with DC characters is an idea that probably should have happened a long time ago. Now a line of toys from Funko, it is also a 100-page giant comic that can only be found at Target. Featuring six stories, the comic has its moments but ultimately is more fun than good.
The main story is done by Marv Wolfman, Scott Koblish, Tony Avina, and Wes Abbott, and is the longest in the book. It is basically an intro story and formation for the Justice League of the Primal Age. We start with Bruce and Diana fighting over an org of power, interrupted by the Joker. After he gets away with the orb, we find out Joker is working with King Shark and Sandman to find the orbs to destroy villages. From there we are whisked away and meet Aquaman, The Flash, Superman, and Green Lantern, as they race to try and save the island of Themyscira before they can sink it.
Sadly though, every intro and even the ending of the story feel unfinished. The dialogue is very stilted and the story is very confusing right up to when it just ends out of nowhere. I do enjoy me some Koblish artwork, and he does not disappoint here. Clean, clear action scenes and great coloring from Avina keep the pages turning fast, even if the word bubbles confuse you as you read them. Basically creating a backstory for the Primal Age universe, not unlike what DC did for MOTU back in the day, is a difficult task. One wishes that they were given more pages to flesh everything out more.
After the main story, we are treated to five shorts starring different characters and introducing Primal Age versions of others. One thing I will say for the book: this does not feel like it exists just to sell action figures. It very easily could have fallen into that trap, but it doesn't. Of the short stories, the standouts were the Wonder Woman/ Solomon Grundy one by Jerry Ordway, Wendy Broome, and Saida Temfonte, and the Mister Freeze one by Louise Simonson, Phil Winslade, Carrie Strachan, and Carlos M. Mangual. Mister Freeze as a mage using magic to save his beloved? More of that please. The Batman/ Lucious Fox story, the Joker story, and Superman/Bizzaro stories are all ok, but when a short 10 page story feels about 6 pages too short, that is a problem. Again, some of them feel unfinished. I have no idea if there is a second issue coming out, and it seems like a lot of these stories were ended with the idea that there would be another one. It makes for a very frustrating reading experience. At $9.99, it is a hard sell to ask people to fork the cash over for half stories.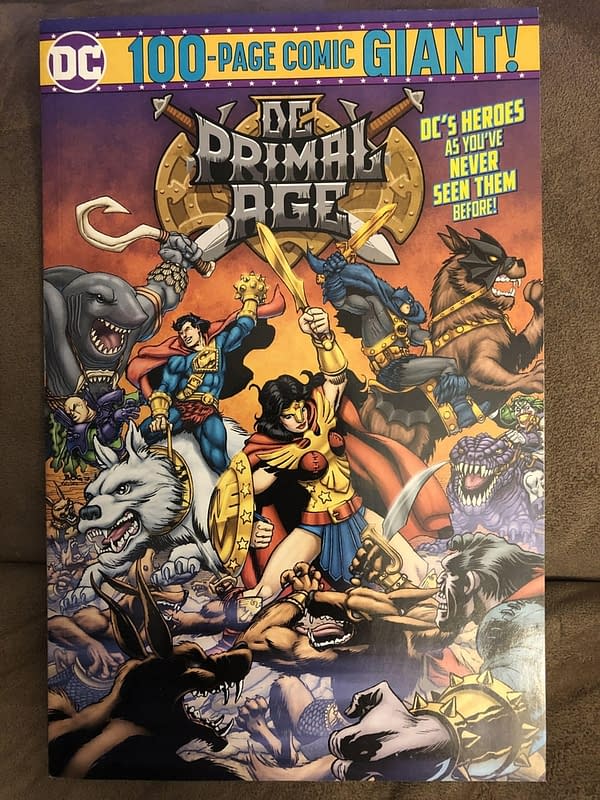 In the end, the DC Primal Age needs another issue. Not because it is mindblowingly good, but because it feels like that is where the end of the stories are. I hate things that are unfinished, and I fear that if the toys don't sell, we will never see the end.
The DC Primal Age 100- page Special can be found in Target stores now.
In the toy section, of course.