Cosplay gatherings have long been a mainstay at fandom conventions, but Atlanta's Dragon Con is home to the most numerous collection of cosplay gatherings in the world as well as some of the largest. Cosplay gatherings are when groups of themed cosplayers come together to pose for a photo shoot. Once you've taken a photo of one screen accurate stormtrooper, you've rather by definition seen them all, but if you get a few hundred of them together at once, it can make for some pretty epic photographs and notable guest stars.
Like that one time James Gunn led the collected MCU cosplayers in the biggest Groot dancing group, viewable here.

This week, after nearly a decade of hosting two of the largest gatherings – for Marvel and DC, each drawing well over 1,000 attendees – the Superhero Costume Forum announced in the Dragon Con Group Photo Shoots Facebook group that they have chosen to not host them in 2018, due to numerous changes in the rooftop area where they usually take place.
ANNOUNCING THE CANCELLATION OF THE GIANT SUPERHERO PHOTOSHOOTS IN 2018

Hi, I'm Allen, the Owner of The Superhero Costuming Forum (SCF). I'm also the founder of the Giant Superhero Photoshoots at DragonCon from way back in 2009, back when we thought 80 people was HUGE!!! (lol)

Since that time, these superhero shoots have grown to be, by far, the largest at DragonCon. What started off with just me (without a megaphone), eventually turned into behemoths, requiring teams of 20-30 people and months of planning.

These shoots became so large that we began using every single set of steps at the Hilton, for an hour and 45 minutes straight! Even in that extended time frame, it's been difficult to squeeze everything in.

In 2016, we heard that the #1 question asked at the DragonCon Information booth was:

"When and where are the Giant Superhero Photoshoots?"

Unfortunately, in 2017, things changed.

To address the increase in foot traffic, DragonCon, unannounced, began using the Hilton Back Patio steps for panel lines. We arrived to find that some sets of steps were completely unusable with panel lines permanently snaking up and down them. We found that other sets of steps were only intermittently available, as attendees exited down the steps when panels ended. (Not to mention the outdoor DJ and Telescope issues.)

Frankly, these presented logistical – and safety – nightmares for our teams. (Ex: try herding 500+ people on and off a set of stairs in 20 minutes.)

Rather than just complain, we went to DragonCon with a proposed solution – not just for The SCF, but for ALL of us. If you remember from some months back, we gathered public input and then presented an idea to DragonCon for an indoor photoshoot space, with bleachers, water stations, a costume repair area, backdrops, coordinated guest appearances, etc. We believe this would have been a huge public relations & marketing WIN for DragonCon. (FYI: This was actually the second time we'd approached DragonCon with this idea.)

I am sorry to inform you that DragonCon has again rejected our proposal and will be implementing None of the ideas presented.

DragonCon has simply (politely, albeit) let us know when they'll be using the steps for panel lines in 2018. They've also said they plan to have more and better signage in the stairs areas, so that groups will know what is happening and when. Additionally, they plan to give groups a 5-minute warning before they know an area will need to be accessed/exited, so that stairs can be "cleared" and exiting can go as quickly as possible.

Angelle and the DragonCon Group Photoshoots Page Team will soon be making an announcement going into greater detail on what we've learned from DragonCon, and how these changes are going to affect the 100+ other groups planning photoshoots this year on the Hilton Steps. I'm asking that you please be patient with her and her team, and respectful of your fellow DragonCon attendees and volunteers.

I am sad to announce that Steps C, D and F are effectively no longer available for any planned photoshoots. Furthermore, there will be severe time restrictions on largest set of steps: Steps E.

Due to the announced loss of Steps C and D, the abbreviated open blocks of time on E, and with only an assurance from DragonCon that all times are "approximate," we simply cannot logistically plan how to reliably manage the 1,000-1,500 DragonCon attendees on each day and guarantee them a positive experience.

Therefore, The SCF has made the decision to cancel the Giant Superhero shoots in 2018.

Please know we did not come to this decision lightly. The shoots have become an "institution" of sorts at DragonCon, and well, we love you guys.

I am sure that many of you will want to offer your own suggestions / solutions. However, and please trust me on this: we've already looked at this from *every* angle, and with well over 1,000 people attending each day, the logistics – and safety issues – are simply too difficult to overcome with the severely restricted use of time and space.

Finally, I'd like to thank the many thousands and thousands of DragonCon attendees who have attended The SCF's Giant Superhero Photoshoots over nearly the last decade.

It's been quite a ride. Thank you for coming.

Allen
Owner of The SCF

Joy
Director, SCF GIANT Marvel Universe Photoshoot

Ben
Director, SCF GIANT DC Universe Photoshoot
In recent years, the combination of increasing number of cosplayers, construction at the Hilton (in and around the staircases where the shoots have been held), and the continued growth in the number of attendees have caused the gatherings to face an ever-increasing set of logistical challenges.  Along with the post was also an image of the set of steps with those crossed out which they considered to be most problematic: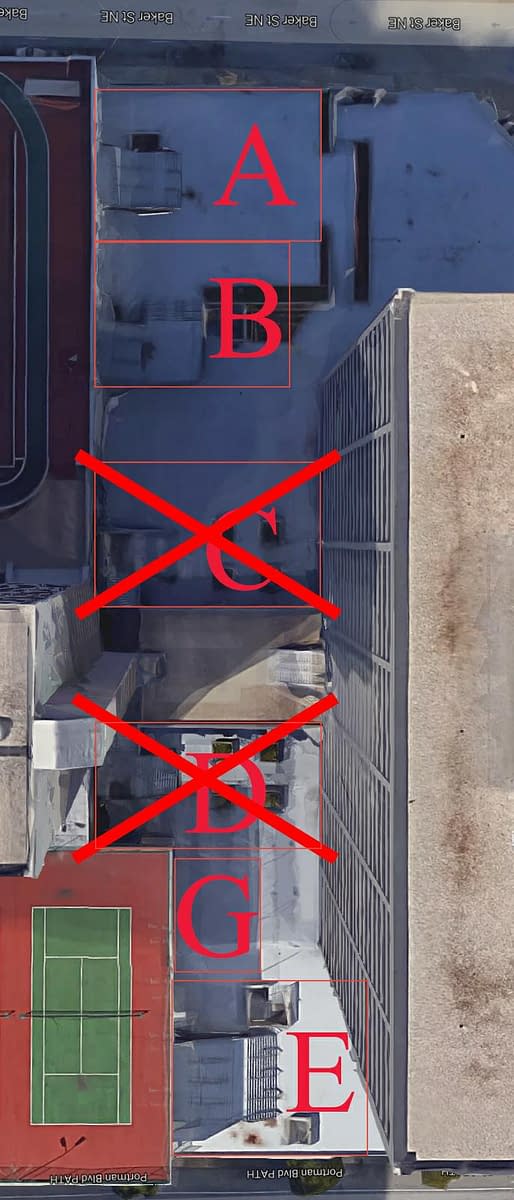 The latest complicating issue was due to additional headline programming in the newly completed Grand Salon and Grand Ballroom in the Hilton. With the high capacity rooms now being fully loaded, the line control for attendees waiting to enter began using some of the staircases (the ones marked as C and D) as line management for entry into the two large rooms. Additionally, the steps noted as E could be used as egress from the rooms.
Note that on the map there's an area marked as G which is a new staircase which was added in 2017.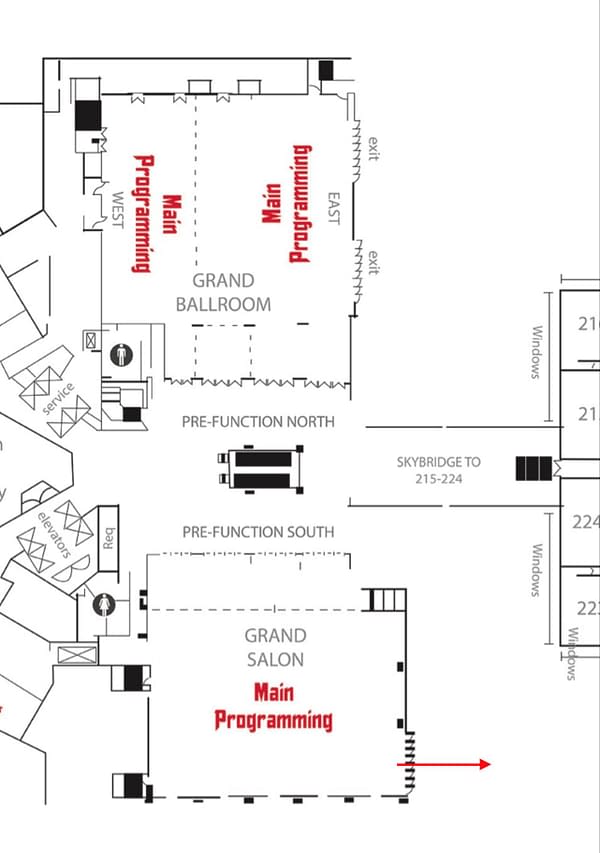 The new use patterns were in place during Dragon Con 2017 and wound up causing some confusion around which steps were usable for shoots and which ones might suddenly host a line of attendees waiting to get into the new ballroom or with doors opening to let out a full room's worth of people. In most cases the doors weren't used as an exit, and only infrequently as lines in. However now that those rooms are both part of the main programming track, it would be safe to assume that the stairs may be needed during regular windows.
An admin for the Dragon Con Official Facebook group replied to the thread saying:
While we understand your frustration, the growing footprint and changing traffic patterns have necessitated the use of the Hilton steps for lines and egress from panel rooms.

Real estate in our host hotels is already at a premium and we have to balance providing several thousand hours of programming for our more than 80,000 attendees with safe, easy routes for people to access this programming. We understand that some of these decisions are not always popular, but must be made in the best interest of safety.

While we cannot offer any other space on host hotel property, there are several other public spaces that could certainly meet the needs of large groups of cosplayers. Centennial Olympic Park has several large, open, tiered spaces, as does Woodruff park. Both are short walks from the host hotels and could provide excellent opportunities for photographers.
This isn't the first time that gatherings have faced challenges in their favored shoot locations. Back in 2015 a number of projects began which eliminated a large part of the open space on the South edge of the roof: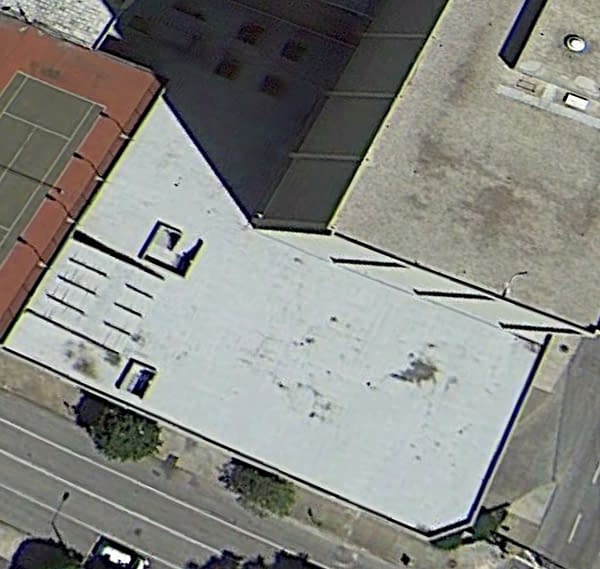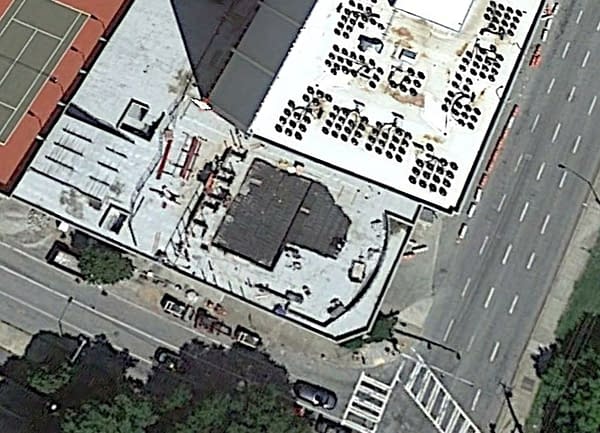 The North side used to be accessible all the way to the edge overlooking Piedmont, but that was closed off around the same time in 2015. But despite those challenges and others, the myriad cosplay gatherings have continued to expand and thrive over the course of each Dragon Con. As noted by the admin, Dragon Con appears to be on track to break the 80,000 mark in 2018 and space will continue to be at a premium.
We expect that cosplayers' creativity for finding places to hold the gatherings will overcome whatever challenges might arise. Unfortunately, at least for now it appears to mean they'll just have to adapt to not having the two largest. Even as the announcement has been making its rounds, Marvel and DC fans are sectioning out into smaller groupings (cinematic characters meeting up at one time, Gotham characters at another). Though in Dragon Con's case, "smaller" still means as large as the largest gatherings at any other convention.
Cosplayers interested in finding out more about the gatherings and the latest news regarding the scheduling should join the Facebook group Dragon*Con Group Photo Shoots.
Enjoyed this article? Share it!