Eric the Talking Lion in Fawcett's Slam Bang Comics, Up for Auction
The early Golden Age title Slam Bang Comics from Fawcett Publications contained an eclectic mix of features, one based on a Fawcett editor.
---
Mr. Tawny Tawky, the anthropomorphic talking tiger who debuted in Captain Marvel Adventures #79, became a beloved part of the Shazam pantheon soon after his 1947 debut, but he was not Fawcett Publications' first talking feline hero. That distinction belongs to Eric the Talking Lion, who debuted as a sidekick of sorts to the character Lee Granger, the Jungle King, in Slam Bang Comics #1. Eric was just one of the fascinating characters in the short-lived Slam Bang Comics title, which also includes a hero who seems to be based in part on a Fawcett Publications editor or staffer. An important early Golden Age series deserving of far more attention than it gets, there are several issues of Slam Bang Comics up for auction in the 2023 March 19-21 Sunday, Monday & Tuesday Comic Books Select Auction #122312 at Heritage Auctions.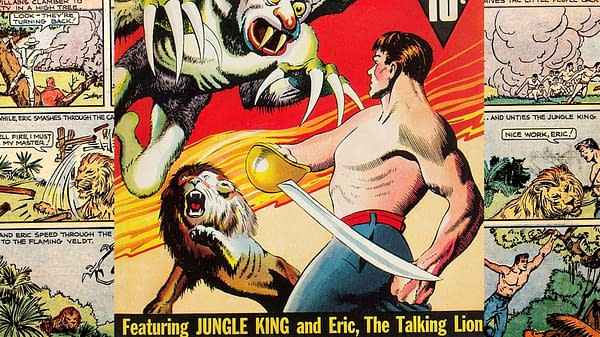 Lee Granger, the Jungle King, is a fairly typical jungle adventurer in the Tarzan mold. Granger, characterized as a "scientist-adventurer" in his debut story, crash-landed his airplane in Africa while on an unspecified secret mission. Winning over a native group of villagers by saving their chief from death, Granger soon captures a lion and enables it to talk using an electrical device he constructed in the jungle village. Eric the Lion vows to help Granger and his villager friends.
Another Slam Bang Comics feature starring a character named Jim Dolan is also worth a closer look. The character is described as the "Hard-hitting editor of Daring Detective magazine" and a former FBI agent who has "earned the respect of the police department." Considering that Fawcett was publishing an actual true crime magazine called Daring Detective at this time, and advertised the notion that its features were based on "official sources", it's hard not to wonder if Jim Dolan was inspired by a real Fawcett editor or staffer. While neither Daring Detective founding editor John J. Green nor his successor Leonard W. Diegre were former FBI Special Agents, they certainly would have had law enforcement connections, given the nature of the magazine they edited. Diegre shows up in the FBI file of former Special Agent Gordon Gordon in connection to Diegre's attempt to hire Gordon to write magazine articles for him. Diegre was also the recipient of an earlier 1939 letter from FBI director J. Edgar Hoover, though its contents could not be uncovered in time for this post. This issue also pinged my radar because the FBI used former Special Agent Edward Miles, later an advertising manager at Fawcett, to gather intelligence on publisher Alex Hillman. It's unclear to me if Miles was at Fawcett in 1940, but it's all an interesting mystery nonetheless.
Many Slam Bang Comics features were transferred over to Master Comics when Slam Bang Comics ended with issue #7. But this short-lived title was a formative early Golden Age effort for Fawcett, andthere are several issues of Slam Bang Comics up for auction in the 2023 March 19-21 Sunday, Monday & Tuesday Comic Books Select Auction #122312 at Heritage Auctions. If you're new to Heritage Auctions to check out their FAQ on the bidding process and related matters. Also, please note that the weekly Select Auctions have been expanded to three days, with Comic Books (pre-1956), Pulps, Memorabilia, and Magazines Session 1 on Sunday, Comic Books from 1956-1969 Session 2 on Monday, and Comic Books from 1970-Present Session 3 on Tuesday.

Affiliates of Bleeding Cool buy from and/or consign to Heritage Auctions.