Erica Henderson has announced the end of an era for The Unbeatable Squirrel Girl on Twitter tonight. The issue of Squirrel-Girl Henderson is currently working on will be the last on which she is the interior artist. However, Henderson noted that Squirrel Girl will continue with an as-yet-unannounced new artist and that she'll continue drawing its covers. Marvel Star Wars editor Heather Antos also left Marvel for another position on Friday, as reported earlier today.
Hey guys. It's officially official. The issue of Squirrel Girl I'm drawing right now is my last. Writing this now to get ahead of the rumor mill.

FAQ:
1. I left of my own accord to pursue creator owned work.
2. The book is NOT over.
3. I'll still be doing covers pic.twitter.com/Xx9V0oA5du

— Erica Henderson (@EricaFails) March 10, 2018
And lastly, thank you all for being there these past three years and supporting this crazy book!

Squirrel Girl wouldn't be what she is now without you guys sticking with us since the first announcement in 2014!!

— Erica Henderson (@EricaFails) March 10, 2018
Henderson's announcement was met with words of support from colleagues:
Congrats on a run that's gonna go down in history. Incredible work.

— satan's niece 🏳️‍🌈 (@MagsVisaggs) March 10, 2018
YOU ARE A CHAMPION & R' GOIN' OUT ON TOP pic.twitter.com/WsjYPruoen

— James Asmus (@JamesAsmus) March 10, 2018
Congrats on a great run!

— Paul Tobin (@PaulTobin) March 10, 2018
Good work!

— Phillip Hester (@philhester) March 10, 2018
you're the best! can't wait to see what you do next!

— Faith Erin Hicks (@FaithErinHicks) March 10, 2018
Here's to a hell of a run!

— Erik Burnham 💬 (@erikburnham) March 10, 2018
Henderson didn't say what she's doing next, though she hinted that one or more creator-owned projects may already be in motion. She also didn't say exactly which issue will be her last. The most recently solicited issue of Squirrel-Girl is May's #32, which features Henderson as artist:
THE UNBEATABLE SQUIRREL GIRL #32
RYAN NORTH (W)
ERICA HENDERSON (A/C)
• Doreen Green (A.K.A. the super hero Squirrel Girl) and her friend Nancy Whitehead (an unrelated civilian) have had a great idea: Let's get some friends together and play an escape room! Escape rooms are those real-life games where you get locked in a room and have an hour to escape before you die!
• In the game, I mean. It's not like if you die in the game you die in real life! Hah hah.
• They gather KOI BOI, CHIPMUNK HUNK, BRAIN DRAIN and, as a special guest…their good friend KRAVEN THE HUNTER.
• BUT WHEN THEY ENTER THE ROOM IT TURNS OUT THAT IF YOU DIE IN THE GAME YOU DIE IN REAL LIFE!! TWIST!!
• It's everything you crave: friendship, adventure and a room full of death traps that you can only find in SQUIRREL GIRL!
32 PGS./Rated T …$3.99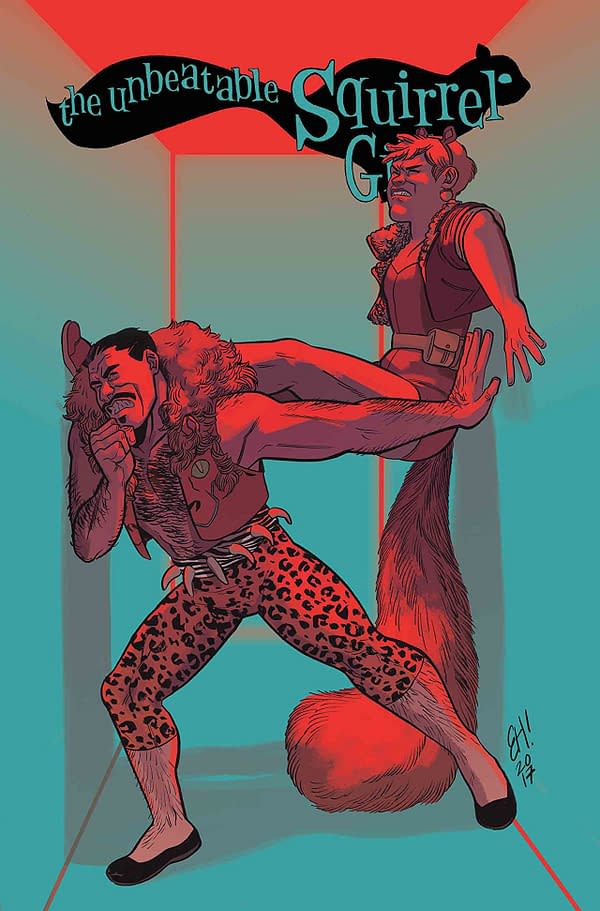 We'll let you know when we learn more on Henderson's future plans as well as Squirrel Girl's next artist.
Enjoyed this article? Share it!