Exclusive: Swords Of Sorrow Adds Pantha And Jane Porter To The Mix In August
We have the exclusive first look at the covers and solicitations for the Swords of Sorrow titles shipping in August from Dynamite Entertainment. With it being the fourth month of the all-female written summer event, we have the Vampirella / Jennifer Blood series wrapping up and a new special featuring Pantha and Jane Porter from the Edgar Rice Burroughs Tarzan universe.
Swords of Sorrow #4 (OF 6)
Covers: Tula Lotay and Emanuela Lupacchino Writer: Gail Simone Art: Sergio Davila
The wildest Dynamite crossover epic ever told continues at whole cities are smashed together in the prelude to inter-dimensional war! It's Martians versus Monsters versus Barbarians and more, with the women of Chaos on the wrong side of Good Vs. Evil…plus, where are Red Sonja, Vampirella and Dejah Thoris in their worlds' time of need? Guest stars galore in this massive tale of battle, blades and bikinis! Swords of Sorrow: Pantha / Jane Porter Special
Cover: Mirka Andolfo Writer: Emma Beeby Art: Rod Rodolfo
Ancient Egyptian demon hunter and shape shifter, Pantha, is thrown across a Rift into the early twentieth century London, straight into the path of Jane Porter, American explorer, aviatrix and new wife to Tarzan. Pantha hasn't come alone, however, as London is plunged into chaos by the appearance of a Great Pyramid in the sky… and what it contains. Up against gods, monsters, Purgatori, and each other, the pair need all the help that ancient magic and modern aviation can supply to stop London from turning into a new hell on earth. Writer Emma Beeby (Judge Dredd, Doctor Who) and artist Rod Rodolfo (Battlestar Galactica, John Carter: Warlord of Mars) reimagine these two characters – complete with all new costumes – in this turn-of-the-century pulp-action one-shot adventure. Swords of Sorrow: Dejah Thoris & Irene Adler #3 (OF 3)
Cover: Jay Anacleto Writer: Leah Moore Art: Francesco Manna
The streets of London are no place for a woman all on her own. They are, however just fine for a woman wielding a Sword. Dejah Thoris is used to London's dirt, and its rain, but she is growing tired of its people. She and Irene Adler must surely band together to find the Banth and get Thoris back to Barsoom, but to do that, one of them would first have to back down…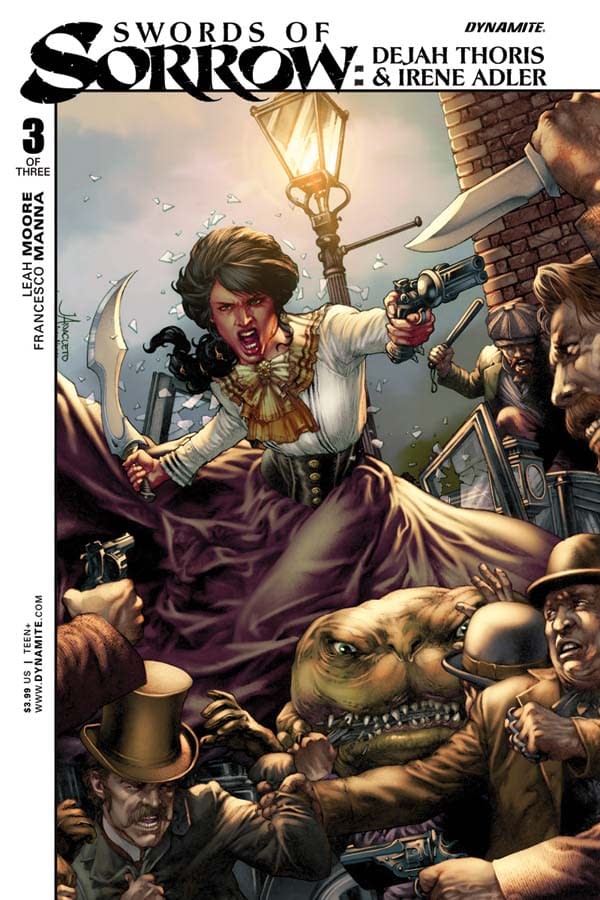 Swords of Sorrow: Red Sonja / Jungle Girl #2 (OF 3)
Cover: Jay Anacleto Writer: Marguerite Bennett Art: Mirka Andolfo
As the jungle descends into a lethal winter, Red Sonja and Jungle Girl have finally cornered the vicious Mistress Hel and — oh, whoops, wait, it's the other way around. Monsters, magic, a dreamboat in distress – and a velociraptor chariot race? Time is running out for Sonja and Jana to restore to island before all is lost! Swords of Sorrow: Vampirella / Jennifer Blood #4 (OF 4)
Cover: Billy Tan Writer: Nancy A. Collins Art: Dave Acosta
In the final issue of this ground-breaking mini-series, "The Vampire and the Vigilante", two of the Dynamite Universe's most dangerous female characters must put aside their differences in order to combat a common enemy determined to destroy them. While Jennifer Blood must figure out how to kill legions of the Prince's un-killable Shard Men, Vampirella throws down against fellow-bloodsucker Chastity to decide, once and for all, who is the greatest female vampire-turned-vampire hunter of all time!