DC really have to do something about this fifth week thing. By scheduling all of the New 52 to the first four weeks of the month, when there are five weeks in a month, things are really lacking. The next time this happens is in February, and DC seem to have shifted more of the non-new 52 comics to that date. But it's still not great. Wouldn't spreading all the comics out a little for five week months be in everyone's benefit?
But anyway, here are four thoughts about four DC comic books out today…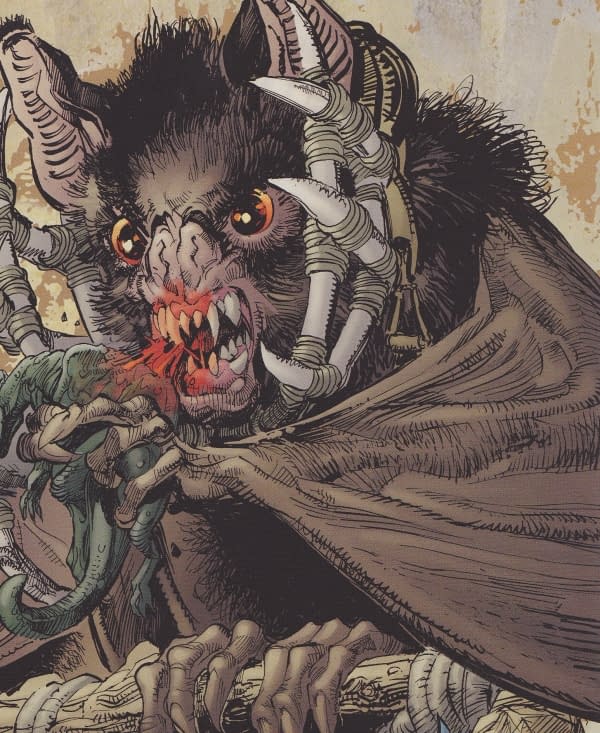 Batman Odyssey #2 by Neal Adams, Paul Neary, Bill Sienkiewicz and Michael Golden – Reading Odyssey is both like reading a Batman book from another age, but also feels like a piece of conceptual modern art in its telling. It is verbose, overly so compared to most modern comics. Characters talk, and talk a lot. Even with the occasional thought balloon, it seems as if every thought is spoken by the characters. This book needs a different mindset to read it, than usual, which also spills over into The Underworld, riding Tyrannosaurus Rexes and Giant Bats with Homo Dinosauri, and the realisation that maybe, just maybe, Batman Incorporated has reached down below the earth's crust through way of cultutal colonialism. And where, naturally all these dinosaurs fell during the cracks in the surface as the Earth expanded in size over millennia…

T.H.U.N.D.E.R. Agents #1 by Nick Spencer and Wes Craig – Avenging Spider-Man, Incredible Hulk, Batman Odyssey, there's a number of superhero comics set underground amongst the denizens of below. Well here's another. Also, while Kieron Gillen is defining the superhero as nuclear weapon by allegory in Uncanny X-Men, Nick Spencer is getting closer to the bone here, having the team the result of something akin to The Manhattan Project. A complex, intelligent superhero comic that raises all sorts of interesting issues about free will, pacifism and activism, up there with the likes of Planetary. And now I want a Daniel spoinoff series.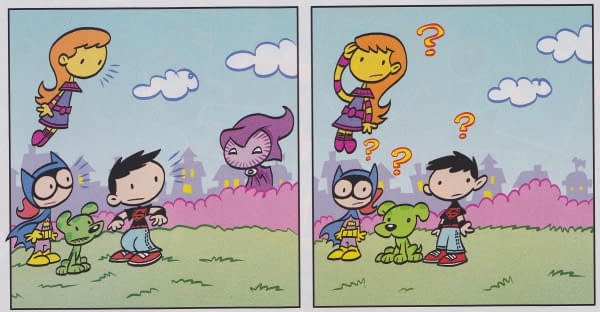 Tiny Titans #46 by Art Baltazar and Franco is a great comic for kids – but as ever much of the joy for an adult audience can be had through the twisted continuity links to the main DC superhero line. And here it's an appearance of Strange, the purple hooded woman who appeared in all the first issues of the New 52. Which did rather make me chuckle. And the way the book splits each story up into bite sized chunks makes for an rather easy reading experience. I'll be passing this on to Eve and Alice to see what they make of it.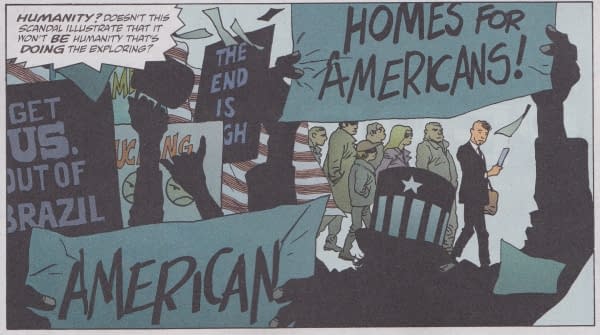 Spaceman #2 by Brian Azzarello and Eduardo Risso really reminds me of early Sin City. I don't just mean Risso's use of shadow and light, although there are moments of similarity, but showing us the story of a man who may be hated by many, and regarded as a thug by the rest, dedicated to preserving the innocence of a young girl. But what Spaceman does is take this violent fantasy and flip back and forth to a Mission To Mars, as sequences resonate from one to the other, and we start to learn what made Orson the… Spaceman he is.
Next week… the madness descends as usual.
Comics courtesy of Orbital Comics, London.

Enjoyed this article? Share it!