Green Lantern #3 Review: Pretty Doggone Enjoyable
With incipient change gripping the world Oa billed as the center of the universe, the standard-bearers of Oan justice are way out on a limb and over a rabbit hole that looks like it's nothing but deeper. John Stewart has to learn a number of new rules if he hopes to bring a semblance of justice to what is called the "Dark Sector," behind some kind of energy barrier that wreaks havoc on GL rings while back home things aren't much better.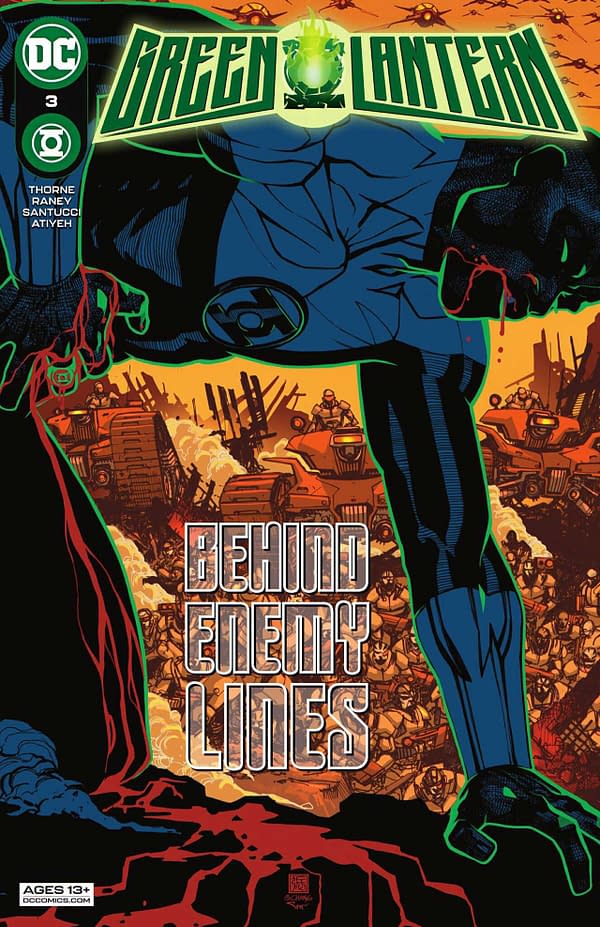 The issue's requisite exposition dump comes via a quick and efficient use of a time-honored trope that writer Geoffrey Thorne would be all-too-familiar with given some listings on his bibliography. With a biochemical whiff of Cyla-919, Stewart gets a new friend and an education on his new stellar neighborhood after losing another one. The first portion of the book deals with Stewart's elementary education on How It's Gonna Be and tempers his confidence along the way. After that, the newest ring slinger Jo Muellin was lucky to be wielding a wholly different style of Green Lantern energy when she was headed back from her far-flung assignment and now uses her experience as a cop and her new understandings of alien cultures to set her own tone as she steps into galactic politics. The Guardians, her supposed bosses, are missing in action, and the best backups she has (Simon Baz, who seems prescient now, and the shell shocked Teen Lantern) are holding it together with thread and (of course) willpower.
The artwork from Tom Raney, Marco Santucci, Michael Atiyeh, and Rob Leigh does a great job realizing these unexpected environments (Sergilon, the ruins of Oa) and delivering on the emotional realities for the characters. There are still questions that seem out of scope — what "Darkened" this sector of space? Who attacked Oa? Where are the Guardians? — that might nag at you, but what's left on the page is still pretty doggone enjoyable. RATING: HONORABLE MENTION.
Green Lantern #3
By Geoffrey Thorne, Tom Raney, Marco Santucci
Stranded in a Dark Sector with no rings and no backup, John Stewart is out of options, his back against the wall. After the Central Power Battery dies, John must live long enough to gather the surviving Green Lanterns and find a way home, while one of the newest Green Lanterns, Far Sector's Jo Mullein navigates a host of unknown dangers on the Green Lanterns' homeworld of Oa, as she works to uncover the cause of the battery's collapse and who was behind it.