Green Lanterns #40 Review: An Interesting New Arc About Online Dating and Human Trafficking
[rwp-review-recap id="0"]
Green Lanterns Jessica Cruz and Simon Baz, among heroes like Blue Beetle, Firestorm, Power Girl, Supergirl, and the Bulletteer, are helping a city weather and recover from a hurricane.
In the aftermath, the Bulletteer tells Simon that the Night Pilot, another hero whom Simon recently dated, has gone missing. Simon and Jessica investigate and, with the help of Cyborg, discover that other heroes have gone missing and have all used the dating app known as "Caper." The two Green Lanterns go to the dating app's headquarters to get to the bottom of this mystery.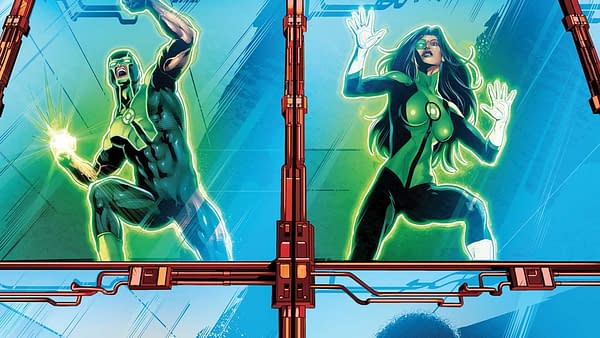 Green Lanterns #40 sets up the premise for this new arc, "Inhuman Trafficking" (seems like a questionable phrase to make a pun out of, but okay).
The opening doesn't really pertain to the story so much as giving a Simpsons-esque opening scenario from which the main story can tangent. It is sort of a feel-good sequence, showing heroes doing what they are meant to do: help people.
The main thrust of the story, that being the issue of Caper, doesn't really tie the two themes of dating apps and human trafficking together beyond the implicit connection of the anonymity and low accountability endangering people. I would like to see how the two ideas end up connecting.
It also takes me back to Nick Spencer's Astonishing Ant-Man and the war between Darren Cross and Power Broker over supervillain hiring apps. That's not a criticism, by the way. It just reminded me of that series, which really is probably still Spencer's best series to date. His Sam Wilson: Captain America was great too, though.
Beyond that, much of the comic consists of entertaining and charming conversations between Jessica and Simon, much of which is made up of Jessica signing up for Caper herself.
As you can surmise from the cover, there may be a "will they, won't they?" budding between Simon and Jesse. It was great that Green Lanterns avoided that thus far in its now 40-issue run, and it would be preferable if this is something of a red herring that doesn't stick around beyond this arc.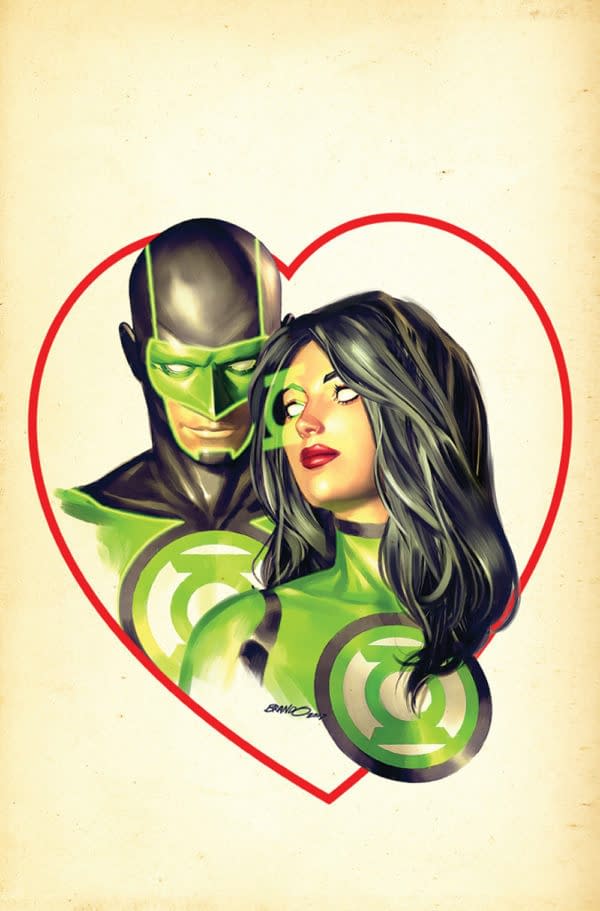 Barneby Bagenda's artwork brings a more serious and solidified tone to the visuals, and they look very good. It's a fitting change of pace for Green Lanterns as well. Mick Gray's inkwork bolsters it well. Ulises Arreola's color art is still bright and appealing to boot.
Green Lanterns #40 is another good entry for Seeley and company. While it's slow-going into this new story and doesn't explore any of its ideas yet, it's still an entertaining and appealing opening to a promising storyline. Give it a read. I recommend it.
[rwp-review-ratings id="0"]
[rwp-review-form id="0"]