Hal Jordan and the Green Lantern Corps #48 Review: The Darkstar War Begins
[rwp-review-recap id="0"]
The Darkstars have commenced their attack on Mogo, headquarters of the Green Lantern Corps. Kilowog is leading the defense, but Hal, John, Guy, and Kyle aren't anywhere near Sector Zero.
That's because these four Green Lanterns of Earth have rallied their newfound allies, Arkillo, Orion, Hector Hammond, and General Zod, at the headquarters of the Darkstars. These Green Lanterns and their allies will bring the Darkstars down from their own base.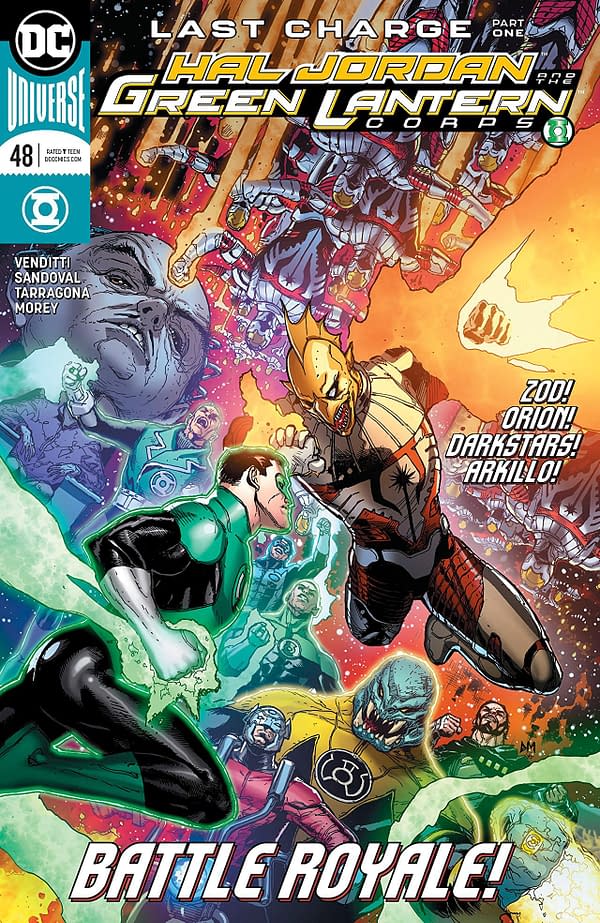 We finally get the ass-kicking Green Lantern vs. Darkstar issue we've been waiting for with all-out war between the Green Lantern Corps and their erstwhile allies against the Darkstars.
The comic primarily focuses on the battle at Oa and Guy Gardner, Kyle Rayner, Arkillo, Zod, and Orion fighting the Darkstars at their home planet. John Stewart is actually unseen after the first few pages, and Hal Jordan and Hector Hammond have their own plan.
It's a hell of an action-packed issue with all the flare and bombast one will have come to expect from the Hal Jordan and the Green Lantern Corps title by now. It's a lot of fun and spends very little time talking beyond the main characters making their plans in the opening pages.
Kilowog also gets a good monologue in while staring down Tomar-Tu, and I quite enjoyed that as well.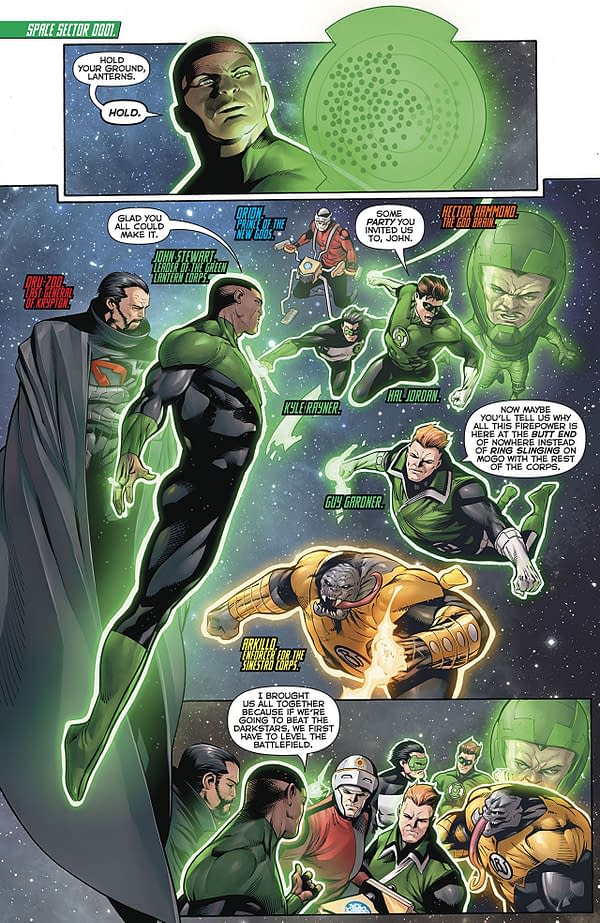 All of this works so well, in part, because of the spectacular return of Rafa Sandoval, Jordi Tarragona, and Tomeu Morey to the title. Sandoval is by now a master of making big, epic battle comics like this. It's a sci-fi space opera war playground, and Sandoval knows how to make it as visually fun and appealing as possible. Tarragona nails it on the inkwork, as he always does. Morey uses bright, neon colors to be cast against the black vastness of the interstellar setting.
Hal Jordan and the Green Lantern Corps #48 is light on dialogue and heavy on action. The battle against the Darkstars has officially begun, and it's a hell of a good time. The triumphant return of Sandoval, Tarragona, and Morey to the comic make it all that much more exquisite. This one gets a recommendation for sure. Check it out.
[rwp-review-ratings id="0"]
[rwp-review-form id="0"]