Hal Jordan and the GL Corps #40 Review: The Green Lanterns vs. the Zods
Corps Leader John Stewart is brought before the Guardians of the Universe over the contingent of Green Lanterns that left to save Hal Jordan from the Zod family on Jekuul.
On Jekuul, Kyle Rayner, Guy Gardner, Kilowog, and the other Green Lanterns attack General Zod, Ursa, Lor, and their Jekuul followers.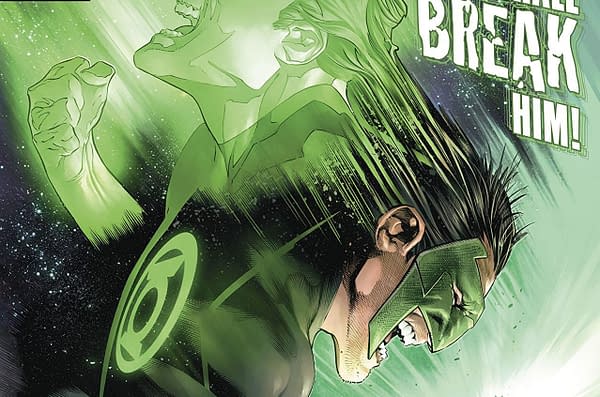 Hal Jordan and the Green Lantern Corps makes up for its lackluster previous issue with an absolute blowout of a battle between the Green Lanterns and the Zod families. It really does seem like this issue was intended to make up for the previous installment; the book is wall-to-wall action, with Kyle Rayner facing off against Zod himself, Kilowog and his cadre fight Ursa, Guy — well, guy refuses to hit Lor-Zod. The rest hold off the Jekuul people.
There are some drawbacks, but they don't hamper the comic too badly.
Firstly, the comic doesn't adequately explain what exactly is happening between Kyle and Hal Jordan.
Secondly, the battle is awesome, but it isn't as emotionally charged as many of the great wars of this series. It's cool seeing the Green Lanterns fight Zod, but they aren't old enemies. Robert Venditti tries to establish some animosity by having Zod blame the Green Lanterns for letting Krypton die, but it doesn't quite connect.
Thirdly, it is a little awkward watching a super-powered police force unload on an indigenous population armed only with spears while that indigenous people worships a white family like gods. This remains unacknowledged by the comic, and we're supposed to take Space Ape attacking the people of Jekuul as yet another "hell yeah" moment. This is the most troubling part of the comic, needless to say.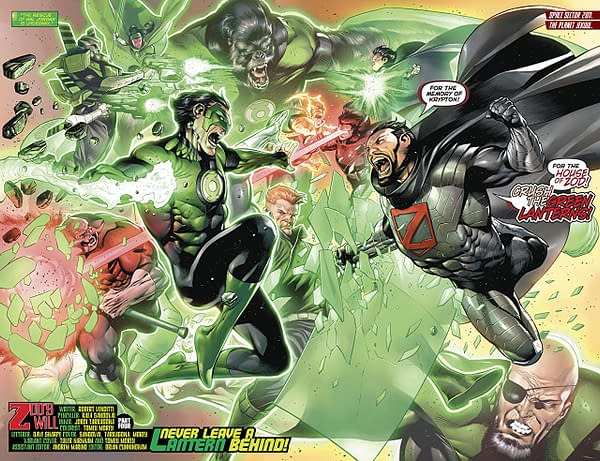 As always, none of the book would work as well as it does were it not for the incredible artwork of Rafa Sandoval, Jordi Tarragona, and Tomeu Morey. I've praised this artistic team many a time before. They do phenomenal work on this title, and it's easily one of the most beautiful books on the stands for it.
Hal Jordan and the GL Corps #40 is another adrenaline-fueled sci-fi action extravaganza from writer Robert Venditti. The story is endless fun, and the artistic team kills it as always. This one comes recommended, check it out.