Halo: Collateral Damage #1 Review – Standard Sci-Fi War Fare
Master Chief and Blue Team, hot off losing a member of the squad, have been given a mission on yet another planet under attack from Covenant forces. The marines are holding off an assault at the planet's capital city, but Covenant reinforcements are expected. Blue Team is intended to engage the enemy from outside the city while avoiding contact with the marines inside the city.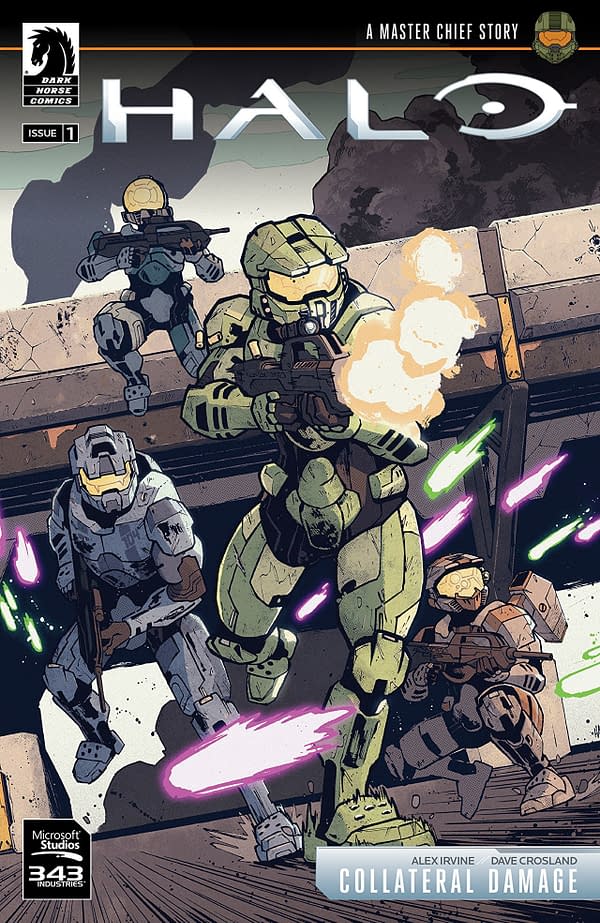 Halo was one of those game franchises that I played and enjoyed but never got heavily invested in like other players. There's my brief personal history with Halo.
Halo: Collateral Damage #1, on the other hand, was mostly what I expected it to be. It's a sci-fi war comic with sci-fi war trappings and sci-fi war dialogue. That unfortunately leaves a lot of the exchanges and scenes feeling very vanilla.
The text is all debriefings and strategizing. The characters don't have much personality to speak of, and that includes the eponymous Master Chief. That being "the point" doesn't make him anymore engaging.
The fact that Blue Team aren't especially warm to one another and the fact that their superiors show active disdain for them means you can't even get into the whole military fraternity idea either.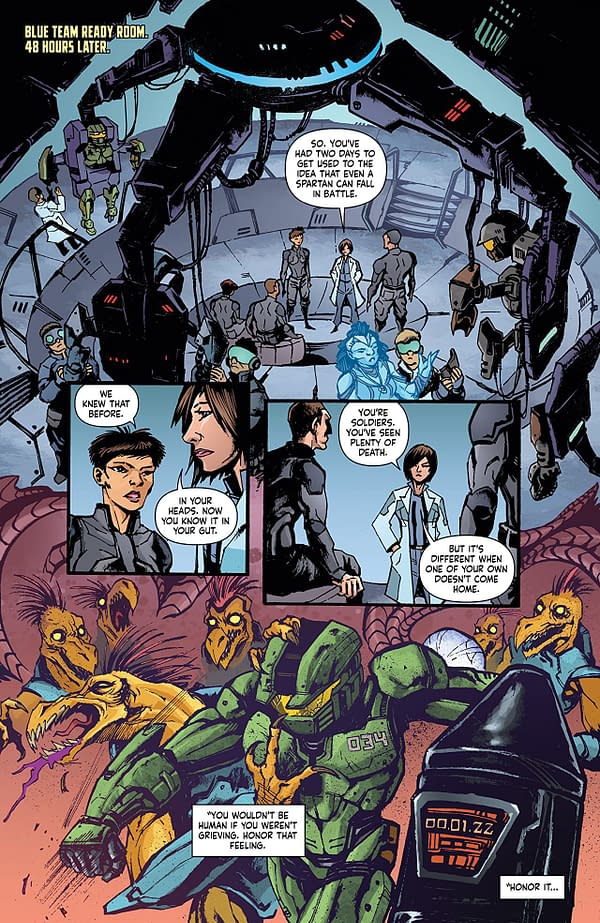 That leaves the action and the art. Unfortunately, the action doesn't really kick in until the last third or so, and it's not well-framed either. Panels get in each other's way, and it's just not visually interesting. There's nothing wrong with the general art style; David Crosland and Len O'Grady have the gritty style and color palette down pretty well. However, the action, the only saving grace left to the comic, just isn't punchy or cathartic.
Halo: Collateral Damage #1 isn't awful, but it's not good. The characters are dull, the action is undercooked, and the pacing is glacial thanks to numerous text dumps. I can't recommend this one. Give it a pass.
---
---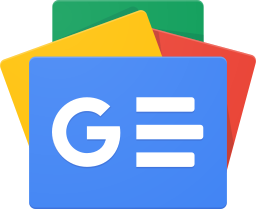 Stay up-to-date and support the site by following Bleeding Cool on Google News today!