Heavenly Blues #4 Review: Grand Heist in Heaven
[rwp-review-recap id="0"]
The crew have arrived in Heaven with the help of Barbiel and ready to rob the Archangel Uriel. To this end, Hideki has been sent into Uriel's mansion as recon. However, Jefferson and Erin don't trust Barbiel, so they are running operations without the angel's knowledge. If they are caught, they will be subject to punishment beyond reckoning, but, then again, they've already been to Hell.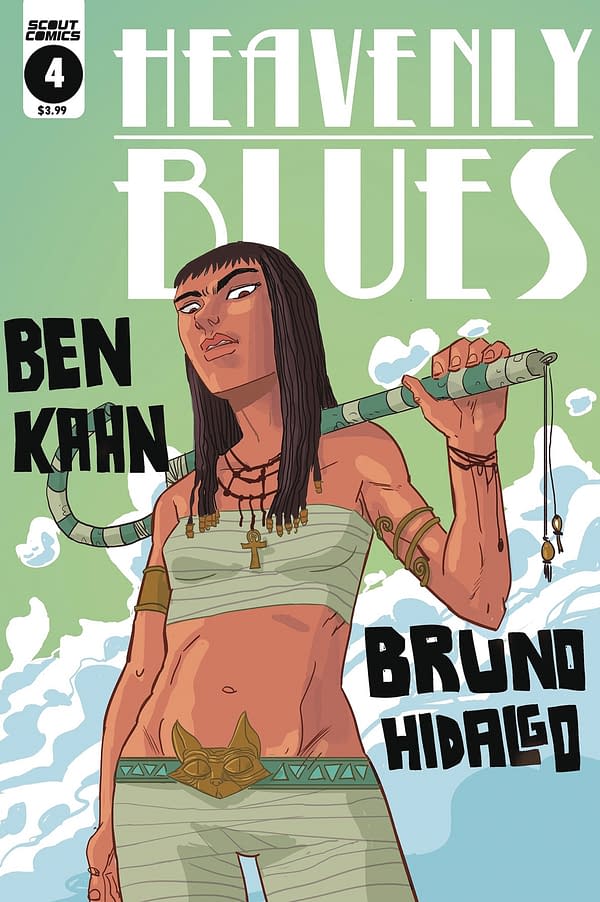 Heavenly Blues' cast is a thoroughly lovable one and works as a fantastic icing on top of the cake that is the unique and well-handled plot.
This time around, we are presented with Amunet, a former denizen of ancient Egypt. It's not quite as interesting as the background to the other characters, but it is grueling and heavy nonetheless.
The amount of backstabbing is balanced out by the affection shown between the members of the crew that aren't an angel. It adds to the likability of the characters, and it makes you want to see them succeed.
The dialogue is solid too. There are plenty of good and memorable lines, many of which with language too coarse for me to use on this particular platform out of respect for my bosses.
Bruno Hidalgo's artwork is expressive, creative, and fits the tone of the comic very well. The eyes change from scene to scene, ranging from more straightforward construction to more cartoonish exaggerated looks. The overall comic is stylized and cartoonish in general, but it manages to carry the weightier scenes with ease. There is a bit of gore in this issue too, and Hidalgo can present it with the necessary tone management. The color art is excellent too, giving Heaven an interesting color palette.
Heavenly Blues #4 is another great installment of the comic series. This Ocean's 11 in the afterlife comic story is funny, emotional, and intriguing. The rules of this version of paradise aren't well established, but that's the biggest and only major complaint one could have. This comic comes highly recommended. Give it a read.
[rwp-review-ratings id="0"]
[rwp-review-form id="0"]