How DC Comics Planned To Ruin Batman: The 5G Files Chapter One
The 5G Files is Bleeding Cool's attempt to look at the DC reboot/relaunch that wasn't, and how the characters would have been affected. Consider this the big What If that almost was.
---
Today begins a new series on Bleeding Cool, The 5G Files, looking at the aborted-but-not-quite relaunch/reboot planned for DC Comics in 2020 dubbed 5G or Fifth Generation. Planned by then-publisher Dan DiDio, it would have seen the main characters of the DC Universe, Clark Kent, Bruce Wayne and more, aged up and replaced by newcomers to the roles of Superman, Batman and more, the fifth generation of DC superheroes. While stories starring those classic characters would be out of continuity or set in the past, during the previous four generations of DC Heroes of the new DC Timeline.
But Dan DiDio was fired in 2020 for unrelated matters, and then lockdowns hit, which saw the publication of 5G delayed. In that moment, DC Comics took the opportunity to junk the 5G plans, replace them with something else in the short term, and pulp what had already been printed for Free Comic Book Day that year.
Bleeding Cool had a history of reporting 5G plans, even though DC Comics refused to confirm any of them. Since then, many creators have backed up our reports, but in recent months, I've gathered new information that fills out what would have been, and some of which can be seen in what replaced it. Welcome to The 5G Files, Chapter One.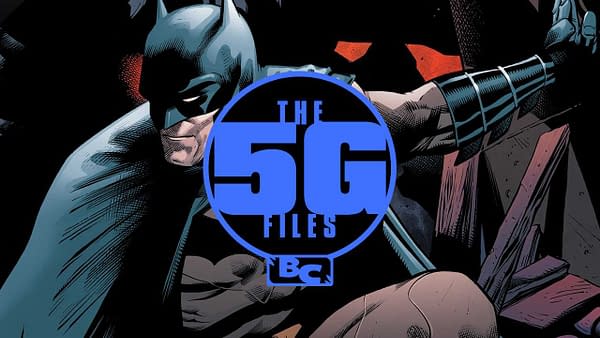 Then-Batman writer Tom King has mentioned that the death of Alfred Pennyworth – and keeping him dead – was to have been the beginning of 5G. That would see Bruce Wayne start losing his connection to humanity, as he regards Alfred as his real father. And King said that this will still have huge repercussions going forward,
Today we reveal why. Alfred died in the City Of Bane storyline in Batman in 2019. However, in this version of events, the funeral drove the Batfamily apart rather than pulling them together. Specifically, Lucius Fox would offer support to Bruce, at the expense of his son Luke Fox. The following storyline which would later become The Joker War, was called Batman/ Joker: The Final Conflict, which then-Batman writer James Tynion IV has talked about. The Joker's assault on Gotham leads Batman to decide to stop Joker once and for all, especially after having only just lost Gotham – and Alfred – to Bane. Batman defeats the Joker, and traps him. But in a final twist, Batman lets the Joker go after the Joker whispers something in Batman's ear. It is later revealed to be a promise that if Batman lets the Joker go, then the Joker will kill Bane in revenge for the death of Pennyworth. And he is the only one who could.
Yes, that does indeed have huge repercussions on Batman, the way he is perceived and the way he perceives himself. Would that have destroyed Batman in the public's eye? Possibly, but DC had a plan for that too. Was it a bit like the end of Spider-Man One More Day, or the beginning of Marvel's Original Sin? Keep checking the 5G Files tag for more… oh and for Lying In The Gutters fans of old, consider this story having a green traffic light.
Of course, 5G was abandoned. But aspects did carry forward into current-day DC Comics. Dan DiDio is currently the publisher of Frank Miller Presents, which he founded with Frank Miller, he is writing the series Ancient Enemies published by FMP, and has a superhero YA novel Hide or Seek: The Superpower Protection Program to be published in April.