Her Infernal Descent #1 Review: Lynn's Inferno or Blake's Divine Comedy
Lynn's family has left her alone. They passed away some time ago. She stays in the house and cleans, lost in her endless misery. However, poet William Blake shows up in her attic one day, and he offers Lynn a chance to see her family again so long as she can traverse the very depths of Hell to get to them.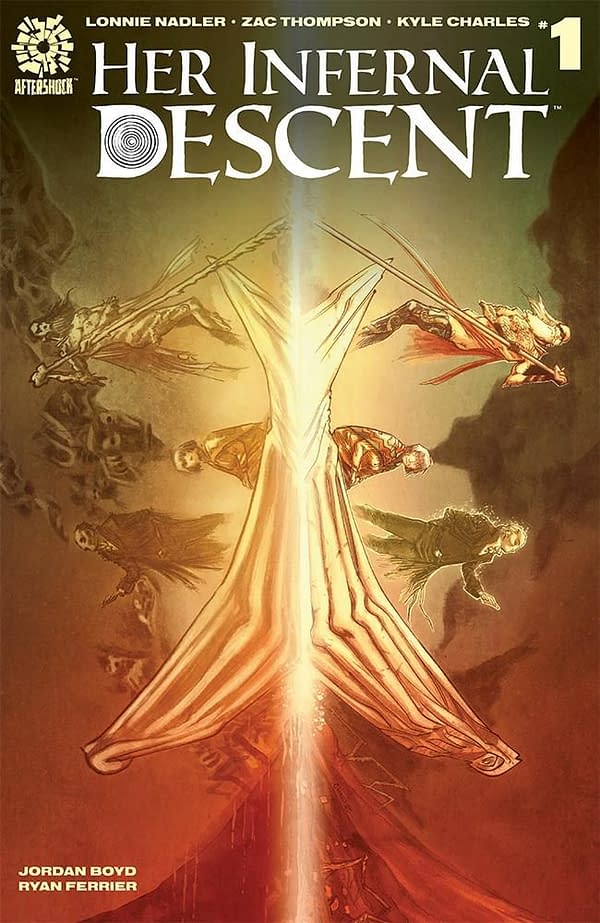 If the names Dante Alighieri and/or The Divine Comedy (specifically, Inferno) are ringing in your ears, then you're not alone. In fact, Her Infernal Descent wears that inspiration on its sleeve. Case in point, William Blake is far form the only writer that Lynn encounters, and many are from classical antiquity.
Another thing that Her Infernal Descent #1 does well that calls attention right out the gate is how well it portrays Lynn's depression. The opening scenes are a lonely woman, her thoughts, and the empty house in which she dwells. Her personality goes beyond that, as we see when she swears at and chastises Blake throughout their journey.
Hell itself is another impactful aspect of this comic. Beyond the famous faces and their bizarre behavior, Hell is depicted as a haunted place full of misery and punishment. It's not an entirely new depiction of Hell—it doesn't intend to be so. However, it's more Dante's Inferno or Judas than the simple fire and brimstone of the recent Damnation: Ghost Rider or The Demon: Hell is Earth. The boatman Charon is present and especially ghoulish himself.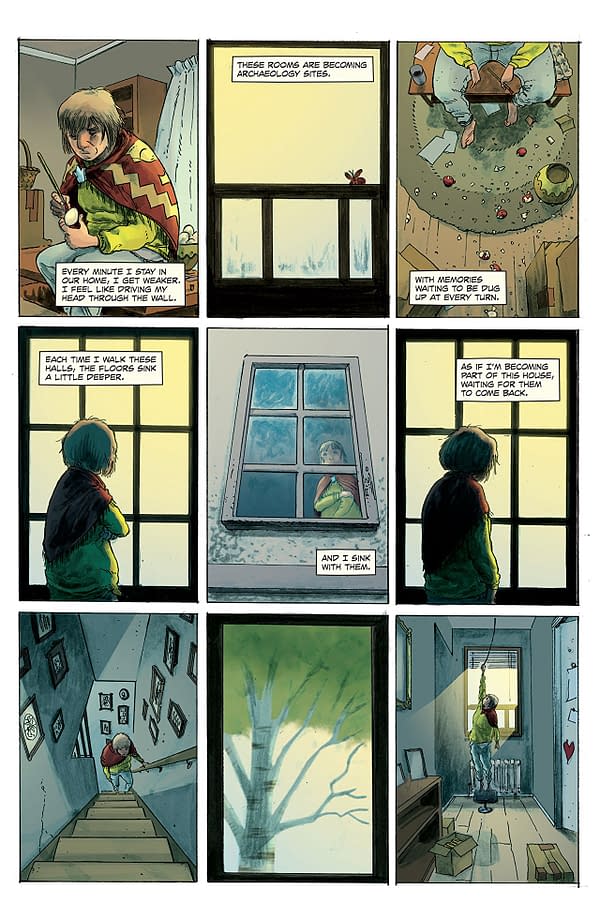 Kyle Charles' artwork does an excellent job of visually capturing all these ideas. The sadness of Lynn, the empty house, and the haunted Hell are all visually astounding and memorable. The panel layout and spreads are both handled creatively. Dee Cunniffe plays with the color palette and adds to the atmosphere of the comic.
Her Infernal Descent #1 is an absolutely absorbing start to this saga of a woman in search of her family in the bowels of damnation. The characters are engaging, the world is haunting and oppressive, and the art is brilliant. This comic gets a strong recommendation. Give it a read.