Infinity Countdown #1 Review: A Fun Continuation to Guardians of the Galaxy's Finale
[rwp-review-recap id="0"]
The Nova installation on Xitaung, where Drax is currently guarding the massive Power Stone, comes under attack from the Shi'ar Talons. Drax and the Nova manage to hold them off for a time, but a third faction soon enters the fray.
On Telferina, the Guardians of the Galaxy and Nova Richard Rider battle the corrupted Groot-like creatures which are ravaging the planet on behalf of the Cosmic Gardener. The odds do not look to be in favor of our heroes, especially when Rocket Raccoon goes off on his own to face the Gardener.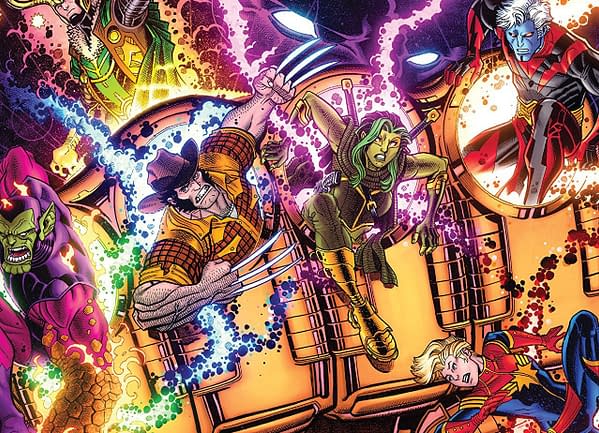 This is the super-duper official actual first issue of Infinity Countdown, and…it's actually pretty damn good. The fears which were given by the awful Infinity Countdown Prime didn't come to pass. This was a coherent and energetic issue.
That being said, if you've only been reading the Infinity Countdown-branded issues prior to this without following the latter issues of Gerry Duggan's Guardians of the Galaxy, you are going to be absolutely frigging lost. It's been revealed that this miniseries is actually the final five issues of his Duggan's Guardians title set aside for its own miniseries, and that really shows here. It just continues where Guardians of the Galaxy #150 left off without skipping a beat. It doesn't reference the Prime or the Adam Warlock one-shots.
The first page foreshadows something else very vaguely. The final two pages wave its hands vaguely in the direction of the Prime issue while also spoiling the hell out of the ongoing Tales of Suspense mini with Hawkeye and Winter Soldier. Beyond that, it's a straight continuation of Guardians.
That considerable caveat aside, this is an action-packed and exciting issue. Watching Drax kick the tar out of the Talons is awesome, it's cool seeing Richard Rider teaming up with the Guardians of the Galaxy again, and the Cosmic Gardener material is a little interesting.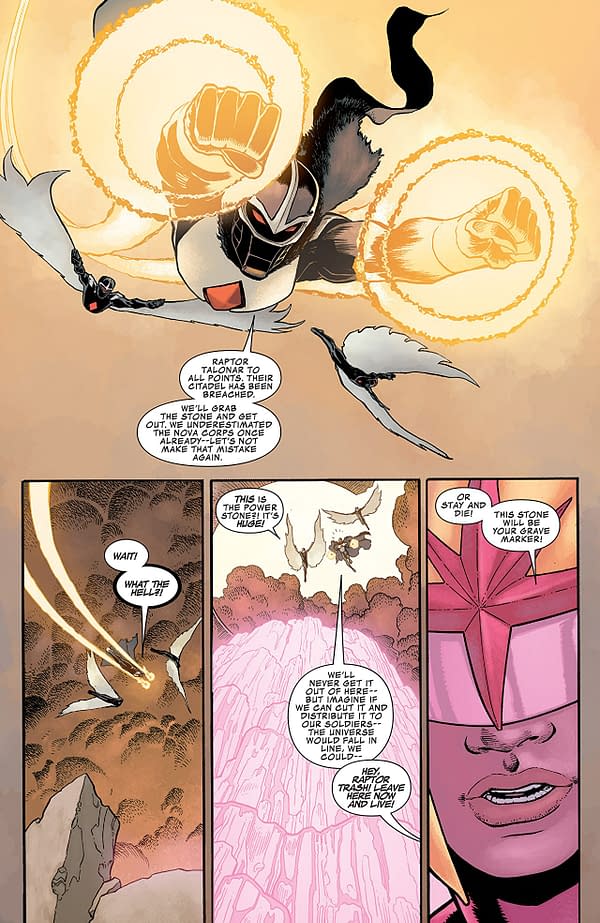 Aaron Kuder returns to contribute the art to Infinity Countdown #1. It's good stuff too. It's given a lot of detail, but it also has enough cartoonish quirkiness in the texture and style to be an appropriate aesthetic for the Guardians of the Galaxy and this off-beat story. Expression is portrayed especially well, particularly the mad face and eyes of the Gardener. Jordie Bellaire contributes a lighter and wild color palette, and it brings the atmosphere and aesthetic together well.
The opening page contains art from Mike Deodato Jr. and Frank Martin. It looks good. I mean, it is Deodato.
Infinity Countdown #1 was a genuinely fun read. The opening page foreshadows some potentially interesting developments. The main conflict is entertaining, even if it would be confusing to those who haven't been keeping up with Guardians. Even then, it's far from the first crossover to start en medias res. The Kuder and Bellaire art is good. On the whole, I can recommend it. Check it out.
[rwp-review-ratings id="0"]
[rwp-review-form id="0"]