Infinity Countdown: Black Widow #1 Review – Bringing Back Natasha to Do Nothing
Black Widow was given the Space Stone from Wolverine not too long ago, and now Natasha is in London with Jamie Braddock, brother of Brian Braddock, aka Captain Britain, in pursuit of the Space Stone. He has a horde of mind-controlled boys in his service. Natasha has no qualms with killing Braddock, but she doesn't want to hurt the children. She may need help out of this jam.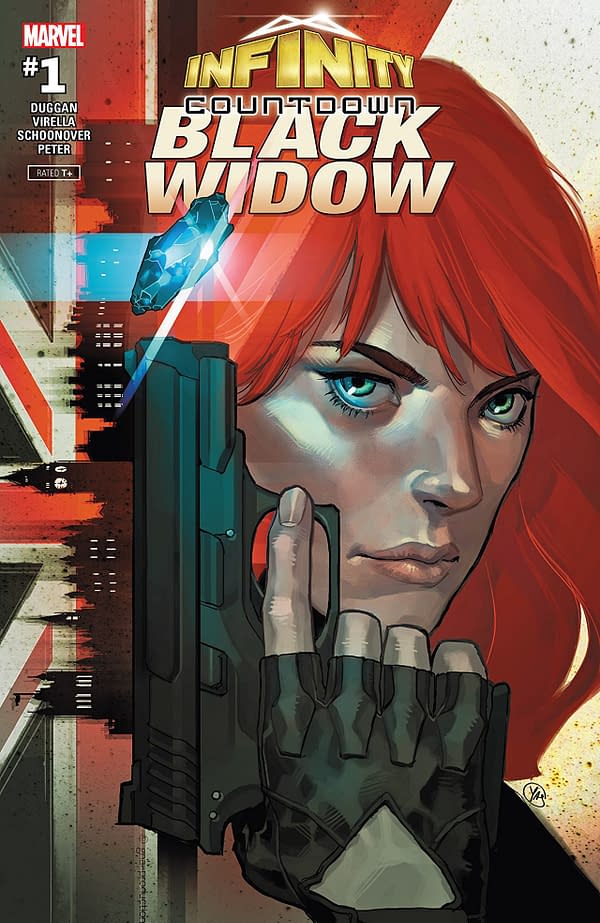 Infinity Countdown: Black Widow #1 feels painfully inconsequential in the grand scheme of Infinity Countdown. While Darkhawk and Daredevil have self-contained stories not especially relevant to the overall story, they are at least compelling and feel relevant to the characters involved. Black Widow has Natasha fighting a character I often forget exists (and I like Psylocke and Captain Britain) with the help of an Arthurian character.
It has some personality to help bolster its readability. Gerry Duggan writes a decent Natasha Romanoff. She has a macabre sense of humor and no pity for those who exploit children.
That said, the last third is a lengthy conversation between she and said Arthurian character that goes pretty much nowhere. Unfortunately, a smattering of personality and decent one-liners can't save a dull story.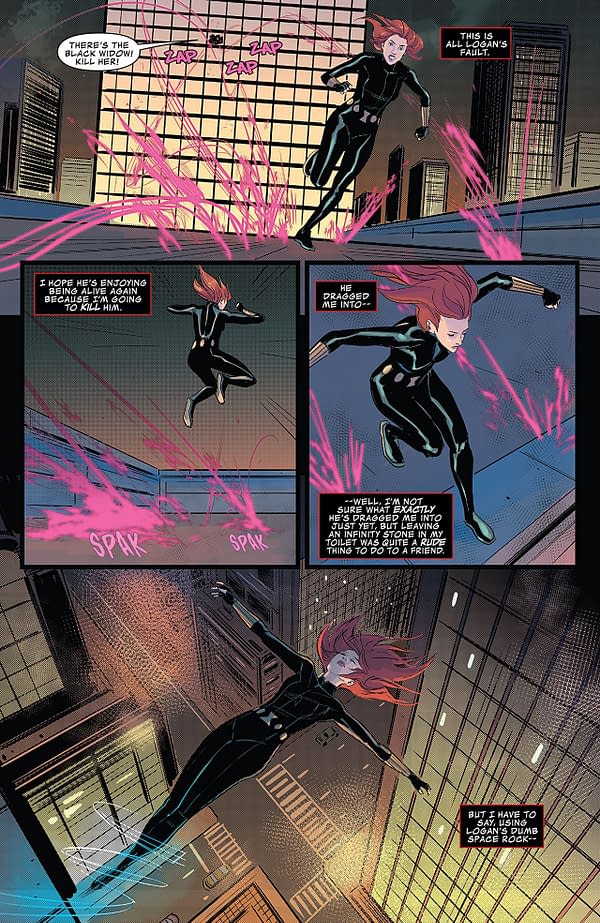 Artists Nic Virella and Brent Schoonover make the comic visually appealing at least. Natasha is given the right mixture of beauty and action prowess to fit the character. The nighttime London environment is a nice backdrop for the cat-and-mouse battle between Nat and Jamie Braddock. The color art of Cris Peter supports it all with a darker palette nicely contrasted by details like Nat's red hair and the city lights.
Infinity Countdown: Black Widow #1 delivers a welcome return of Natasha Romanoff. It's just a shame the story she finds herself within is far from interesting. Jamie Braddock isn't a great villain choice and has no relevance to Nat as a character. The artwork looks great, but it has nothing interesting to depict other than solid Black Widow action beats. It's not awful, but it isn't good enough to earn a recommendation.