Inter-company Crossover Romance in Archie Meets Batman '66 #3 Pre-Order Mini-Comic
Archie and Batgirl? Betty and Nightwing? If you ship either of those pairings, you'll want to check out the mini-comic Archie has released to explain to readers how to use the archaic pre-order system to make sure their local comic shop reserves a copy of the upcoming Archie Meets Batman '66 #3. In the mini-comic, Dick Grayson and Barbara Gordon arrive at Riverdale high, and for Archie and Betty, it seems it's love at first site.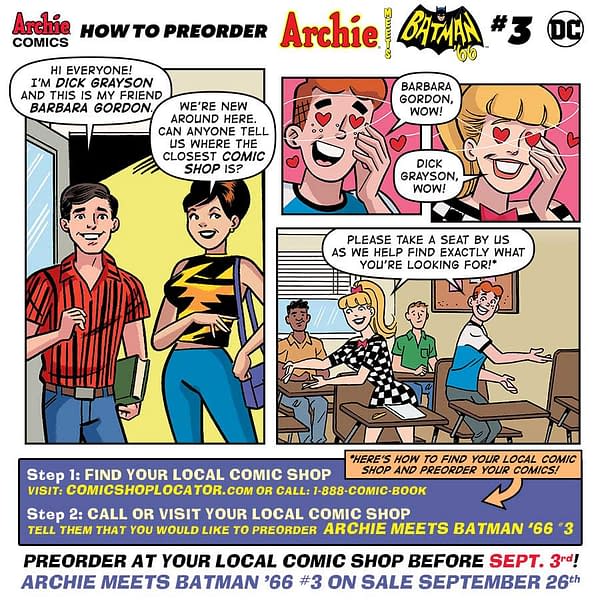 In addition, Archie released some preview art from inside the comic itself, but if we're being perfectly honest, the content of the mini-comic interests us more. Would it be too soon to hope for a spinoff?
Archie Meets Batman #66 hits stores on September 26th, with final order cutoff on September 3rd. Check out the preview below.
ARCHIE MEETS BATMAN '66 #3
The historic crossover mini-series rolls on! Gotham's villains have infiltrated Pop's Chocklit Shoppe to enact their plans of mind control! But when one of Pop's best customers sees the action taking place, will he be able to let the others know, or will the joke be on him?

Script: Jeff Parker, Michael Moreci
Art: Dan Parent, J. Bone, Kelly Fitzpatrick, Jack Morelli
Cover: Michael Allred, Laura Allred
Variant Covers: Art Baltazar, Howard Chaykin, Veronica Fish, Franco Aureliani, David Mack
On Sale Date: 9/26
32-page, full color comic
$3.99 U.S.