The Invincible Iron Man #600 Review: Bendis's Final Farewell and an Identity Crisis Reference
[rwp-review-recap id="0"]
We learn what Iron Man has been doing in his self-imposed exile and the great risks he has been taking. Elsewhere, Tony's mother copes with the discovery that Tony's biological father is still alive. Riri Williams and Toni Ho discover the extent of Da Vinci's new organization and why he has built it. The Hood threatens a Stark executive to get back at both Tony Stark and Victor von Doom, both of whom have gone by the name Iron Man. All of this is told to us by the Tony Stark AI.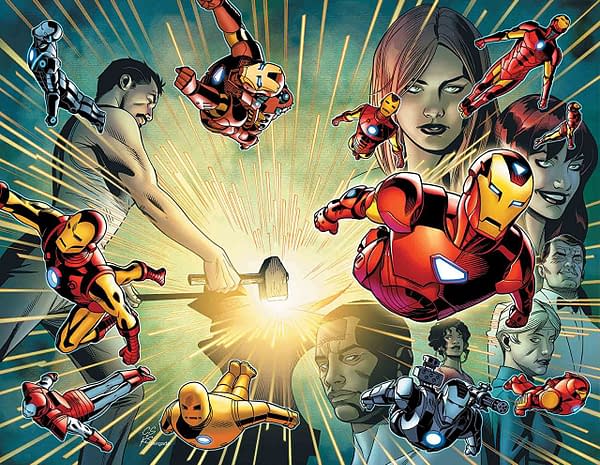 So, this is it. Brian Michael Bendis's final Marvel comic (at least for the foreseeable future). It's a bombastic farewell too, pulling together many, many plot threads together for a finale to his Invincible Iron Man saga.
This comic provides a lot to digest, but most of it is lighthearted and easy to come to grasp. The Leonardo da Vinci plot line is ridiculous but does a little housekeeping for Marvel's S.H.I.E.L.D-related future. The return of Tony's biological father from the dead is shrugged off for the most part, but its ending is handled well.
Tony's "project" that is revealed in this issue — well, it raises more questions than answers and pulls a resurrection on you. That said, I'm happy with it. A character I've been missing comes back, and he will hopefully be a regular in Dan Slott's upcoming Iron Man series. Not everyone will be satisfied with it, but death is mostly a stopgap in Marvel and DC. I've come to terms with that.
Doom and Riri's endings are both solid. Doom brings an implied return to form which is to be expected. Riri's is optimistic and will hopefully be represented in further issues of Champions and maybe even Slott's Iron Man.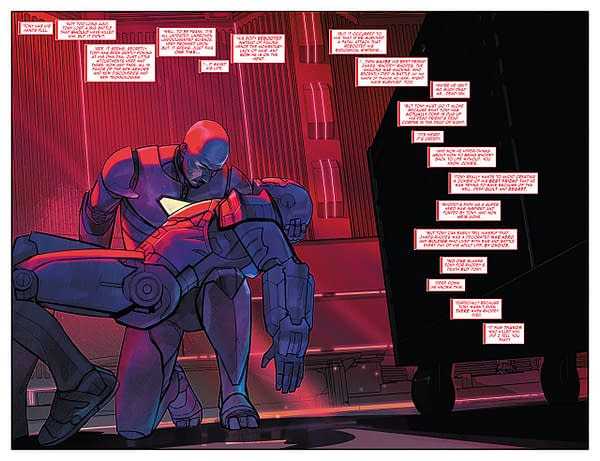 The assortment of artists in this comic is a bit jarring, especially considering the frequency with which they change. I get why it's happening, but it's still a stylistic explosion. Each artist does solid work though, and I can't complain about any single page.
Also, I think there is a mixed reference to Identity Crisis paired with an anime.
Invincible Iron Man #600 isn't mind-blowing, but it's heart-warming. It ties most of its plot lines together well in the end. It leaves everything open-ended enough so that Slott has wiggle room on his book to come. The art is all over the place, which is to be expected considering the brigade of pencillers brought on. However, the final product was fun enough so that I can easily recommend it. Pick it up.
[rwp-review-ratings id="0"]
[rwp-review-form id="0"]